100 teams join cooking contest in celebration of Vietnamese Family Day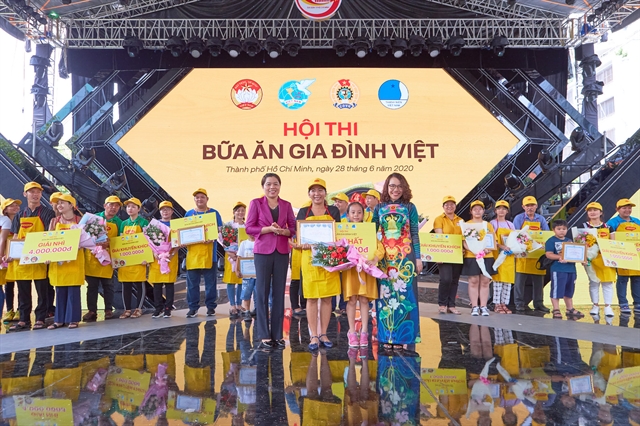 HCM CITY — As many as 100 teams took part in a cooking contest "Vietnamese Family Meal" on Nguyễn Huệ Walking Street on Sunday.
The event, which was organised by the HCM City Women's Union in collaboration with many other organisations, with the sponsorship of Nestlé Vietnam's MAGGI brand, was among the activities held to celebrate the 19th Vietnamese Family Day (June 28, 2001 – June 28, 2020).
Thủ Đức Women's Union team won the first prize at the contest.
Also within the framework of the Vietnamese Family Day, MAGGI brand co-operated with the Vietnamese Journalists Association to organise "Journalists and the culinary arts" programme.
Trần Thị Huyền Thanh, vice chairwoman of the HCM City Women's Union, said: "For many years, MAGGI has always been one of the reliable companions in supporting us to organise many meaningful and unique cuisine programmes for women and their families.
"The Vietnamese Family Meal contest this year is one of the activities to help families have more opportunities to connect with each other and create a simple, delicious and healthy home meal, which meets all nutritional needs, to raise the physical foundation for a healthy generation of Vietnamese families." —
Source: https://vietnamnews.vn/life-style/748879/100-teams-join-cooking-contest-in-celebration-of-vietnamese-family-day.html
AI: cutting-edge solution revolutionising brand ambassador model
HCM CITY — A new and dynamic concept, brand ambassador, in Việt Nam is being transformed by Artificial Intelligence (AI), experts have said.
For years in the country, well-resourced brands have not hesitated to sign billion-dollar contracts with well-suited ambassadors, in the hope of marking their mark on consumers and bringing about tangible gains to sales and brand value. 
Celebrities are also becoming more committed to developing their professional image in order to maximise interest from big brands. 
However, despite sizable opportunities in this market, this type of communications strategy gives rise to some challenges for brand marketers.
Difficulties selecting brand ambassadors
Identifying the right brand ambassador takes a great deal of time and resources. In an ideal world, a brand ambassador would be someone who has both an outward appearance and demeanour that embodies the brand's image and values, and brings with them a group of followers that represent the company's target customers. 
Moreover, the desired brand ambassador would ideally promote a positive influence on their social community. A-list stars can also be quite selective when it comes to selecting the brands they wish to represent, especially when such partnerships involve long-term and exclusive commitments, which may require them to turn down alternative "part-time" collaboration opportunities.
While composing a shortlist of candidates can already be challenging enough, negotiating the terms of brand ambassador partnerships can present even more difficulties. 
The value of a brand ambassador contract can be worth anywhere from billions to tens of billions in Vietnamese đồng. At a time when brands are under pressure to optimise every last investment dollar, ROI (Return On Investment) for these contracts can be extremely difficult to calculate and justify.
These are just some of the many challenges that come with developing brand ambassador partnerships, not to mention additional difficulties in arranging shoots, interviews, events and other behind-the-scene tasks, all in the context of depending on the inherently busy schedules of celebrities.
As for "scandals", it is often impossible for brands to foresee the risks associated with the behind-the-scenes lives of their ambassadors nor the potential for these incidents to go viral. Some scandals have been known to completely tarnish the reputation of the artists involved. As an inevitable consequence, this can also cause significant damage to the image of the brand they are partnering with, or in the worst-case scenarios, slow a brand's business to a halt.
Rising era of "virtual" brand ambassadors
In this time of digital revolution, data and technology have gradually been re-defining customer experience and AI has completely transformed Việt Nam's brand ambassador market.
The newly launched Tóc Tiên AI represents a milestone in AI application for commercial communication strategy in Việt Nam.
Tóc Tiên AI is a digitalised version of the famous Vietnamese singer Tóc Tiên, whose outward appearance was created by 3D technology and whose mind is developed and coded via Natural Language Processing (NLP). 
Developer T&A Ogilvy has applied machine learning and deep learning to prompt the "virtual" Tóc Tiên to fluently deliver a command of language similar to the "The Doomsday" singer, exercise a "wicked" communication ability, and even self-generate trendy and Tóc Tiên-authentic content.
Across the world, the concept of the virtual celebrity has already been realised. Imma, a virtual fashion icon that shook the media world to its core in 2019, is a character whose existence has been constructed entirely on the computer. With her unmistakable pink hair and trend-leading fashion style, Imma currently has a bank of Instagram followers that spans more than tens of thousands, a celebrity as "real" as any other famous influencers in Japan. 
Lil Miquela, a virtual Brazil-American singer "born" in 2017, has also made a name for herself with more than 500,000 followers on Instagram and a chart-topping song that rose to eighth place on Spotify in August 2017.
The AI version of Tóc Tiên in Việt Nam is unlike any other worldwide. The AI sets a precedent of a virtual celebrity modelled on a real-life star. This means all input data used for the robot's learning are all derived from actual data, from real-life language use to behaviour on social media. 
In addition, many brilliant features of the virtual star still remain untapped, including the potential of persistent learning and advancement over time to deliver fresh and innovative images, and the ability to apply new and flexible creative ideas that serve the ever-evolving communication purposes of brands.
The virtual Tóc Tiên already has her own Facebook account at Tóc Tiên Clear Head, which is directly linked with the real Tóc Tiên account. She can add friends and have a quick, interactive chat that lasts a few minutes with users who share content with the hashtag #NóngQuáĐi (#SoHotIDie). 
With a striking appearance and almost identical likeness to the real Tóc Tiên singer, the AI-driven Tóc Tiên can also engage with users on their own personal pages about the trendiest topics related to brand communication, ensuring maximum personalised brand experiences. 
T&A Ogilvy General Director Nguyễn Diệu Cầm strongly believes that this solution can meet the increasingly complex communications and commerce requirements of businesses.
She added: "Using a virtualised celebrity adapted from a real person can help realise any communication concept and idea – from simple snack ads to other more complicated and elaborated promotional formats such as music video production and concert organization. This marketing solution can also be more cost-effective and can alleviate some of the time and scheduling complications of engaging real-life celebrities in person. Brands can also exercise the nearest full control over the creative outcome, to ensure alignment with brand direction and diminish the brand's image risks. These are some of the exceptional advantages that become possible through the introduction of virtualised celebrities."
"Besides cost efficiency and communication effectiveness, virtual celebrities have the potential for customisable interaction ability in terms of language, characteristics and appearance. Together with the appeal of the real personas, these interactions can be promoted anytime, anywhere, and to any scale, which can also help leverage customer experience, creating personalisation and deeper connections with public emotion."
Incorporating such vibrant and cutting-edge AI applications in a traditional field like that of brand ambassador partnerships can amplify product visibility. This in turn strengthens connectivity with users, enhances consumer satisfaction while experiencing products, and allows brands to accurately identify their target audience as well as other value-added services that customers are seeking.
In the near future, we are likely to see even more innovative technologies, such as emotion detection technology in which AI technology responds to users' facial expressions or behaviour to direct consumers to suitable categories. With the support of e-commerce solutions, virtual ambassadors are guaranteed to have a huge potential of becoming a valuable arm in the digitalised commerce revolution of businesses. —
Source: https://vietnamnews.vn/life-style/749598/ai-cutting-edge-solution-revolutionising-brand-ambassador-model.html
Thousands of youth join Green Summer Campaign
HCM CITY — More than 350,000 young people and members of the Hồ Chí Minh Communist Youth Union are taking part in the 2020 Mùa Hè Xanh (Green Summer), which began on Sunday in HCM City. 
The annual event is one of a number of summer activities and programmes launched by the union. Its kick-off ceremony on Sunday on Nguyễn Huệ Pedestrian Street in District 1 attracted 3,000 volunteers. 
"Young volunteers will have more opportunities to help others through the campaign," said the union's secretary Phan Thị Thanh Hương. 
Volunteers this year are working in 13 provinces of the Mekong River Delta and Central Highlands regions. Thổ Chu Island of Kiên Giang Province is also included.
In HCM City, they are working in the rural districts of Hóc Môn, Bình Chánh, Cần Giờ, Nhà Bè and Củ Chi, focusing on industrial and processing zones. 
The volunteers have worked to clean and upgrade canals, alleys, roads and irrigation systems. Free health check-ups and medicine to poor residents, children and women are also provided. 
They have also participated in cultural and community activities to promote environmental protection, and prevent and fight child abuse and violations of laws.
"We will provide training courses on advanced techniques in agriculture, forestry and fisheries production for local farmers. After working, we will organise cultural, art and sports activities to entertain locals, particularly children," said Trần TrungTính, a second-year student at HCM City University of Technology, who has volunteered to work in Sóc Trăng Province. 
Tính and his peers will help local people build or upgrade charity houses, bridges and roads, and clean water systems. 
Last year, the campaign's volunteers helped build 50 charity houses for the poor, repaired home electrical wiring for 500 households, and created 100 playgrounds for children.
They also opened training classes on social skills in self-defence for emergencies, sexual abuse prevention, and rescue, fighting and preventing fires for more than 15,000 teenagers and children. Around 5,000 people were also taught IT and foreign languages.   
Source: https://vietnamnews.vn/life-style/749535/thousands-of-youth-join-green-summer-campaign.html
Sai Gon Tiep Thi to launch photo festival
A poster of the "Heritage and You" photo festival – PHOTO: COURTESY OF ORGANIZERS
HCMC – To help the tourism sector recover from the Covid-19 pandemic, Sai Gon Tiep Thi, a publication of the Saigon Times Group, launched a photography festival called "Heritage and You" in collaboration with Nam A Bank to encourage locals to travel in Vietnam and preserve the country's heritage sites.
The festival is open to people of all ages nationwide who love traveling and taking photos. They can send photos of the Vietnamese landscape and relevant captions to [email protected] from July 13 to August 9.
The selected photos will be displayed at an exhibition in Hue City on August 15 and 16, with the total prize value amounting to some VND12 million.
The "Heritage and You" photo festival is part of the "Saigon Times-Great Circle-Together with Vietnam's Tourism" program initiated by the Saigon Times Group, which aims to promote tourism in the country and encourage Vietnamese residents to travel in Vietnam.
Source: https://english.thesaigontimes.vn/77602/sai-gon-tiep-thi-to-launch-photo-festival.html