Agriculture needs breakthrough solutions, say NA delegates
With the recently-gained export value of US$41 billion, the agriculture sector has become the "pillar" of the Vietnamese economy as the country is facing negative impacts from the global economic crisis, COVID-19 and natural disasters. On the sidelines of the 10th session of the National Assembly (NA), delegates talk with VietnamPlus online newspaper about solutions to promote the sustainable development of agriculture.
National Assembly delegate Bùi Thanh Tùng, a member of the NA Committee on Science, Technology and Environment and Deputy Head of the Hải Phòng City NA delegation.
As the economy faces difficulties due to impacts of the COVID-19 pandemic and natural disasters, how do you evaluate the pillar role that the agricultural sector has played in the country's socio-economic development?
Việt Nam's agricultural sector has made breakthrough development steps. We have for the first time seen the farmers' mindsets shifting from small-scale production to commodity production.
This is the result of a long process, but it more significant recently. Almost all of our agricultural products have Certificate of Quality codes and Conformity to Regulation stamps, which are the key points for domestic agricultural products to be successful on the domestic market and take advantage of export markets, especially when Việt Nam joins many agreements such as the EU-Viet Nam Free Trade Agreement (EVFTA).
The export figure of $41 billion has affirmed the role of agriculture in the country's economy, which is suffering a lot of negative impacts from the global economic crisis and the COVID-19 pandemic. I think the agricultural sector has become the pillar of the economy.
Therefore, building an agricultural sector with sustainable commodity production will effectively support farmers, especially in areas with difficult economic conditions and affected by storms and floods.
If we implement good restructuring, focusing on the production of agricultural products, we will ensure food security and give people new livelihoods to overcome the impacts.
What do you think about the improvement of science and technology in agriculture, which has promoted domestic production and exports of Việt Nam's agricultural sector?
Having experienced managing science and technology tasks, I think that in the agricultural field, the application of science and technology has brought about the most effective results. All of our agricultural products today have applied scientific and technological advances.
We have never had so many agro-product processing facilities at present. We have more than 60 production and processing factories inaugurated. That is not only a success but also the positive impact of science and technology.
We need to pay more attention to the synchronous application of scientific research and technology in the field of agricultural and aquatic production. It is necessary to build a synchronous production chain among farmers, households and cooperatives, businesses, market supply chains and State agencies to create a commodity agricultural sector, serving domestic demand and exports to international markets, including difficult ones.
NA Delegate Huỳnh Thanh Cảnh, Standing Deputy Secretary of Bình Thuận Province's Party Committee, Head of Bình Thuận NA Delegation, and member of the NA Economic Committee
Although agriculture has played a very important role in socio-economic development, it is vulnerable to rain and flooding. What solutions should be taken to minimise these impacts?
I think that, despite the difficult circumstances, the agricultural sector has achieved positive results, especially in 2020.
If there were no natural disasters, storms, floods and saline intrusion, the agriculture sector would have achieved higher results and really acted as the pillar of the country's economy. This was also clearly demonstrated when the COVID-19 pandemic occurred.
In the face of the unpredictable changes of the current climate, I think it is necessary to re-evaluate the impacts of natural disasters on agriculture in order to restructure production and provide appropriate solutions. Along with that, we need to have investment policies supporting affected areas to help local residents develop production.
I think that with the consensus of the State and the industriousness and creativity of Vietnamese farmers, our agriculture will continue to develop.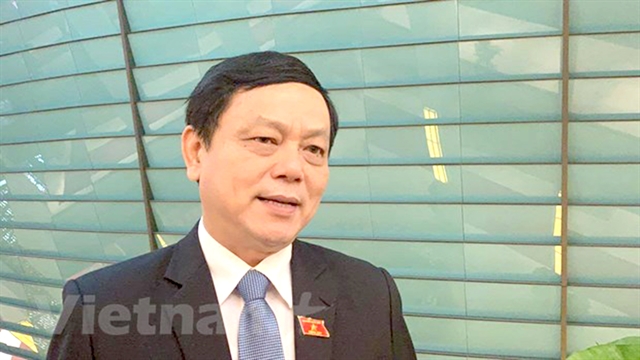 NA Delegate Hoàng Đức Thắng, Head of Quảng Trị NA Delegation and member of the NA Committee for Social Affairs
For areas with constant storms and flooding, what are your suggestions on the development of the agricultural economy?
I think that restructuring production is the most important. The production must avoid times of rain and flooding, then we can protect our labour.
Flood- and storm-hit areas also need to convert seedlings and breeds so that they are suitable with the real situation. What plants to grow? What kinds of animal to raise? All must be considered carefully to avoid negative impacts from natural disasters.
The story of environmental protection is to plant forests. We cannot swap the short-term economy for an "extremely expensive" price paid for deforestation and destruction of the forest environment. –
Source: https://vietnamnews.vn/economy/804267/agriculture-needs-breakthrough-solutions-say-na-delegates.html
VN-Index suffers biggest lost since Q1/2020, liquidity hits record
HÀ NỘI — Shares bounced back slightly in the afternoon trade but the VN-Index still lost 61 points, or 5.11 per cent, closing Tuesday at 1,131 points.
This was the biggest daily retreat of Việt Nam's benchmark since the first quarter of 2020 and the second falling day this week. It inched down just 0.2 per cent on Monday.
On the Hồ Chí Minh Stock Exchange, overall market breadth was pessimistic with 394 stocks falling, only 42 rising and 39 closing flat.
Blue chips were the main drag when all of the top 30 largest shares by market value and liquidity (VN30) plummeted, of which eight hit the floor price of a 7-per-cent drop. All of them were banks and financial companies including BIDV (BID), Vietinbank (CTG), Military Bank (MBB), VPBank (VPB), Sacombank (STB), Hồ Chí Minh Development Bank (HDB), Saigon Securities Inc (SSI) and Hoàng Huy Investment Financial Services (TCH).
Except Vincom Retail (VRE) rebounding near the reference price by the end of the session, others lost more than 2 per cent.
Liquidity hit a record of more than 986 million shares worth VNĐ20.4 trillion (US$879.3 million), up 19 per cent in volume and 32 per cent in value compared to Monday's figures.
According to MB Securities Co (MBS), the fact that many stocks in the VN30 dropped was a bad sign which was driven by surging profit-taking pressure from investors, especially who use high leverage to buy stocks and stock prices had increased fervently in the recent uptrend.
Besides, many attempts to make sell orders of investors were blocked due to the stock exchange's systematic problems while investors tried to cash in at all costs.
Before Tuesday's session, the VN-Index rose nearly 8 per cent since early January. Looking back to 2020, the market was on an uptrend since August and the VN-Index has gained nearly 50 per cent from 798 points seen on August 20 to 1,191 points on Monday.
MBS analysts reckoned pessimistic trading on Tuesday would take the market some time to stabilise and recover and the VN-Index may retest the support zone of 1,033-1,064 points before another strong recovery appears.
"Normally, fast and steep declines will not last long but only 1-2 sessions. Stocks that were sold at the floor price will soon bounce back as soon as the market is stabilised," they wrote in a market report.
On the Hà Nôi Stock Exchange, the HNX-Index decreased 2.81 per cent to end at 224.02 points.
Nearly 281 million shares worth VNĐ4 trillion were exchanged in the northern market.
Thus, the total trading value on the two exchanges reached VNĐ24.4 trillion, or more than $1.1 billion on Tuesday.
Foreign investors were net buyers in the two markets with total net buy value of VNĐ140 billion. —
Source: https://vietnamnews.vn/economy/858885/vn-index-suffers-biggest-lost-since-q1-2020-liquidity-hits-record.html
Solar power booms in the south
Solar panels are installed on the roof of a hotel in the Mekong Delta city of Can Tho – PHOTO: TRUNG CHANH
CAN THO – After several years of development, the total capacity of rooftop solar power in southern Vietnam has far surpassed the capacity of the Hoa Binh Hydropower Plant, which was once the largest of its kind in Southeast Asia, according to Doan Duc Hung, deputy general director of Vietnam Electricity's Southern Power Corporation.
"The Hoa Binh Hydropower Plant's capacity is approximately 3,000 MW, while the total rooftop solar power output of the southern region amounts to some 5,000 MW at present," he said.
Moreover, the total output of solar farms in the southern region has amounted to approximately 2,000 MW, five times larger than the Tri An Hydropower Plant's capacity. "The figure showed that renewable energy has recently developed very fast in the southern region," Hung concluded.
According to Vietnam Electricity (EVN), there were 101,029 rooftop solar power projects with a total installed capacity of nearly 9,296 MWp connected to the national grid as of late 2020.
EVN said Vietnam's favorable policies for renewable energy development, including the prime minister's Decision No. 11/2017/QD-TTg issued on April 11, 2017, and Decision No. 13/2020/QD-TTg issued on April 6, 2020, have helped renewable energy, especially solar power, boom in the country.
EVN's data showed that the total installed capacity of solar power nationwide reached 19,400 MWp as of late 2020, accounting for 25% of the total installed capacity of the entire national power system.
Source: https://english.thesaigontimes.vn/80237/solar-power-booms-in-the-south-.html
Vietnamese livestreaming firm GoStream raises $1 million funding from VinaCapital Ventures
Vietnam-based live video-streaming platform GoStream announced that VinaCapital Ventures has invested US$1 million in the company to help it expand its business.
Launched in 2017, GoStream is a multi-platform livestream broadcaster for social sellers, marketers, and content creators. 
It enables users to reach a larger audience from different platforms to increase visibility and get more views.
Currently, the platform claims to facilitate over 100,000 livestreaming sessions daily and also serve corporate clients.
In 2019, GoStream was listed by Facebook as one of the 30 most used livestreaming platforms in the world for 30 days.
GoStudio, a product of GoStream, won first prize at the Vietnam Techfest 2020 last November. The contest's organizing committee recognized the product's ease of use and adaptability to a range of online channels, including social commerce, online training and online entertainment.
"We look forward to working with GoStream as they further expand their capabilities and play an even greater role in Vietnam's growing digitization," Hoang Duc Trung, a partner at VinaCapital Ventures, said in a statement.
The startup previously also received $200,000 in investment from VinaCapital Ventures and Zone Startups Vietnam in the seed round.
VinaCapital Ventures, an asset management company with over $3 billion in assets under management, said it will invest further in Vietnam's digital economy, which is expected to grow to $52 billion by 2025.
Revenue in the video-streaming segment in Vietnam is poised to reach $162 million in 2021, according to data by Statista.
Earlier in 2020, VinaCapital Ventures had also backed Vietnam-based facial recognition firm Wee Digital and Homebase, a proptech startup.
Like us on Facebook or follow us on Twitter to get the latest news about Vietnam!
Source: https://tuoitrenews.vn/news/business/20210119/vietnamese-livestreaming-firm-gostream-raises-1-million-funding-from-vinacapital-ventures/58864.html