AI: cutting-edge solution revolutionising brand ambassador model
HCM CITY — A new and dynamic concept, brand ambassador, in Việt Nam is being transformed by Artificial Intelligence (AI), experts have said.
For years in the country, well-resourced brands have not hesitated to sign billion-dollar contracts with well-suited ambassadors, in the hope of marking their mark on consumers and bringing about tangible gains to sales and brand value. 
Celebrities are also becoming more committed to developing their professional image in order to maximise interest from big brands. 
However, despite sizable opportunities in this market, this type of communications strategy gives rise to some challenges for brand marketers.
Difficulties selecting brand ambassadors
Identifying the right brand ambassador takes a great deal of time and resources. In an ideal world, a brand ambassador would be someone who has both an outward appearance and demeanour that embodies the brand's image and values, and brings with them a group of followers that represent the company's target customers. 
Moreover, the desired brand ambassador would ideally promote a positive influence on their social community. A-list stars can also be quite selective when it comes to selecting the brands they wish to represent, especially when such partnerships involve long-term and exclusive commitments, which may require them to turn down alternative "part-time" collaboration opportunities.
While composing a shortlist of candidates can already be challenging enough, negotiating the terms of brand ambassador partnerships can present even more difficulties. 
The value of a brand ambassador contract can be worth anywhere from billions to tens of billions in Vietnamese đồng. At a time when brands are under pressure to optimise every last investment dollar, ROI (Return On Investment) for these contracts can be extremely difficult to calculate and justify.
These are just some of the many challenges that come with developing brand ambassador partnerships, not to mention additional difficulties in arranging shoots, interviews, events and other behind-the-scene tasks, all in the context of depending on the inherently busy schedules of celebrities.
As for "scandals", it is often impossible for brands to foresee the risks associated with the behind-the-scenes lives of their ambassadors nor the potential for these incidents to go viral. Some scandals have been known to completely tarnish the reputation of the artists involved. As an inevitable consequence, this can also cause significant damage to the image of the brand they are partnering with, or in the worst-case scenarios, slow a brand's business to a halt.
Rising era of "virtual" brand ambassadors
In this time of digital revolution, data and technology have gradually been re-defining customer experience and AI has completely transformed Việt Nam's brand ambassador market.
The newly launched Tóc Tiên AI represents a milestone in AI application for commercial communication strategy in Việt Nam.
Tóc Tiên AI is a digitalised version of the famous Vietnamese singer Tóc Tiên, whose outward appearance was created by 3D technology and whose mind is developed and coded via Natural Language Processing (NLP). 
Developer T&A Ogilvy has applied machine learning and deep learning to prompt the "virtual" Tóc Tiên to fluently deliver a command of language similar to the "The Doomsday" singer, exercise a "wicked" communication ability, and even self-generate trendy and Tóc Tiên-authentic content.
Across the world, the concept of the virtual celebrity has already been realised. Imma, a virtual fashion icon that shook the media world to its core in 2019, is a character whose existence has been constructed entirely on the computer. With her unmistakable pink hair and trend-leading fashion style, Imma currently has a bank of Instagram followers that spans more than tens of thousands, a celebrity as "real" as any other famous influencers in Japan. 
Lil Miquela, a virtual Brazil-American singer "born" in 2017, has also made a name for herself with more than 500,000 followers on Instagram and a chart-topping song that rose to eighth place on Spotify in August 2017.
The AI version of Tóc Tiên in Việt Nam is unlike any other worldwide. The AI sets a precedent of a virtual celebrity modelled on a real-life star. This means all input data used for the robot's learning are all derived from actual data, from real-life language use to behaviour on social media. 
In addition, many brilliant features of the virtual star still remain untapped, including the potential of persistent learning and advancement over time to deliver fresh and innovative images, and the ability to apply new and flexible creative ideas that serve the ever-evolving communication purposes of brands.
The virtual Tóc Tiên already has her own Facebook account at Tóc Tiên Clear Head, which is directly linked with the real Tóc Tiên account. She can add friends and have a quick, interactive chat that lasts a few minutes with users who share content with the hashtag #NóngQuáĐi (#SoHotIDie). 
With a striking appearance and almost identical likeness to the real Tóc Tiên singer, the AI-driven Tóc Tiên can also engage with users on their own personal pages about the trendiest topics related to brand communication, ensuring maximum personalised brand experiences. 
T&A Ogilvy General Director Nguyễn Diệu Cầm strongly believes that this solution can meet the increasingly complex communications and commerce requirements of businesses.
She added: "Using a virtualised celebrity adapted from a real person can help realise any communication concept and idea – from simple snack ads to other more complicated and elaborated promotional formats such as music video production and concert organization. This marketing solution can also be more cost-effective and can alleviate some of the time and scheduling complications of engaging real-life celebrities in person. Brands can also exercise the nearest full control over the creative outcome, to ensure alignment with brand direction and diminish the brand's image risks. These are some of the exceptional advantages that become possible through the introduction of virtualised celebrities."
"Besides cost efficiency and communication effectiveness, virtual celebrities have the potential for customisable interaction ability in terms of language, characteristics and appearance. Together with the appeal of the real personas, these interactions can be promoted anytime, anywhere, and to any scale, which can also help leverage customer experience, creating personalisation and deeper connections with public emotion."
Incorporating such vibrant and cutting-edge AI applications in a traditional field like that of brand ambassador partnerships can amplify product visibility. This in turn strengthens connectivity with users, enhances consumer satisfaction while experiencing products, and allows brands to accurately identify their target audience as well as other value-added services that customers are seeking.
In the near future, we are likely to see even more innovative technologies, such as emotion detection technology in which AI technology responds to users' facial expressions or behaviour to direct consumers to suitable categories. With the support of e-commerce solutions, virtual ambassadors are guaranteed to have a huge potential of becoming a valuable arm in the digitalised commerce revolution of businesses. —
Source: https://vietnamnews.vn/life-style/749598/ai-cutting-edge-solution-revolutionising-brand-ambassador-model.html
Da Nang villa welcomes nature with brick facade
A baked-brick villa in Da Nang built by a retired couple features vast swaths of open space.

It is built on a 400 sq.m plot in a quiet neighborhood in the central city with a view of a lake and greenery. So architects designed an L-shaped building with open spaces so that the occupants could enjoy the views unimpeded.
The geometric roof gives the villa a classy look.
The latticed brick facade lets in light and wind.
A closer look at the facade. The homeowners wanted to use local materials such as baked bricks, which were used as early as in the fourth century in Da Nang.
The kitchen, and living and dining rooms are on the ground floor and interconnected. They are enclosed by latticed walls.
The occupants can regulate the wind and light entering the house with glass windows.
A corridor on the first floor.
The construction materials were chosen for their sturdiness, climate resistance and looks and their ability to harmonize with the surroundings.
Photos by Hiroyuki Oki
Source: https://e.vnexpress.net/news/life/style/da-nang-villa-welcomes-nature-with-brick-facade-4180114.html
IRED launches "The Story of Civilization" book series in Vietnamese
Educationist Gian Tu Trung, president of IRED Institute of Education, speaks at the launch ceremony of the "The Story of Civilization" book set in Vietnamese – PHOTO: MINH TUAN
HCMC – On October 22, the IRED Institute of Education launched the "The Story of Civilization" book series by Will Durant and Ariel Durant, one of the most popular and successful book series about history, in Vietnamese.
The 11-volume set of books was written by husband and wife Will and Ariel Durant in more than five decades. With a total of up to 50 books, "The Story of Civilization" covers 2,500 years of the history of humans.
Speaking at the launch ceremony, educationist Gian Tu Trung, president of IRED, said the "The Story of Civilization" book set has been translated into many different languages around the world, but this is the first time that the entire set has been translated into Vietnamese.
"IRED worked very hard to earn the rights to translate the entire set into Vietnamese, aimed at helping not only scholars, historians and researchers but also all readers in Vietnam have better access to knowledge about typical civilizations throughout history," he said.
According to Trung, the book set is like a history dictionary, so the readers do not need to read the whole set but can pick any books about the civilizations they are interested in.
Durant said his purpose of writing the series was not to create a definitive scholarly production but to make a large amount of information accessible and comprehensible to the educated public in the form of a comprehensive composite history.
It depicts all aspects of every civilization, from wars to cultural heritage, great persons, religions, literature, science, philosophy, arts and even the rise of mass media, which contributed to the formation, development and also the collapse of the civilizations.
The series won a Pulitzer Prize for General Nonfiction in 1968 with the 10th volume titled "Rousseau and Revolution". Will Durant was then awarded the Presidential Medal of Freedom in 1977.
IRED has released three volumes of the series, including the first volume "Our Oriental Heritage", the 10th volume "Rousseau and Revolution" and the 11th volume "The Age of Napoleon". Other volumes are expected to be published until 2022.
Source: https://english.thesaigontimes.vn/79096/ired-launches-the-story-of-civilization-book-series-in-vietnamese.html
The nostalgia of cốm the flavour of autumn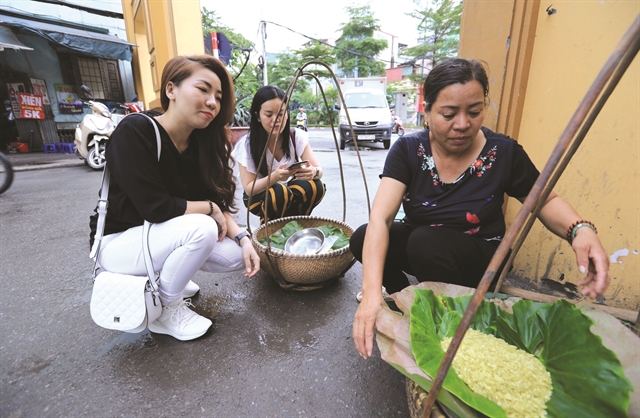 HÀ NỘI — Autumn has arrived in Hà Nội with gentle breezes tenderly penetrating street corners, replacing the summer heat and scattering bunches of yellow leaves on the pavements.
It is also time for women from Vòng Village in Dịch Vọng Ward, Cầu Giấy District to produce and sell their cốm (green sticky rice) – one of Hà Nội's culinary specialities.
For most Hanoians, cốm and its related products made in Vòng Village are among the capital's most important flavours of autumn, packed full of nostalgia. It is a symbol of gastronomy and elegance due to its a signature colour, flexibility and flavour which cốm from nowhere else can compete with.
The delicate but fragrant green grains reflect the labour, love and passion of the rice growers and cốm producers. It seems to be able to deposit the essence of the earth, the heavens, the scent of sunshine and wind.
Many have said staying in the capital without savouring cốm would be a major shortcoming of a Hà Nội experience.
How cốm comes to life
Legend has it that one autumn a thousand years ago when farmers in Vòng Village were going to harvest their sticky rice, a storm came and caused huge damage to the crops.
The villagers tried to pick the remaining green rice from the storm-torn paddy fields and brought it home to stir fry.
The rice became a newly-invented dish and had helped them survive through hard days. Through generations, locals added more skills during the processing of cốm until they found it tasted so good that it eventually became more perfect and even went beyond the village to win the favour of all the citizens. 
Ever since then, villagers have made cốm every autumn when the green rice is ready to harvest.
To make cốm, villagers work hard from about 5am to pick green sticky rice jewelled with dew.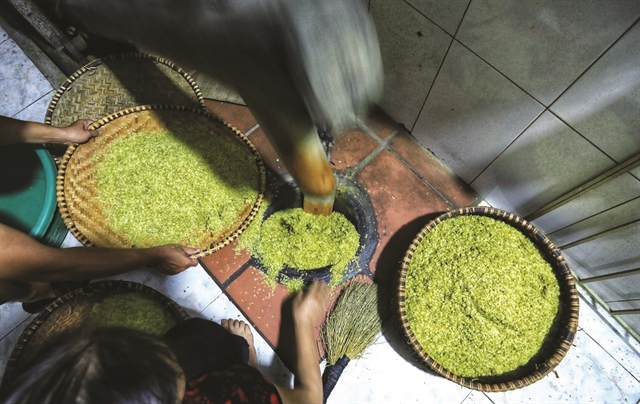 Skill and hard work are needed to make authentic cốm flat, lime-green, chewy, sticky and smell pleasant like the scent of green rice, so many of the makers have to learn how to make cốm from a very young age.
The speciality is sold by street vendors or in shops. It can also be found on the breakfast or buffet menu of many hotels in Hà Nội.
There are also cốm cakes – a Vietnamese must-have for happy occasions, including weddings and Lunar New Year. —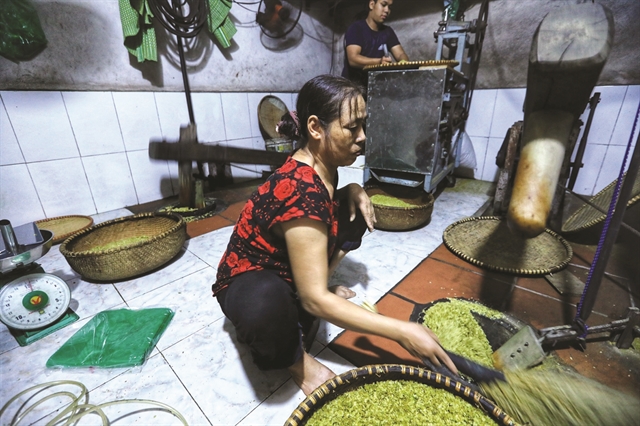 Source: https://vietnamnews.vn/life-style/803812/the-nostalgia-of-com-the-flavour-of-autumn.html