Book about armed forces wins first prize at National Book Awards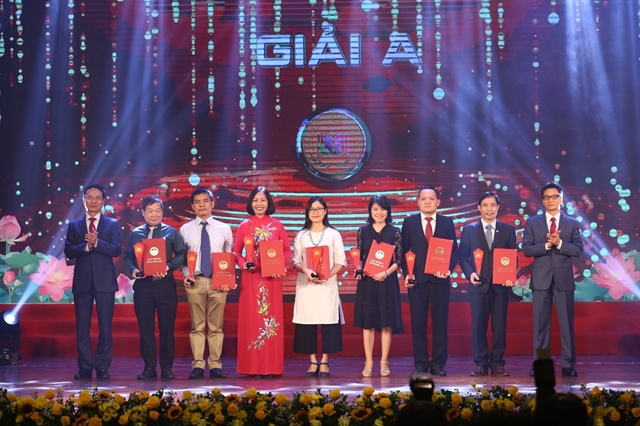 HÀ NÔI – Đoàn Binh Tây Tiến (Advancing Westward Regiment) by poet Quang Dũng was among three books that have won first prizes at the National Book Awards 2020.
Đoàn Binh Tây Tiến was written in 1952 and published for the first time by Kim Đồng Publishing House in 2019. It has just 124 pages but provides a detailed account of the early days of the establishment of a regiment of the Việt Nam People's Army called Tây Tiến during its westward advance in the resistance war against the French.  
The jury lauded the book for its authentic literary and historical education values.
The two other books that won first prizes were Lịch sử (Histories) by the ancient Greek historian Herodotus, translated from English by Lê Đình Chi, and another about medical treatment titled Hình ảnh lâm sàng, Chẩn đoán và Điều trị trong Chuyên ngành Da liễu (Clinical Image, Diagnosis and Treatment in Dermatology) by different authors led by Dr Nguyễn Văn Thường.
Second prizes went come to 10 works featuring issues of different areas including politics, environment, information technology and culture.
Lược Khảo Văn Học (Literature Review) – a series of research about the pre-1975 southern culture by Professor Nguyễn Văn Trung was recognised as very valuable work among the second prize winners.
Deputy Minister of Information and Communications and Chairman of the Việt Nam Publishers' Association Hoàng Vĩnh Bảo said the research book with its remarkable literary and historical value had made a great contribution to helping researchers and literature-lovers understand more about progressive literature in the period before 1975 when the country was not united.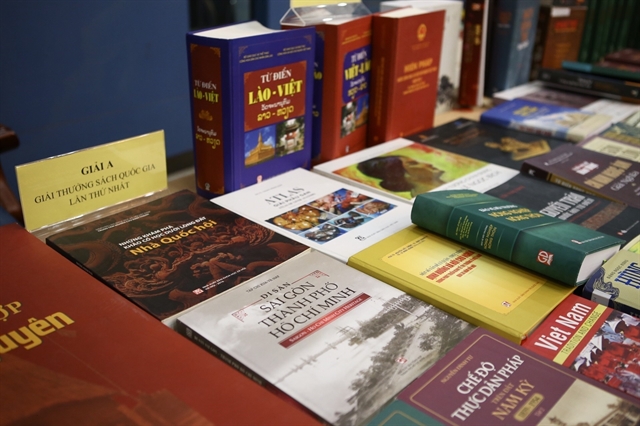 The awards were announced at a ceremony held on Friday night at the headquarters of Việt Nam's national radio station Voice of Việt Nam.
Speaking at the awarding ceremony on Friday, Deputy Prime Minister Vũ Đức Đam said the National Book Awards were expected to contribute to promoting reading culture.
He said that books are the "greatest schools" of society.
"If Việt Nam wants to become a powerful country like many others from the five continents, we should have a society of study and reading books," he said.
The Deputy PM highlighted the role of books in humanity's great advances and lauded the development of reading culture in the country.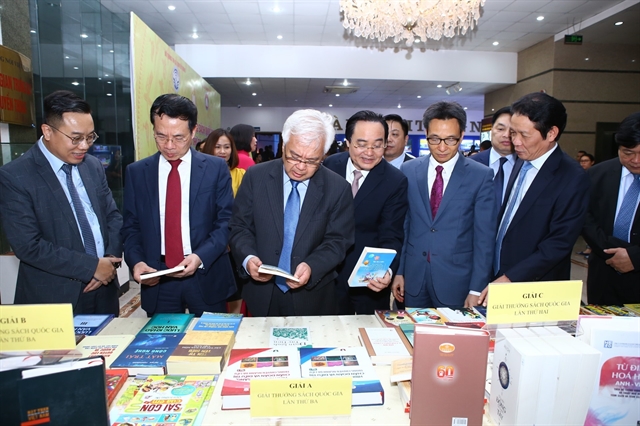 He stated that the awards have motivated writers, editors, publishers, and printing and distribution companies to keep creating good books.
This year, the COVID-19 pandemic, the third National Book Awards attracted the participation of 48 publishing houses nationwide with 259 titles, covering many areas of social development.
A total of 27 awards were given to winning books including three first prizes, 10 seconds, and 14 thirds.
The annual National Book Awards were hosted by the Ministry of Information and Communications and organised by the Việt Nam Publishers' Association and the National Book Prize Council.
The awards aim to honour writers, translators, scientists and publishers nationwide as well as discover, preserve and promote books that are valuable to readers.
They are also expected to stimulate the publishing field.
The awards are presented in different fields such as politics, economics, environment, healthcare, science and technology, culture, literature, arts and children.
Organisers said the awards attracted the involvement of society, receiving much support from enterprises and sponsors and were broadcast widely via various media outlets. — 
Source: https://vietnamnews.vn/life-style/793327/book-about-armed-forces-wins-first-prize-at-national-book-awards.html
Randomness, lack of curation cause bumpy ride for public art

The lack of collaboration between artists, urban planners and authorities has affected the quality and maintenance of emerging public artworks in the country.

In 2017 Tam Thanh fishing village in the central Quang Nam Province got a new look with colorful murals, and became a tourist magnet.
The success story has since inspired other similar projects in many cities and provinces across Vietnam. Public art has in fact been blooming in many cities and rural areas.
Hanoi is home to the world record ceramic road that runs almost 4,000 meters through four districts.
Recently a group of local and international artists created installations depicting various aspects of Vietnamese culture in Phuc Tan Ward, Hoan Kiem District.
These public artworks have made the area a cultural site and attract locals and tourists alike to what used to be a rundown place filled with garbage.
Murals on a high school wall in Hanoi, which caused controversy since many art insiders think they do not suit the historic neighborhood. Photo by VnExpress/Ngoc Thanh.
Following in the footsteps of Tam Thanh village, neighboring Quang Ngai Province and Da Nang and Can Tho cities also have murals decorating many places.
Electrical boxes in cities are decorated with paintings of flowers, market scenes and bustling streets.
But ubiquitous by its absence is quality.
Saigon-based sculptor Nguyen Xuan Tien said many of the public artworks are not pretty. In fact, in the last few years people have been expressing concern over public murals, many of which are unseemly.
In 2017 Saigonese were aghast to see more than 500 electricity poles in District 11 covered in paintings of flowers that looked like they were "made by kindergarten children."
There has also been a community backlash against animal statues that looked like "monsters" in the northern Hai Phong City and statues painted in garish colors in Hanoi's Thong Nhat Park.
"Most of the artworks have no specific content or ideas, and their creators appear to have randomly done them," Tran Khanh Chuong, artist and chairman of the Vietnam Fine Arts Association and the Hanoi Street Decoration Council, told local media.
Tien pointed out that public art in many parks is mostly about the 12 zodiac animals or historical figures, which do not help improve people's aesthetic sense.
At a seminar on public art and tourism held in Hanoi on November 17, many experts expressed the fear these public artworks could negatively affect the community's esthetic tastes.
Hanoi's ceramic road made from tesserae from Bat Trang, famous for its centuries-old traditional pottery. Photo by VnExpress/Ngoc Thanh.
But even when public artworks are showcased communally, they face another issue: the risk of deterioration.
Hanoi's iconic ceramic road has been vandalized. Some parts have become dilapidated, cracked and affected by smoke from people burning trash.
In 2019 an installation titled "Thap" (Tower) made from plastic with a maze inside inspired by the works of Dutch painter Piet Mondrian was removed from Hanoi's Hoan Kiem Lake after many visitors used it as a public toilet.
According to sculptor Mai Thu Van, who owned the art project, it was not the first time the public has vandalized her artwork.
Many experts agreed that managing public artworks is still a problem because people think that since these are meant for the public they do not need protection or maintenance.
But as the old saying goes, "Everybody's business is nobody's business."
Handshake
The lack of collaboration between cultural, urban development and local authorities is the main factor hurting the development of public art, Phan Dang Son, chairman of the Vietnam Association of Architects, said.
Artists create works without caring much about urban planning and how their works could be harmonized with the surroundings, he pointed out.
Well-known art critic Pham Cam Thuong warned: "They (artists) should not think that merely putting paintings on a wall could make it more beautiful; they should consider carefully before creating artworks."
Son agreed, saying artists and architects should work closely together to create more beautiful public spaces.
To keep these artworks living with the public, many art insiders suggest that citizens should have the right to express their ideas when it comes to deciding whether an artwork should be displayed or not.
Thuong said not seeking public opinion before commissioning public artworks is a shortcoming.
They are taxpayer-funded, so people should be able to decide the content, he added, saying related parties should also think before creating public artworks since they could directly affect the lives of nearby residents.
In Tam Thanh fishing village, many locals have given up their traditional fishing job and moved to other places after selling their land to outsiders, Thuong said. The newcomers rebuilt houses, damaging the murals on the walls and the local identity.
"At the end of the day, art may not benefit people if it makes them lose their village and culture."
Source: https://e.vnexpress.net/news/life/culture/randomness-lack-of-curation-cause-bumpy-ride-for-public-art-4197175.html
Vietnam, UK sign agreement to fight antimicrobial resistance
The signing ceremony took place at the headquarters of the Ministry of Health on November 26 – PHOTO: COURTESY OF UK EMBASSY IN VIETNAM
HCMC – Vietnam and the United Kingdom will join hands to fight antimicrobial resistance (AMR) in Vietnam for the 2021-2023 period, according to a Memorandum of Understanding signed on November 26 on the occasion of World Antibiotic Awareness Week.
The agreement was signed by the Medical Service Administration under the Vietnamese Ministry of Health, the representative office of pharma group GSK in HCMC and the British Embassy in Vietnam, the Vietnam News Agency reported.
The partnership aims to support the Vietnam Government's long-term strategy articulated in the "National Action Plan on Antimicrobial Resistance" and aligns with the initiatives of the UK Government to support developing countries in solving the AMR problem.
"The National Action Plan on Antimicrobial Resistance for the 2013-2020 period and development of a strategy for the next five years are among the most important focuses of the health sector," said Assoc. Prof. Luong Ngoc Khue, director of the Medical Service Administration and deputy head of the Vietnam National Steering Committee for AMR.
"With the companionship of the UK Government and companies in the health sector such as GSK, the fight against AMR in Vietnam will be approached in a more comprehensive way. Ongoing medical training programs for healthcare professionals and awareness raising support as well as community education are also planned to improve the effectiveness of fighting against this medical burden," he added.
The partnership is expected to support capability building and medical education for healthcare professionals for community-acquired respiratory infections, provide end-to-end healthcare solutions from prevention to treatment and enhance access to world-class antibiotics and vaccines. It also aims to increase awareness over AMR's burden and build an understanding of appropriate antibiotic use in the community to prevent AMR in the future. 
Speaking at the ceremony, British Ambassador to Vietnam Gareth Ward said, "The UK is committed to working with Vietnam to tackle health issues such as AMR and we have raised the level of ambition within our strategic partnership agreement. Antimicrobial resistance is becoming a global health crisis and we need to increase our collective efforts to address this challenge in order to secure the health and wellbeing of our future generations."
AMR is one of the world's most critical healthcare challenges. It occurs when microorganisms such as bacteria, viruses, fungi and parasites change in ways that render the medications used to cure the infections they cause ineffective.
In Vietnam, the rates of AMR are among the highest in Asia, leading to thousands of deaths annually. There are many factors contributing to the spread of AMR such as overcrowded healthcare facilities, a lack of laboratory resources, insufficient trained staff to detect the issue and the inappropriate use of antibiotics by patients, pharmacists and doctors.
Source: https://english.thesaigontimes.vn/79569/vietnam-uk-sign-agreement-to-fight-antimicrobial-resistance-.html
Vietnamese gamer tops international streamer ranking

Do Mixi, owner of the MixiGaming YouTube channel, has surpassed many foreign counterparts to top the list of 100 most favorite streamers on popular gamer platform OP.GG.

MixiGaming has steadily risen in popularity on OP.GG's "fan-based streamer ranking". Despite scoring fewer votes in the game skills category, the Vietnamese streamer topped all other categories, including fun talk, communication, content, appearance, teaching, and personality.
As of November 25, MixiGaming has garnered 24,100 votes, much more than other famous streamers like Swedish League of Legends player Darkwinjax (4,200 votes), and French streamer Sardoche (3,000 votes).
Do Mixi is a rising star in the Vietnamese streamer community. Photo courtesy of Do Mixi.
The online event, organized from November 22 to 28, determines winners based on online user votes. Each can vote multiple times without signing into the website.
Do Mixi (Phung Thanh Do), born in 1989, and has won the hearts of online gamers thanks to his attractive and frank communication style. Before becoming a streamer, Do was a PUBG gamer. In mid-August, he broke the record of concurrent live stream viewers at 242,000 during a live session, a record number in the Vietnamese streamer community.
OP.GG, launched in 2013 and managed by South Korean CEO Cheonwoo Park, is a platform providing insights to gamers, helping them improve their gameplay and witness the performance of their opponents and friends.
Source: https://e.vnexpress.net/news/life/trend/vietnamese-gamer-tops-international-streamer-ranking-4197460.html