Book about armed forces wins first prize at National Book Awards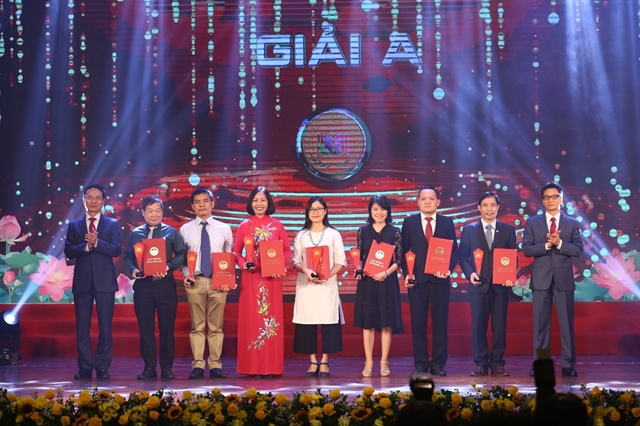 HÀ NÔI – Đoàn Binh Tây Tiến (Advancing Westward Regiment) by poet Quang Dũng was among three books that have won first prizes at the National Book Awards 2020.
Đoàn Binh Tây Tiến was written in 1952 and published for the first time by Kim Đồng Publishing House in 2019. It has just 124 pages but provides a detailed account of the early days of the establishment of a regiment of the Việt Nam People's Army called Tây Tiến during its westward advance in the resistance war against the French.  
The jury lauded the book for its authentic literary and historical education values.
The two other books that won first prizes were Lịch sử (Histories) by the ancient Greek historian Herodotus, translated from English by Lê Đình Chi, and another about medical treatment titled Hình ảnh lâm sàng, Chẩn đoán và Điều trị trong Chuyên ngành Da liễu (Clinical Image, Diagnosis and Treatment in Dermatology) by different authors led by Dr Nguyễn Văn Thường.
Second prizes went come to 10 works featuring issues of different areas including politics, environment, information technology and culture.
Lược Khảo Văn Học (Literature Review) – a series of research about the pre-1975 southern culture by Professor Nguyễn Văn Trung was recognised as very valuable work among the second prize winners.
Deputy Minister of Information and Communications and Chairman of the Việt Nam Publishers' Association Hoàng Vĩnh Bảo said the research book with its remarkable literary and historical value had made a great contribution to helping researchers and literature-lovers understand more about progressive literature in the period before 1975 when the country was not united.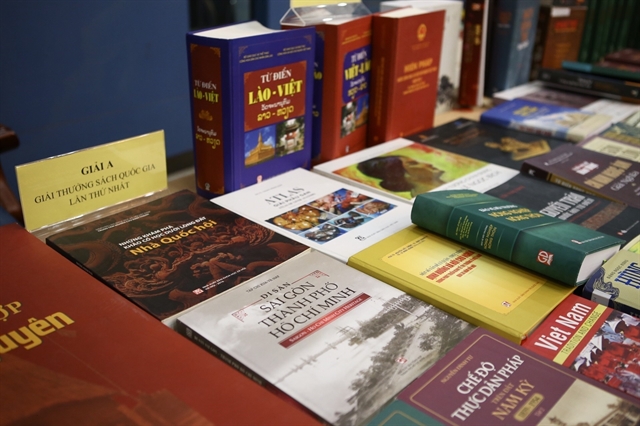 The awards were announced at a ceremony held on Friday night at the headquarters of Việt Nam's national radio station Voice of Việt Nam.
Speaking at the awarding ceremony on Friday, Deputy Prime Minister Vũ Đức Đam said the National Book Awards were expected to contribute to promoting reading culture.
He said that books are the "greatest schools" of society.
"If Việt Nam wants to become a powerful country like many others from the five continents, we should have a society of study and reading books," he said.
The Deputy PM highlighted the role of books in humanity's great advances and lauded the development of reading culture in the country.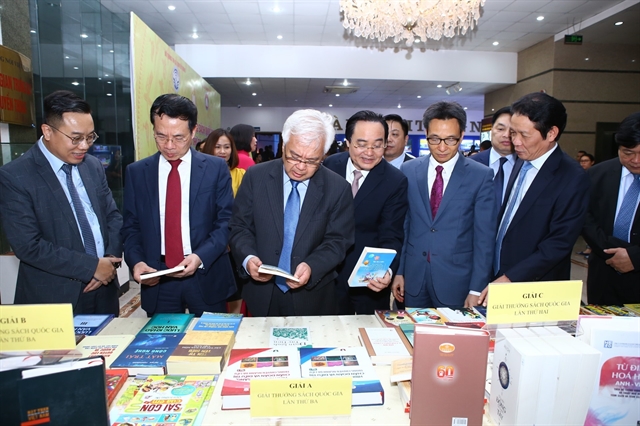 He stated that the awards have motivated writers, editors, publishers, and printing and distribution companies to keep creating good books.
This year, the COVID-19 pandemic, the third National Book Awards attracted the participation of 48 publishing houses nationwide with 259 titles, covering many areas of social development.
A total of 27 awards were given to winning books including three first prizes, 10 seconds, and 14 thirds.
The annual National Book Awards were hosted by the Ministry of Information and Communications and organised by the Việt Nam Publishers' Association and the National Book Prize Council.
The awards aim to honour writers, translators, scientists and publishers nationwide as well as discover, preserve and promote books that are valuable to readers.
They are also expected to stimulate the publishing field.
The awards are presented in different fields such as politics, economics, environment, healthcare, science and technology, culture, literature, arts and children.
Organisers said the awards attracted the involvement of society, receiving much support from enterprises and sponsors and were broadcast widely via various media outlets. — 
Source: https://vietnamnews.vn/life-style/793327/book-about-armed-forces-wins-first-prize-at-national-book-awards.html
Pandemic wipes out demand for house, office cleaners
A house helper cleans the kitchen. Photo by Shutterstock/ucchie79.

Helpers and cleaners have become more vulnerable to job loss than other domestic workers as Covid-19 continues to plague the country.

Huyen Kim, who works for a company that cleans office buildings in HCMC, is in dire need for a job.
She was furloughed by the company in late May as the fourth Covid-19 wave began to spread, and told she would be taken back in July if the outbreak is better controlled. But she is worried sick since this is the worst Covid situation Vietnam has faced so far.
"I asked my nephew to help me find a housemaid or babysitter job online, but have had no luck so far," the 43-year-old woman said.
"I am waiting for the day I can start working again. All I can do now is wait for the outbreak to die down."
She used to earn around VND8 million ($345) a month cleaning five offices every day in the city's downtown.
Kim is by no means the only domestic helper to be severely hit by the new wave, which has stripped many of their livelihoods.
A study published Tuesday by the International Labor Organization (ILO) said cleaners and helpers have suffered job losses at nearly three times the rate as other workers. It said in the second quarter of 2020 they suffered a 17 percent jobless rate compared to 6.1 percent for other workers like drivers, cooks, security guards, and others.
For people from rural areas, getting stuck in metropolises amid the pandemic is a luxury they cannot afford, especially when many neighborhoods in Hanoi and HCMC have been placed under lockdown.
Pham Thu Hang, 40, who works in Hanoi's Long Bien District, moved back to her hometown in the northern Phu Tho Province in late May to work as a farmer when the capital saw Covid resurge.
"I need to save money to support my children in Phu Tho, so the idea of getting stuck in Hanoi for months scared me," she said.
She is reconciled to alternating between the two places after having faced such upheavals before. In January too she had to move back to Phu Tho soon after the third wave began, and only returned to Hanoi to work in March after it died down.
"I'm now used to the fact that my job is unstable. The only thing that saddens me is that I can put less food on the table for my children."
She used to earn a monthly income of around VND7 million ($302) in Hanoi. She admitted she is afraid of getting infected and so "fleeing to her hometown is the best bet."
With the outbreak continuing to rage, HCMC authorities extended social distancing by two more weeks after imposing the first one on May 31.
Since the fourth wave began on April 28 the southern city has become the third hardest hit locality with 1,346 cases as of Friday evening. Hanoi was in fourth place with 464.
Some families have taken extra precautions and decided to stop hiring cleaners after the number of daily cases continues to rise.
Following the Ministry of Health's preventive guidelines, Phi Thi Thu Thao has stopped hiring helpers from a service company after HCMC mandated social distancing.
"Since the company my husband and I work for allows us to work from home, we have been taking turns caring for our two-year-old son and doing household chores," the 33-year-old accountant said.
In the same report the ILO said the working hours of cleaners and helpers fell by 24.7 percent from the fourth quarter of 2019. As a result, wages plummeted by 26.2 percent.
Some commercial cleaning services are struggling to survive.
Nguyen Truong Son, a marketing staff for Giupviec.vn, a home and office cleaning services company with offices in Hanoi and HCMC, said revenues had fallen by 50-60 percent since the Lunar New Year [in mid-February].
Besides, the demand for office cleaning services had also declined since people have started working from home.
"The company offers disinfection services along with cleaning at a cheap price to attract and retain customers. But the promotion is not effective since not many people want a combination of those services," he said.
Cleaners like Kim are desperate to go back to work and make a living.
"I just hope the outbreak will be under control soon so that things can go back to the pre-pandemic era," she said wistfully.
Source: https://e.vnexpress.net/news/life/trend/pandemic-wipes-out-demand-for-house-office-cleaners-4296172.html
Menas Mall to hold blood donation program in July
The Menas Saigon Airport shopping mall – PHOTO: MENAS SAIGON AIRPORT
HCMC – The Menas Saigon Airport shopping mall in Tan Binh District, HCMC, will organize a blood donation program next month.
HCMC is facing a shortage of blood supply, which has become more serious during the Covid-19 pandemic. The local authorities have banned large gatherings to curb the spread of the pandemic, forcing many organizers to cancel or postpone their blood donation programs.
To help address the blood shortage, especially in this critical situation, Menas Saigon Airport has called on its employees and others to donate blood, which can help them improve their immune system and also save lives.
The event will begin at 8 a.m. on July 1 at the Menas Saigon Airport building, No. 60A Truong Son Street, Ward 2, Tan Binh District, HCMC.
The donors and organizers will have to strictly comply with Covid-19 infection prevention and control measures during the event.
For registration, visit https://bit.ly/3xoPciX or call 0833.588989.
Source: https://english.thesaigontimes.vn/82620/menas-mall-to-hold-blood-donation-program-in-july.html
Saigon Times-Great Circle program presents gifts to medical workers in District 5
Vo Hong Van (R, 2nd), a representative of the Saigon Times Group, and Nguyen Quoc Viet (L, 2nd), deputy director of the District 5 Medical Center, pose for a photo with medical workers of the center – PHOTOS: LE VU
HCMC – As part of the "Saigon Times – Great Circle – Join hands to fight the Covid-19 pandemic" program, the Saigon Times Group on June 17 coordinated with the Tan Hiep Phat Group's Dr Thanh tea brand and Acecook Vietnam JSC to present 200 gift sets to medical workers of the District 5 Medical Center in HCMC.
The gift sets, including 100 boxes of instant noodles of Acecook Vietnam and 100 boxes of Dr Thanh cooling tea, were expected to lend a helping hand to frontline medical workers in the Covid-19 combat.
Employees of the Saigon Times Group load gift sets onto a truck
Nguyen Quoc Viet, deputy director of the District 5 Medical Center, said like other agencies, the center was prepared to fight the pandemic. The capacity of a centralized quarantine center had been increased to 200 beds.
The "Saigon Times – Great Circle – Join hands to fight the Covid-19 pandemic" is a meaningful and prompt program to encourage frontline medical workers to bring the pandemic under control, Viet added.
The current fourth Covid-19 wave has shown no signs of abating in HCMC and the country as a whole. The Saigon Times Group is calling on enterprises, entrepreneurs and benefactors to contribute to the Covid-19 fight so as to early bring life to back to normal.
A medical worker of the District 5 Medical Center is at work
On June 15, the Saigon Times Group joined hands with the An Cuong Wood Working Joint Stock Company, the Saigon Thang Long Group and the Thang Loi Group to donate eight tons of rice and other gifts to residents of the Ehome 3 apartment building compound under lockdown in Binh Tan District.
In the coming period, essential commodities will be presented to medical workers in other districts in the city.
Following the success of the "Saigon Times-Great Circle" program in 2020, the Saigon Times Group continued the program this year with the theme "Join hands to fight the Covid-19 pandemic" to support people affected by the pandemic.
The program will receive donations from organizations and individuals and then distribute them to the needy in HCMC and other provinces.
Donations for the program can be sent to:
Tap chi Kinh te Sai Gon
Bank account number: 1007 1485 1003318
Vietnam Export Import Commercial Joint Stock Bank (Eximbank) – Hoa Binh Branch – HCMC
Transaction content: Name – UnghoSaigon Times – NVTL – Donghanhchongdich
Valued enterprises and readers who want to donate gift sets can contact Huynh Huong at 0913118711 or Huy Han at 0902696617.
Source: https://english.thesaigontimes.vn/82622/saigon-times-great-circle-program-presents-gifts-to-medical-workers-in-district-5.html