Buddhism festival recognised as National Intangible Heritage
ĐÀ NẴNG — The Ministry of Culture, Sports and Tourism has recognised the annual Quán Thế Âm (Avalokitesvara Bodhisattva) Festival in Đà Nẵng's Ngũ Hành Sơn district as National Intangible Heritage.
The city's Sports and Culture department said the main festival, which falls on the 19th day of the second lunar month, features the procession of an image of Avalokitesvara Bodhisattva, and a prayer for a year of peace, prosperity and happiness for the nation, drawing at least 10,000 attendees.
The festival is often held at the Quán Thế Âm Pagoda at the foot of the Kim Sơn Mountain – the largest of the Ngũ Hành Sơn (Marble Mountains) in Đà Nẵng.
The stone sculptures art of the 400-year-old Non Nước stone village in the Marble Mountains was also recognised as National Intangible Heritage in 2014.
The Marble Mountains landscape site was named a National Special Relic in 2018.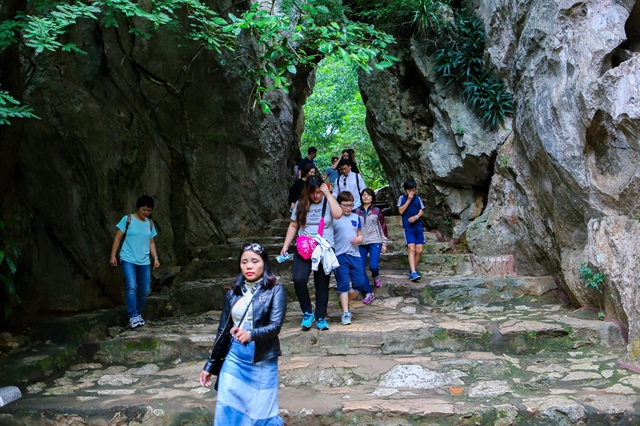 Đà Nẵng has six National Intangible Heritages including Tuồng Xứ Quảng (Quảng Nam's classic drama), the Lễ hội Cầu Ngư (Whale Worshipping festival), the traditional fish sauce trade of Nam Ô Village, the Non Nước stone sculptures art, the art of Bài Chòi (a half-game and half-theatre performance) and Quán Thế Âm Festival.
The Quán Thế Âm Festival has featured art troupes from Japan, Myanmar, Thailand and India, the Thai Sangha delegation, Buddhism lecture and meditation sessions, and folk performances. —
Source: https://vietnamnews.vn/life-style/886067/buddhism-festival-recognised-as-national-intangible-heritage.html
Hanoi's Covid-19 fight leaves street food vendors in the lurch

The latest Covid-19 outbreak has left Hanoi's street food workers high and dry as the city has allowed restaurants and coffee shops to open again, but not street food stalls.

Nguyen Thi Nhung, 39, decided to stay back in Hanoi instead of returning to her hometown for the Lunar New Year holidays (Tet) because she hoped to open her tea stall soon after the national break.
But two weeks after the holiday ended, her hopes have been dashed as the tea stall remains banned from opening.
Beginning Tuesday, indoor coffee shops in the capital city have been allowed to welcome their patrons, but outdoor ones like Nhung's tea stall, closed since February 16, will remain closed until further notice.
"It is like an everlasting earthquake shaking my livelihood, but I have no choice but to cling to whatever I have and wait," Nhung said.
Suffering Nhung's fate are thousands of street food vendors in the capital city, mostly low-income residents. The Covid-19 pandemic has robbed them of their livelihood and left them in dire straits.
A street food vendor in Hanoi, October 2017. Photo by VnExpress/Giang Huy.
Le Thi Chinh, 47, who runs a xoi (sticky rice) stall near the Gia Lam Bus Terminal, has earned next to nothing since early February. The diabetes afflicted woman ticked off what she lacked.
"Money to rent the house, to pay for my children's education, to buy my medicines… I made nothing last month."
Her four-member family has to depend entirely on her husband, who earns around VND8 million ($349.15) per month working for a paper-making factory in Hanoi's Long Bien District.
In their cramped accommodation, Chinh's pots, stove, dishes and other materials for her xoi stall lie idle in a corner. She has no idea when she will be able to light up her stove again.
"I have cut our spending on food and milk for our sons. I cannot send them to my hometown because traveling back and forth costs a significant amount of money," Chinh said, adding she used to earn up to VND600,000 ($26.19) per day.
All street vendors selling tea, fruits and noodles around the bus station have disappeared since the latest Covid-19 outbreak.
Since the social distancing campaign last April, street food vendors have suffered badly. In addition to the closures mandated by authorities, pandemic fears have also kept patrons away when they open.
According to the General Statistics Office (GSO), the unprecedented impacts of the Covid-19 pandemic have forced 32.1 million Vietnamese workers aged 15 or above to either lose their jobs or have their working hours reduced in 2020.
Informal sector dependants like Nhung and Chinh, having no social support and living far from their hometowns, are likely among the hardest hit, says sociologist Trinh Hoa Binh.
"Who knows what will happen if there is another year of Covid-19?," Chinh said sadly.
Something's better than nothing
Some street food vendors are trying to cope with the situation by finding some job, despite much lower earnings.
In Cau Giay District's Nghia Tan Market, where many street food vendors ran their businesses before the city banned them, some have begun working as delivery men, women, or temporary motorbike taxi drivers.
"Prices keep going up after Tet, the only thing stands at zero is my income," said Le Van Tinh, employee of a pho stall outside the market.
Since the holiday ended, he has worked as a delivery man for "anyone who wants to send their goods to their patrons." If he's lucky, he can earn around VND200,000 a day. His wife, meanwhile, is staying back in their hometown in Bac Giang Province, working as a trash collector.
A small number of people trying to stick to their livelihoods are delivering food to their customers.
"They do not allow me to sell my fish noodles on the sidewalk, so I cook at home and my husband delivers them," said Le Thanh Hoa, owner of a noodles stall near the My Dinh Bus Terminal.
Hoa said Covid-19 fears keep many of her patrons away, so she has only around 40 orders per day, "but it is okay as long as I can make some money during this storm."
Many other street food vendors have opted to stay back in their hometowns until they can reopen.
"So we can save some money because things are more expensive in Hanoi," said Tinh, explaining why his wife has stayed back in Bac Giang Province since Tet.
Foreign tourists enjoy beer and food at the intersection of Hanoi's Ta Hien and Luong Ngoc Quyen streets before the pandemic. Photo by VnExpress/Giang Huy.
No support
Last year, the government rolled out a VND62 trillion ($2.6 billion) support package to help around 20 million poverty-stricken people and small businesses affected by the pandemic.
But most street food vendors are unable to get any support because of complex procedures.
When Nhung applied for the governmental support, she was told by local authorities she was disqualified because she had violated regulations that prohibit peddlers from selling goods on the streets, and because she had no business license.
Nguyen Hong Dan, deputy director of the Hanoi Department of Labor, War Invalids and Social Affairs, once said the slow progress in handing out the aid is mainly due to the difficulty in verifying workers who do not have formal contracts.
Several local officials said it was a "headache" to determine the incomes and nature of applicants' work.
"These informal workers and officials are both in a difficult situation," sociologist Binh commented.
This year, Nhung, hoping life will return to normal soon as people have learned from several outbreaks, has given up on the idea of looking for help. She knows the only one she can rely on is herself.
When she heard that the city has allowed coffee shops to open on March 2, she was happy, thinking street food stalls were in the same category.
"But I was wrong. Now I have to keep waiting until my tea stall can have patrons again, or until I am drained by this pandemic and have to find a different path."
Source: https://e.vnexpress.net/news/life/trend/hanoi-s-covid-19-fight-leaves-street-food-vendors-in-the-lurch-4242668.html
Quảng Ninh reopens intra-provincial tourism activities
QUẢNG NINH — Popular destinations in Quảng Ninh re-opened to tourists from within the province yesterday as the area has recorded no community transmission of COVID-19 in 20 days.
However, Quảng Ninh is not ready to receive tourists from other provinces yet.
The provincial Party Committee asked tourism businesses and tourist sites to develop a process for receiving tourists to ensure safety during the pandemic, strictly complying with the instructions of the Ministry of Health as well as disease prevention measures.
Specifically, Hạ Long City is required to strictly control the tourism activities on Hạ Long Bay. Meanwhile, other localities and institutes must monitor their destinations, especially where spiritual activities take place, to limit gatherings.
According to local authorities, Quảng Ninh will continue to apply appropriate measures to strictly control people returning and coming from pandemic-hit areas throughout the country to ensure safety.
For people coming or returning from areas with no new cases of COVID-19, they only need to fill in medical declarations.
The province also strictly controls the vehicles transporting goods in and out of the province and requires the implementation of pandemic control measures.
Localities including Hạ Long, Uông Bí, Đông Triều, Cẩm Phả and Quảng Yên need to proactively apply appropriate and necessary measures to ensure effectiveness and efficiency in preventing and controlling the COVID-19 pandemic.
Vân Đồn International Airport will resume operations today and Quảng Ninh Province is urgently building a new anti-pandemic process to ensure safety for the airport, airport staff and the community.
According to the Secretary of the Quảng Ninh Provincial Party Committee, the province still has COVID-19 patients that are under treatment and isolation. Therefore, the province is not qualified to serve quarantine of cases from outside the province, including Vietnamese citizens, foreign engineers, workers and experts who enter Việt Nam via Vân Đồn airport.
In terms of the normalisation of economic and social activities, including those related to business and services that are operated under certain conditions such as karaoke parlours or bars, Quảng Ninh has assigned local police to research and propose the plan and appropriate time of their reoperation. —
Source: https://vietnamnews.vn/life-style/891275/quang-ninh-reopens-intra-provincial-tourism-activities.html
Veteran actor returns to play Việt Nam's answer to Bob Dylan
HÀ NỘI — After a 10-year break, award-winning actor Trần Lực is expected to hit the screen with his new role in a motion picture about the musician Trịnh Công Sơn, set for release at the end of this year.
Sơn (1939 – 2001) is one of the most renowned musicians in Việt Nam and was famous for his anti-war songs and called the 'Bob Dylan of Việt Nam' by his fans at home and abroad.
Online Dân Trí newspaper reporter Hà Tùng Long spoke with actor Trần Lực about his new role. 
It has been a long time since you were on the screen. What made you return for this film?
I have been close to the art of film much more than the stage during my career. I have just worked on the stage in the last five years. I love cinema and I've never thought of leaving cinema. 
In my 20 years of acting, I sometimes need to have a break. I began working on the stage to refresh myself with my new passion. 
The role of musician Sơn in the movie Em và Trịnh (You and Trịnh) is special. I liked this role very much even though I had not read the script yet. It inspired my acting. 
I had to try my best for the casting because it had been ten years since I had been filmed. There were certain obstacles.
I know there are other artists who look much more like musician Sơn than me. The role requires singing, instrument playing and foreign language speaking. I had to learn French. Some film segments feature the musician meeting a Japanese girl in France. They spoke French then the girl learned Vietnamese and they came back to Việt Nam. 
How did you prepare to portray the musician?
It is a portrait movie about a specific person. I had to research to portray the musician. I knew his music when I was small. The first time I listened to his music was the album Sơn Ca 7 – Khánh Ly và Trịnh Công Sơn (Nightingale 7 – Khánh Ly and Trịnh Công Sơn). I have been embedded in his music. 
Plus, I read books about him and I also searched and collected some clips of him singing on the stage and his time with friends. So, I can imagine more clearly how was he on the stage and in life. 
More importantly, I had the chance to visit and meet his younger sister's family. I was told a lot by her about the musician. She showed me his characteristics in his speaking. 
Could you tell me about your weight loss for the role?
I weighed 74kg before casting. But musician Sơn was a slim man. I failed in the first casting because the movie producer thought I was a little fat. Actually, I know that they still doubt my weight loss. It is a problem at my age. 
I was determined to lose 11kg and I began to convince the film crew. During my weigh losing time, I researched his life and his music career and the crew accepted me in the second casting. 
Now, I see I almost look like him. I have to ask the producer to provide me with low-calorie meals and give me time to exercise during shooting. 
Did you have to learn speaking with a Huế accent and sing Trịnh's music in the old style?
Learning to speak the Huế accent was simple for me. I just met and talked to a few Huế people to imitate their voice. I also observed his young sister because I think that they speak the same. 
For a professional actor, it is not too difficult. 
Sơn's music is something like zen not maudlin. His music is pure, romantic and philosophical. His music needs to be sung simply with refinement. 
Maybe, I don't sing much like him but I have to express his spirit. I invited a tutor to help me sing. 
You were successful in the role of President Hồ Chí Minh in the movie Nguyễn Ái Quốc in Hong Kong. Was the pressure when playing the famous musician similar?
I used to feel pressure with the role of Nguyễn Ái Quốc. This role, musician Sơn is difficult because he and his music are popular. But the more difficult and challenging, the more I like it. —
Source: https://vietnamnews.vn/life-style/891286/veteran-actor-returns-to-play-viet-nams-answer-to-bob-dylan.html