Cantonese community space brought back to life in heart of Hanoi Old Quarter
The Cantonese Assembly Hall in Hanoi has been brought to life after three years of refurbishment, rekindling nostalgic memories of the Cantonese community.
The newly-renovated historic site has drawn attention from the youth in the capital city on weekends.
This place marks the 400-year history of the Cantonese community since they migrated to and settled down in the old Tho Xuong District, which spans Hang Ngang Street, Hang Buom Street, and Lan Ong Street in the Old Quarter nowadays.
The site covers a total area of about 1,800 square meters and is believed to be the main place where the Cantonese community's religious and trading activities took place.
A space which stores artifacts belonging to the ancient Cantonese community at the Cantonese Assembly Hall in Hanoi, Vietnam. Photo: Nguyen Hien / Tuoi Tre
The assembly hall reopened upon the completion of renovation at the end of 2021, repurposed as an exhibition center named the Center for Art and Culture at 22 Hang Buom Street.
The hall rekindles its long-built memories and offers visitors lively experiences with varied exhibitions displayed in separated spaces, consisting of Phieu Dieu (Adventure), Khong Gian Ky Uc 22 Hang Buom (22 Hang Buom Memories), Ky Hoa Pho Co 2021 (Sketch of the Old Quarter 2021).
The assembly hall, with its large space and ancient architectural features embodying the cultural interference and impact from China and France, leaves an impression on history lovers of all ages.
The exhibition 'Ky Hoa Pho Co 2021' (Sketch of the Old Quarter 2021) reminds the nostalgics of an old Hanoi in its old days. Photo: Nguyen Hien / Tuoi Tre
The design strictly follows the traditional structures of Cantonese assembly halls, which are arranged into many floors and layers with different compartments.
Artists come to the hall to seek nostalgia and moments that bring them a sense of artistic freedom.
Thuy Linh, a local from Hoan Kiem District, talks about her childhood at the hall and how she and her friends have grown up with this place.
"My childhood was joining buddies to have a good time, just outside the hall, which now turns gorgeous to my adult eyes with its inside appearance," Linh said.
"This is the first time I have seen the hall's internal space, and it surprised me a lot with such beauty.
"It feels like I was rewinding back my childhood footage with familiar images of the old towns that I see from the sketches."
The ancient worship spaces of the Cantonese Assembly Hall remain intact with its traditional values. Photo: Nguyen Hien / Tuoi Tre
"This site is far beyond what we see on social media and we are seduced by its nostalgic and glamorous visuals," said two young ladies rushing to the hall after a 30-minute journey from Bac Ninh to Hanoi.
Plus the space for art and culture, the hall's unique and esthetic backgrounds also captivate young photography enthusiasts.
In the meantime, visitors coming here must strictly follow safety measures to prevent COVID-19 transmission such as scanning a QR code for health declaration and maintaining a physical distance.
The exhibitions are open to the public from 8:00 am to 5:00 pm on weekdays and 8:00 am to 9:00 pm on weekends.
A young lady poses for a picture in front of the door leading to the Mother Goddess Worship hall in the Cantonese Assembly Hall in Hanoi, Vietnam. Photo: Nguyen Hien / Tuoi Tre
The Cantonese Assembly Hall tells the Cantonese stories in its meticulous statues and reliefs. Photo: Nguyen Hien / Tuoi Tre
An artifact is on display at the exhibition, recreating the story of Romance of the Three Kingdoms at the Cantonese Assembly Hall in Hanoi, Vietnam. Photo: Nguyen Hien / Tuoi Tre
A photography enthusiast pays a visit with her camera to the Cantonese Assembly Hall in Hanoi, Vietnam. Photo: Nguyen Hien / Tuoi Tre
The Cantonese Assembly Hall still preserves the Cantonese typical style in its roof tiles. Photo: Nguyen Hien / Tuoi Tre
Like us on Facebook or follow us on Twitter to get the latest news about Vietnam!
Source: https://tuoitrenews.vn/news/ttnewsstyle/20220111/cantonese-community-space-brought-back-to-life-in-heart-of-hanoi-old-quarter/65162.html
HCM City student wins at logo contest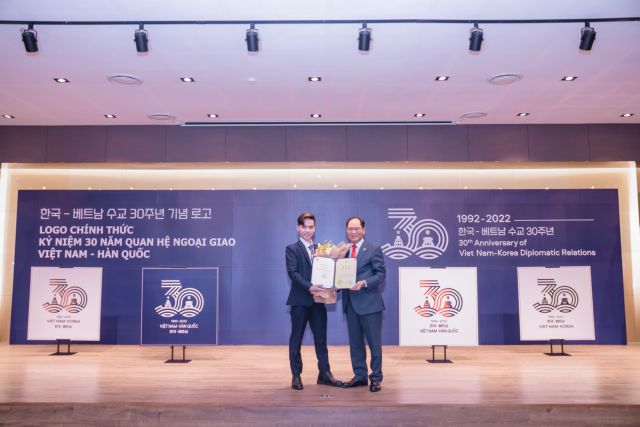 HÀ NỘI — HCM City-based Ngô Quang Trung, 22, won the top prize at a logo design contest to celebrate the 30th founding anniversary of Việt Nam and South Korea diplomatic relations this year.  
The contest was co-held by the Vietnamese embassy in Korea and the Korean embassy in Việt Nam in October and November last year for Vietnamese and Korean designers. 
Trung, a fourth-year student from the HCM National University, designed the logo using two symbols of Việt Nam and Korea. The Turtle Tower on Hoàn Kiếm Lake in Hà Nội is an icon of the capital city, while Gwanghwamun gate is the largest gate of Gyeongbokgung Palace in Seoul. 
These structures are placed alongside the national flags of the two countries and the number 30 to represent their three-decade friendship. 
The logo beat 774 others in the contest and will be used in communications and events throughout the diplomatic celebration this year.
"I'm honoured and happy for my design to be selected," Trung said at the award ceremony on Tuesday. "I hope that it will contribute to fostering bilateral ties in the future."
The award ceremony is a curtain-raiser for a series of cultural exchanges serving the celebration, said Korean ambassador Park Noh-wan at the ceremony. — 
Source: https://vietnamnews.vn/life-style/1117220/hcm-city-student-wins-at-logo-contest.html
HCM City artists honoured at Drama Festival
HCM CITY — Artists Ngô Mỹ Uyên and Lê Lộc of HCM City have won top prizes at the 2021 Southern Drama Festival launched by the Performing Art Department under the Ministry of Culture, Sports and Tourism.
Meritorious Artist Uyên won gold prize for the Best Actress in Tình Lá Diêu Bông (Woman in Love), a production on family issues staged by the HCM City Small Theatre.  
Uyên's performance captured the hearts of judges and audiences during the 13-day event. 
"My staff and I have worked to improve both skills and creativity to advance Vietnamese drama in the southern style," said Uyên, director of HCM City Small Theatre – the city's first private theatre. 
"Our artists love offering experimental plays using modern techniques. Therefore, we have to improve our stage experience and life skills to bring our art closer to audiences." 
Uyên has 20 years' experience in the industry. She works as a director and producer who combines drama, tuồng (classical drama), cải lương (reformed opera), contemporary dance and music. 
Uyên's chief competitor was young actor Lê Lộc of Phú Nhuận Drama Troupe – one of the city's leading private theatres. 
Lộc won gold prize for Best Actor in Ngã Rẽ (Turn of Life), a play on urban youth and their conflicts in love, family life and their careers.    
The two were among 40 artists who were honoured at the festival's award ceremony on Monday at HCM City's Trần Hữu Trang Cải Lương Theatre. 
The organisers also gave top prizes for Best Play, Best Director and Best Scriptwriter. 
The festival attracted 300 artists from 20 State-owned and private theatres and troupes in the region. 
"Our festival has discovered and encouraged new talents in Vietnamese drama to develop their art," said People's Artist and theatre director Trần Minh Ngọc, chairman of the festival's board. — 
Source: https://vietnamnews.vn/life-style/1117214/hcm-city-artists-honoured-at-drama-festival.html
Culture ministry proposes fully opening to international visitors from April 30
HÀ NỘI — Minister of Culture, Sports and Tourism Nguyễn Văn Hùng and economic experts believe that April 30 is an appropriate occasion to welcome foreign tourists back to Việt Nam.
As part of a current pilot project, groups of foreign tourists have been welcomed to selected destinations on closed, package tours. 
Addressing a conference on improving tourism competitiveness on Tuesday, Minister Hùng noted Việt Nam is kick-starting its tourism recovery scheme by reopening the door to domestic tourism, receiving support from localities and travel businesses.
"April 30 will be the right time. We are confident that this is the right step, the right roadmap, as the pilot programme to welcome international visitors is successful for two months, the vaccine coverage is in the top six worldwide and the tourist destinations are ready," he said.
The minister requested that localities continue implementing the pilot scheme from now until April 30, and if the proposal is approved, Việt Nam will fully reopen its market to international tourism.
"This is determination, not idealism," said Hùng.
Phạm Văn Thủy, deputy director of the Việt Nam National Administration of Tourism, also agreed that the international tourism market should be reopened from the second quarter so that localities and businesses have time to prepare conditions for welcoming guests.
He also proposed to promote tourism, at the same time expand the scope of piloting to welcome guests and synchronise regulations from the central to local level and between localities.
Also at the conference, Đà Nẵng was ranked as the city with the highest tourism competitiveness in the country.
Accordingly, the city is highly appreciated for its road traffic safety, ease of access by air, a qualified tourism workforce, good quality tourism infrastructure, and attractive cultural properties.
Following Đà Nẵng, the localities with high tourism competitiveness are Quảng Ninh, Khánh Hòa, and Quảng Nam.
Hà Nội and HCM City are in 6th and 8th place, respectively. — 
Source: https://vietnamnews.vn/life-style/1117213/culture-ministry-proposes-fully-opening-to-international-visitors-from-april-30.html