Cultural exchange programme celebrates Việt Nam-Russia relations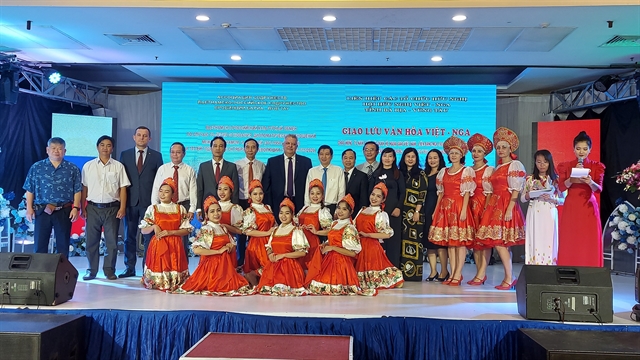 VŨNG TÀU — State-level relations and co-operation between localities in Việt Nam and Russia have been strongly strengthened in recent years, according to the vice-chairman of Bà Rịa-Vũng Tàu Province People's Committee Trần Văn Tuấn.
He made the statement at a cultural exchange programme in Vũng Tàu City in the southern province of Bà Rịa-Vũng Tàu on Thursday night.
Organised by the Union of Friendship Organisations of Bà Rịa-Vũng Tàu Province, the event aimed to celebrate the 70th anniversary of the establishment of Việt Nam-Russia diplomatic relations and the 25th anniversary of the signing of the Treaty on Fundamental Principles of the Việt Nam-Russian Federation Friendly Relations.
Notable attendees included Popov Aleksei Vladimirovich, Consul General of the Russian Federation in HCM City, representatives of Việt Nam – Russia Friendship Association in Bà Rịa-Vũng Tàu Province, the trade union of Việt Nam – Russia Joint Enterprise Vietsovpetro and other related organisations as well as Russians based in the province.
Addressing the event, Tuấn reviewed co-operation activities between two countries in recent years
In October 2010, Bà Rịa-Vũng Tàu Province signed a co-operation agreement with the Nenetskiy Autonomous Region and in January 2017, the province and the Republic of Bashkortostan in Russia established a co-operative relationship.
A Vietnamese delegation also paid a visit to the Republic of Bashkortostan in Russia on October 2018 during which they reached significant agreements on economic, trade, scientific and technological co-operation.  
Delegation exchanges and contacts at all levels, particularly high-level exchanges, have been regularly maintained, including Vietnamese Prime Minister Nguyễn Xuân Phúc's visit to Russia in May 2019 that opened the celebration of Cross-Year of Friendship 2019-2020 between Việt Nam and Russia.
"The investment collaboration between Bà Rịa – Vũng Tàu Province and Russia has also thrived in the fields of oil exploitation, tourism, maritime and construction. Particularly, Vietsovpetro, Việt Nam – Russia Joint Enterprise, has become a symbolic success of the two nations' relations.
"Furthermore, the province has also been proactively joined the trade flow between the two countries, exporting key products like seafood, cashew and garments to the Russian market," he noted.
According to Tuấn, friendship exchange activities to introduce and promote the culture and tourism of each country have been regularly coordinated by the Union of Friendship Organisations, Việt Nam – Russia Friendship Association in Bà Rịa – Vũng Tàu Province and the trade union of Vietsovpetro.
"The complicated and unpredictable developments in the world and the COVID-19 pandemic have imposed unprecedented challenges on all nations. However, Vietnamese and Russian peoples, with our long history of solidarity and association, will stand side by side, holding hands to share and support each other in overcoming all difficulties and defeat the pandemic," he added.
Popov Aleksei Vladimirovich, Consulate General of the Russian Federation in HCM City, emphasised that 2019 and 2020 are two special years for the relationship between Russia and Việt Nam.
Vietnamese friends have cherished and preserved the friendship between the two countries. It is a tradition since the October Revolution and has been nurtured by previous generations and developed by Vietnamese and Russia descendants, he said.         
The Consulate General also noted that diplomatic ties between localities and the Russian Federation have grown along with state-level relations.
Also at the exchange programme, a reportage featuring the 70th anniversary of the establishment of diplomatic relations between Việt Nam and Russia and the activities of the Việt Nam-Russia Association were screened, in addition to art performances and traditional cuisine.
Source: https://vietnamnews.vn/life-style/804092/cultural-exchange-programme-celebrates-viet-nam-russia-relations.html
'Blood Moon Party' among three historic Vietnamese box office hits
A still cut from "Blood Moon Party." Photo courtesy of "Blood Moon Party."

"Tiec Trang Mau" (Blood Moon Party) beat "Em Chua 18" (Jailbait) to become one of the top three highest grossing movies in domestic cinema history.

Five weeks after its release, the film has grossed VND177 billion ($7.6 million), beating "Em Chua 18" (Jailbait), released in 2017 and directed by Le Thanh Son, once having earned a record VND172 billion ($7.4 million).
"Blood Moon Party" is currently ranked below "Cua Lai Vo Bau" (Win My Baby Back), grossing VND193 billion, and "Mat Biec" (Dreamy eyes), grossing VND180 billion.
The movie ranked second in the box office chart during the last three days of the past week, led by "The Croods 2", an animation about prehistoric people setting off on an expedition in the modern world. Box Office Vietnam reports "The Croods 2" has raked in over VND8 billion at its premiere on November 27.
Director Quang Dung revealed his decision to make "Blood Moon Party" relied on his admiration for the Italian original, shot on a limited set, with a smart screenplay, intense plot, and relatable content. At first, the team had intended to include details more familiar to local audiences such as spam messaging or real estate cold calling, but later decided to stick to the original scenario.
"Blood Moon Party" revolves around four childhood friends growing up to work in different jobs, including journalism, plastic surgery and teaching. They reunite at a housewarming party and play a game of sharing texts and calls that spill a lot of secrets.
The plot sticks close to the South Korean movie, which is itself a remake of Italian movie "Perfect Strangers," released in 2016, and directed by Paolo Genovese. This movie is registered in the Guinness Book of World Records as the most remade in the history of cinema with a total of 18 remakes across the globe.
Source: https://e.vnexpress.net/news/life/culture/blood-moon-party-among-three-historic-vietnamese-box-office-hits-4199838.html
HCM City guitarists to perform in Đà Nẵng
ĐÀ NẴNG – A group of guitarists from HCM City will have a one-night performance at the annual Đà Nẵng Guitar Concert 2020 – entitled: Around the World – at the Nguyễn Hiễn Dĩnh Theatre on Saturday (December 5).
The city's festival and event organisation centre said Saigonese guitarists will play solo, duo, trio, duo guitar and flute with melodies and rythms composed by authors from Italy, France, Russia, Canada and Spain.
Trio Thanh Huy-Ngọc Niền-Quang Huy will introduce O trio Magico of Roland Dyens and Baiao de Gude of Paulo Bellinati on the opening night.
Lê Ngọc Niền will play solo with Un Sueno en la floresta of Agustin Barrios Mangore, while Nguyễn Thanh Huy will do his own performance with Lulla&Pushkin Waltz of Yuri Smirnov; Cancion y Danza No.1 of Antonio Ruiz Pipó and Zapateado by R. Sainz de la Maza.
Quartet performances including Ngọc Niền, Lê Công Nam Anh, Quang Huy and Đình Quang will play Around the World by Patrick Roux; Tango del Sol (Hommage to the Sun); Ama-zone-E (Hommage to the forest); and Introduction et Fandango of Luigi Boccherini.
Minh Trang and Quang Huy – in a duo flute&guitar – will perform three pieces: Mia&Sebastian's theme; Audition (The fools who dream) and City of Star in the film: La La Land (Oscar music Award) of Justin Hurwitz.
Duo Nguyễn Thanh Huy-Huỳnh Bá Thơ will play Suite Italiana of Mario Gangi and Jongo of Paulo Bellinati at the performance.
It's an annual guitar concert that Đà Nẵng has hosted since 2013.
People can get free tickets at Lê Độ Cinema at 46 Trần Phú street in Đà Nẵng, or the city's Exhibition centre at 9 Cách Mạng Tháng Tám street.
The performance will last 85 minutes from 8pm to 9.30pm. –
Source: https://vietnamnews.vn/life-style/817009/hcm-city-guitarists-to-perform-in-da-nang.html
Contemporary art on show in capital
HÀ NỘI — Nearly 500 works of various art forms including painting, graphics, sculpture, installation and video art by artists throughout the country are on display in downtown Hà Nội.
The show reflects the contemporary art life of the country in the past five years.
Titled the Việt Nam Fine Arts Exhibition, the event has gathered over 3,500 works by more than 1,380 artists after six months. The jury has selected nearly 30 of the best works for prizes including six second prizes, 11 third, and 12 consolation prizes.
Vương Duy Biên, former deputy culture minister and chairman of the jury, said they found it difficult to decide the prize-winning works as the talents of contributing artists are almost at the same level.
"Though there are no distinguished young talents and no first prizes awarded in all categories, the works this time have been more professional than in previous years," he said.  
Sculptor Lê Lạng Lương, a member of the Sculpture Art Council at the event, said we can see more and more different viewpoints in creating art works: from realistic trends, modern forms, to abstract and minimalism.
Sculptor Nguyễn Xuân Tiến, another member of the sculpture council, noted that there have been no works really impressing viewers and reflecting a comprehensive view of Vietnamese sculpture over the past few years.
Sculptor Đoàn Văn Bằng, another member of the council, said the event has failed to attract artists who have actively worked in the field.
"A big question to organisers for the next event is how they should attract great names," he said. "They should consider the size of the prize to gather proper names. The audience always expects to see works with fresh creative ideas."
According to professor and painter Lê Anh Vân, a member of the Painting Art Council, though the event lacked popular names, the exhibited works still reflect a part of creative desire and the findings in expressive language of the artists in front of changes of society and technology.
Researcher and art critic Phan Cẩm Thượng explains why great names did not attend the event.
"From 1995 to present, there have been more individual and collective exhibitions organised, where popular artists have been invited, than in the previous period. Besides, artists are often free in creating and thinking, they do not like being judged by certain criteria. Popular names now tend to follow commercial trends rather than pure art with individual and distinctive characteristics.
"That's why the national event every five year has attracted fewer and fewer popular names. I think instead of waiting for artists to join, organisers should invite the most influential ones so that the event reflects the best domestic fine arts situation in five year's time."
The exhibition will run at the Việt Nam Culture, Art and Exhibition Centre, No 2 Hoa Lư Street, Hai Bà Trưng District, Hà Nội till December 10 before moving to HCM City's Fine Arts Museum, 79A, Phó Đức Chính Street, District 1 between December 22 and 29.
Source: https://vietnamnews.vn/life-style/816656/contemporary-art-on-show-in-capital.html