Expressway hopes feel the squeeze
Thus far, the Law on Public-Private Partnership Investment has yet to make a major effect on the transport sector.
While Vietnam's Law on Public-Private Partnership Investment held high hopes of attracting more private investment inflows into transport infrastructure projects, lowering attraction in the eastern cluster of the North-South Expressway due to legal barriers is narrowing the door for stakeholders in future ventures.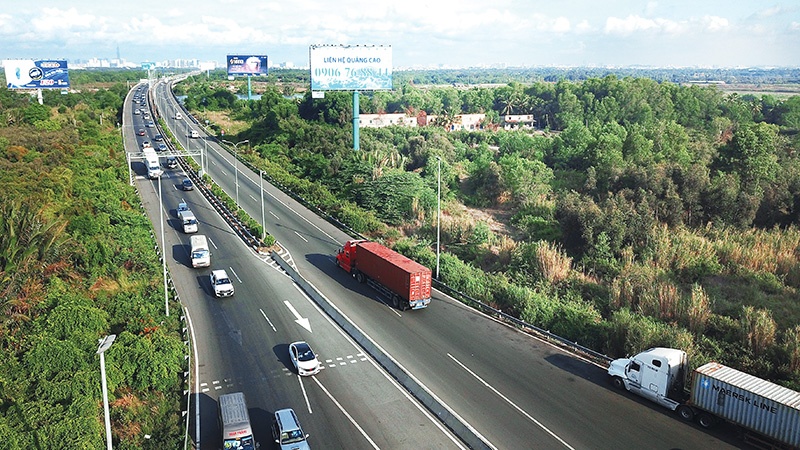 When completed, the North-South Expressway will spur the economy, Photo: Le Toan
Businesses and investors are concerned about venturing into the second phase of the project's development for the 2021-2025 period after Minister of Transport Nguyen Van The at a meeting with the National Assembly Standing Committee in mid-December proposed using state funding for all 12 sections.
Tran Chung, chairman of the Vietnamese Association of Road Systems Investors (VARSI), said the proposal means that the playground for private investors will close. VARSI represents dozens of businesses and investors in the field.
"It's a pity because the government accelerated the building of the Law on Public-Private Partnership Investment to create official legislation to attract investment in the North-South Expressway. Countries worldwide are successful with the model, with South Korea being an outstanding example with 10 out of 15 expressways developed under PPP," he noted.
Vaibhav Saxena, former co-chairman of the Indian Business Chamber in Vietnam, said that India has widely applied public-private partnership (PPP) for infrastructure in recent decades. "Likewise, the UK has had a lot of experience in successfully implementing PPP projects. The participation of private capital and effective management made it possible to better assess market risks, estimate changes in demand and propose appropriate solutions," Saxena said.
In Vietnam, private investors are interested in this venture and other key national transport projects, but find it hard to access credit. Developing an enabling capital market is one solution for them.
According to some experts, it is regrettable that the selection of state funding is proposed instead of the build-operate-transfer (BOT) model, but there is no way out. BOT requires state funding, investors' equity, and bank loans but getting a bank loan remains a big barrier, thus causing risks for such projects to ensure construction schedule.
The tough development of the eastern cluster of the North-South Expressway in the past few years is a reason for the proposal from the Ministry of Transport (MoT). The government initially planned to develop eight sections under the PPP model, and the three remaining ones would be state-funded. However, they failed to attract qualified investors or bank loan guarantees. As a result, five of them were transferred to state funding and, among the three others, two are overdue credit contract signings. Just one initiative, the PPP Cam Lam-Vinh Hao section, has found a financial source.
The MoT estimates that total investment of the project in the 2021-2025 period is nearly $6.39 billion. The ministry notes that the venture will connect Hanoi, Ho Chi Minh City, and 32 cities and provinces, expecting to contribute 65.7 per cent of GDP, and have an influence on activities of 74 per cent of seaports, 75 per cent of economic zones nationwide, while connecting the four major economic regions as well as 16 out of 23 airports.
The 12 sections of the expressway project were planned to have site clearance completed in 2022-2023, and full completion in 2025, which is expected to affect 15,000 households. VARSI chairman Chung said site clearance will be the most challenging part. Over the past few years, investors have not been much inclined towards BOT transport projects in Vietnam, while the number of schemes with financial constraints has increased. According to the MoT, in the 2011-2015 period, around 88 BOT transport projects were implemented, but the number during 2015-2020 was far lower.
Thus far, the Law on Public-Private Partnership Investment has yet to make a major effect on the transport sector. Many shortcomings remain, including inadequacies in policies on the allocation and accounting of loan interests, and problems arising from non-refundable VAT in projects like the road tunnel through Deo Ca, as well as Co Ma, Cu Mong, and Hai Van tunnels.
Vietnam targets that by 2030, the country will successfully complete a system of highways connecting economic and political centres, key economic regions, seaports, and international airports. In addition, around 5,000km of highways would be constructed. The MoT has highlighted 25 road construction projects prioritised for investment in 2021-2025.
Source: VIR
Source: https://vietnamnet.vn/en/business/expressway-hopes-feel-the-squeeze-806400.html
Stock market expected to cross current threshold
During the last trading sessions of 2021, the stock market was not particularly active. The effect was being felt of unfavorable news on the macro, the most notable of which was the GDP growth of the whole year at only 2.58%.
The news of a new variant of the Covid-19 called Omicron was also detected in a few people in Vietnam. However, despite this turbulent news, the stock market did not react in shock. The VN Index is still moving sideways between 1,480 points to 1,500 points.
Optimistic scenario
The GDP growth rate of 2.58% in 2021 was not a surprise. Even if viewed from a future perspective, this is a positive result, because there have been many poorer growth forecasts before. For example, at the end of October 2021, the World Bank estimated the GDP growth in 2021 in the range of 2% to 2.5%. There are also a few organizations such as UOB Bank that gave 3%, and the optimistic scenario of the General Statistics Office also giving 3%. Therefore, the actual growth rate of 2.58% is still a better result than many organizations predicted, although it is still at a very low level.
However, just when there are no longer any more surprises, the stock market reacts indifferently. In the last trading sessions of 2021, the VN Index went up and down mainly due to the influence of some large-cap stocks. Statistics in the past show that the last week of the market usually grows quite positively due to the impact of maintaining a portfolio value. This year the situation is very different, especially after the growth spread of the second year of Covid-19, where the VN Index increased by about 35%, and it is no longer urgent to support the portfolio, and even profit-taking transactions determine the annual bonus. Therefore, the threshold attained of 1,500 points will still be the historic peak of the market and of 2021.
In fact, indifference to bad news is an important psychological indicator in the market. The sentiment factor and the emotional action of the crowd has always been a part of the market. So when bad news appears, the level of emotional action shows that investor sentiment is not easily swayed, because the more indifferent the market reacts, the stronger the sentiment is. Looking at it from this perspective, the volatile days at the end of 2021 of the stock market ended a wobbly economic year, with a record low growth rate, which is a good sign.
Worst maybe over
There have been many forecasts about a positive recovery of Vietnam's economy in 2022 along with an initial forecast of a weak growth in 2021. Of course, forecasts will still be affected by many variables, such as whether the Omicron mutation can trigger a more dangerous pandemic wave, but basically the stock market still hopes that the worst is over.
Not only Vietnam's stock market, but securities around the world are also feeling the same. The more the Omicron mutation spreads in the US, the S&P 500 set a new historic high in the last week of 2021. French, German, and British stocks are all at historic high, although the number of cases of the new strain called Omicron has also increased rapidly. The fact that the VN Index is sticking to the historical threshold of 1,500 points these days is actually an opportunity. The market has a golden opportunity now to hit a new historic high, but what is missing is an expectation to lead.
In the first week of 2022, that expectation may arise when the Extraordinary Session of the National Assembly will take place from 4 January to 11 January 2022, the important content being the consideration of the draft resolution on fiscal and monetary policies to support the implementation of the program on socio-economic recovery and development. This resolution will pave the way for the implementation of the economic stimulus package that the stock market has been waiting for since October 2021.
The market has bet in advance on this stimulus package with a growth of nearly 13% in October and November, which is the time when the VN Index made its historic peak of 1,500 points for the first time. The whole December market stopped accumulating to wait for a confirmation.
Growth forecasts of the stock market in 2022 all consider this economic stimulus package to be a push to create a boom. According to the Vietcombank Securities 2022 outlook report, growth in public spending can have a positive effect on consumer spending and private investment as consumer demand has gradually recovered and a reasonably sized economic stimulus package targeting the right sectors before the Lunar New Year will help Vietnam keep up with world recovery. GDP growth in 2022 may also reach 6.8% to 7.2%.
VNDS also expects that the Government will issue a large-scale economic support package and maintain an easy monetary policy until at least the end of the second quarter of 2022 to promote economic recovery, while GDP is expected to grow by 7.5% in 2022.
Although forecasts are regularly updated and changed based on new variables appearing over time, the above scenarios show that the stock market expectations are well-founded. The market cycle is more closely associated with the cycle of expectations, starting with a response to receive information, followed by a pause to assess the future impact and build expectations then continue an uptrend based on expectations and finally waiting time, even adjusting to confirm expectations. This cycle is often phased out compared to actual figures due to going faster. So it wouldn't be surprising if the stock market hits a new historic high before the effects of the stimulus policies are actually seen.
The market has a golden opportunity now to hit a new historic high, but what is missing is an expectation to lead. It is expected that the Extraordinary Session of the National Assembly which will take place from 4 January to11 January 2022, will have the main focus on decision to implement the program on socio-economic recovery and development.
Source: SGGP
Source: https://vietnamnet.vn/en/business/stock-market-expected-to-cross-current-threshold-809268.html
HCMC, Mekong Delta develop formal distribution system of farm produce
Vice Chairwoman of HCMC People's Committee Phan Thi Thang promised to bring goods from the Mekong Delta into wholesale markets and distribution systems in HCMC to support farmers and cooperatives for connection of supply and demand.
In Cao Lanh city in Dong Thap province at the heart of the Mekong Delta, a conference about goods consumption connection between five provinces in the Mekong Delta including Dong Thap, Ben Tre, Vinh Long, Long An, and An Giang, and Ho Chi Minh City was held on January 15, 2022. Vice Chairwoman of Ho Chi Minh City People's Committee Phan Thi Thang, leaders of provinces, and about 500 enterprises were attending.
Within the framework of the program, one day before yesterday, a delegation from Ho Chi Minh City including more than 60 enterprises led by the Department of Industry and Trade of Ho Chi Minh City visited several gardeners and agro-processing enterprises of some provinces in the Mekong Delta region.
The supply of goods in the Mekong Delta before the Lunar New Year was quite abundant, most of the goods had relatively stable prices, even some fell quite deeply. This situation has never been before.
This year, the complicated development of the Covid-19 epidemic has strongly affected purchasing power. For instance, Cao Lanh District, Dong Thap Province currently has 7,800 hectares of fruit trees, hundreds of thousands of tons of products with diverse and rich varieties such as mangoes, oranges, lemons, guava, and jackfruit put on the market each year.
This year, although it is the peak season of the Tet holidays ( the Lunar New Year), the prices of many types of products are falling deeply, driving farmers into despair. For example, jackfruit price dropped from VND40,000-VND50,000 to VND4,000-VND5,000 a kg; many other fruits also decreased about 20 percent over the same period.
Thanh Binh District in the same province has more than 3,150 hectares of fruit trees, nearly 570 hectares of aquaculture. The price of seafood of all kinds is decreasing by about 20 percent compared to 2021. Worse, an enormous volume of commodities was stockpiled before the Lunar New Year season.
Vice Chairman of Thanh Binh District People's Committee Mai Van Doi said that over the past time, farmers, as well as many local enterprises, have improved product quality and packaging; however, fresh products have not been still processed, and no enterprises have undertaken consumption of agricultural products.
Quality Manager of San Ha Company Nguyen Huu Tri said that from September 2021, the enterprise signed a contract to purchase livestock and poultry in the Mekong Delta for the whole year 2022 at a relatively stable price.
He added that the Covid-19 epidemic has disrupted the supply chain, leading to an increase in raw materials for livestock and poultry. The company will share difficulties with farmers.
Most of the enterprises, cooperatives, and leaders of the five provinces admitted that farming, production, and processing were still fragmented and had not been linked for mutual development. In particular, in the past time, many businesses have only focused on export, neglecting the domestic market; as a result, trucks got congested in the northern border gate.
Faced with this situation, representatives of the wholesale and retail market system from Ho Chi Minh City proposed that businesses in the Mekong Delta and local departments should create commodity chains that connect local products to retailers and supermarkets.
On the other hand, farmers and businesses need to pay attention to product quality, especially paying attention to the cultivation process, traceability because supermarkets are very strict about product quality and reasonable prices.
Speaking at the conference, Vice Chairman of Ho Chi Minh City People's Committee Phan Thi Thang assessed that the Mekong Delta has many strengths in agricultural production along with the value chain. However, farmers often tend to produce spontaneously without an understanding of market demand resulting in abundant production.
Therefore, she suggested that leaders of provinces create favorable conditions for manufacturing and exporting enterprises in Ho Chi Minh City to boost investment in projects to build material areas for a stable source of goods, traceability, reputable brand name, agricultural products with good quality. Moreover, enterprises should have sale contracts at international border gates and main border gates; thereby, creating a new, large-scale, stable, and long-term market area for enterprises in HCMC and provinces.
Source: SGGP
Source: https://vietnamnet.vn/en/business/hcmc-mekong-delta-develop-formal-distribution-system-of-farm-produce-809267.html
E-commerce – important pillar of Vietnam's digital economic development
The Fourth Industrial Revolution is taking place around the world with a boom in digital technology, creating great opportunities for but also challenges to the development of each country, enterprise, and person.
E-commerce has proved to be an increasingly useful tool for enterprises to surmount difficulties and grasp chances (Illustrative photo: VNA)
Vietnam's digital economy has been growing at the fastest pace in ASEAN, about 38 percent annually compared to the region's average of 33 percent since 2015. The country expects the digital economy will make up 20 percent of its GDP and at least 10 percent in each sector.
Vietnam's digital economy posts fastest growth in region
In a recent interview granted to the Vietnam News Agency, Deputy Minister of Industry and Trade Nguyen Sinh Nhat Tan said local e-commerce has been thriving, playing an important role in economic development as well as in the future of Vietnam's digital economy. E-commerce development is an inevitable trend in the country, and the COVID-19 pandemic serves as a catalyst for this trend to proceed faster and more strongly.
Despite the pandemic's adverse impacts in 2020, e-commerce in Vietnam still made great strides to become one of the fastest growing markets in Southeast Asia.
According to the Vietnam E-commerce White Book, e-commerce expanded by 18 percent in 2020 to reach 11.8 billion USD, making the country the only in Southeast Asia to post a double-digit growth rate in this regard. Estimates by some major businesses in the world like Google, Temasek, and Bain & Company indicate that the digital economy of Vietnam is likely to top 52 billion USD and rank third in ASEAN by 2025.
Amid the resurgence of COVID-19 in 2021, e-commerce has proved to be an increasingly useful tool for enterprises to surmount difficulties and grasp chances generated by new demand in the market. Local consumers are strongly shifting from the traditional in-person shopping to online method via electronic platforms.
A survey by the Ministry of Industry and Trade showed that Vietnam had 49.3 million online shoppers in 2020, compared to 32.7 million in 2016.
Hanoi and Ho Chi Minh City are among the largest cities in terms of digital economic development in the region. In HCM City alone, there are currently 567 e-commerce platforms, over 20,680 websites, and 134 apps. Although the lingering COVID-19 pandemic has hindered the flow of goods, many e-commerce platforms and websites still posted fast growth.
Thanks to the digital economy, business activities have become vibrant, from advertising on social networks (Facebook, Instagram), entertainment (Netflix, Pinterest), transport (Uber, Grab, GoViet) to wholesale and retail (Lazada, Shopee).
Vietnam has emerged as one of the largest regional recipients of investment into the companies operating on IT platforms and the internet such as MoMo, Sendo, and Topica, helping turn it into an attractive destination for domestic and foreign investors.
Transboundary e-commerce – useful distribution channel for enterprises to expand market
E-commerce helps people purchase items from international markets via the internet and become "global consumers". It also assists individuals and businesses to introduce and deliver their products to international buyers.
The engagement in the online export – import system and stages of transboundary e-commerce will generate opportunities for Vietnamese firms to perfect their products, improve capacity, and make Vietnamese brands popular among consumers around the world.
To help boost the sale of Vietnamese goods via transboundary e-commerce, the Vietnam E-commerce and Digital Economy Agency (iDEA) has launched the Vietnam National Pavilion on JD.com, an international e-commerce platform. Its partners like Vinanutrifood, Viettel Post, VPBank, and Visa also unveiled practical policies related to marketing, transport, and lending interest rates to support Vietnamese manufacturers to carry out this programme.
The Ministry of Industry and Trade has been developing and applying an array of measures such as a certified e-contract authority, guaranteed payment infrastructure for e-commerce, and a platform for managing the e-commerce product flow, which will serve as important bases for the ministry to assist e-commerce platforms and businesses using e-commerce, thus facilitating the healthy, transparent, and sustainable development of the market.
Talking about transboundary e-commerce, iDEA Director Dang Hoang Hai said it is relatively new to enterprises in Vietnam but also the start of a long journey with much needing to be done by both authorities and companies.
He expressed his belief that thanks to joint efforts by the ministry and others, central agencies, localities, and the business community, Vietnamese pavilions on foreign e-commerce platforms will be opened soon and prove effective.
Highlighting the benefits from transboundary e-commerce, Nguyen Thi Diem Hang, Chairwoman of the Board of Director of the Vietnam Organic Nutrition Food JSC (Vinanutrifood), said joining the national pavilion helps popularise the image and brand of Vietnam in the global market. It also supports Vietnamese firms to seek exporting and importing partners and build up foreign consumers' trust in Vietnamese goods.
Developing healthy e-commerce market in Vietnam
Grasping trends and good practices of digital transformation in trade will help promote innovation in Vietnamese enterprises. On November 22, 2021, the Prime Minister issued a decision approving a plan to step up the IT application and digital transformation in trade promotion during 2021 – 2030.
However, the ministry's Competition and Consumer Authority pointed out that e-commerce growth has also been accompanied by the surge in wrongdoings related to consumers' interests. Data show that there are about 500 – 2,000 complaints from consumers every year, mostly about leaks of buyers' information and scams by sellers.
To create a legal framework for protecting consumers in the e-commerce market, the Government issued a decree that amended and supplemented another on e-commerce released in 2013.
According to the new decree, sellers must publicise information about products as well as business licences and related certificates when doing business on e-commerce platforms. Besides, business activities on social networks like Facebook, Zalo, and Instagram were also placed under management.
The ASEAN Agreement on Electronic Commerce, signed in Hanoi on January 22, 2019 and taking effect on December 2 last year, set up common principles and rules for facilitating e-commerce development in the region and enhancing the rule enforcement capacity.
The deal implementation is expected to help revive the regional economy in the post-pandemic period.
Deputy Minister Tan said in the "new normal" context, e-commerce has increasingly shown its indispensable role in society when enterprises and organisations must swiftly apply digital transformation solutions to their business and management activities like switching to multi-channel retailing and using smart order management and logistics tools.
With huge market potential and the Party and State's favourable policies, e-commerce is expected to be a contributor to the economic recovery in Vietnam when the country is moving to safely adapt to the COVID-19 pandemic.
E-commerce has been present in almost all production and business sectors, helping boost economic development. However, it is still facing a number of challenges related to consumers' trust in items sold online, delivery and payment methods, and information security. Given this, the Government and relevant agencies should take appropriate actions to protect consumers and fuel e-commerce in the time ahead./.
Source: VNA
Source: https://vietnamnet.vn/en/business/e-commerce-important-pillar-of-vietnam-s-digital-economic-development-808836.html