Giant whale skeletons restored on Lý Sơn Island
LÝ SƠN   Two giant whale skeletons have been restored on Lý Sơn Island, in the central province of Quảng Ngãi.
The skeletons date between 250 and 300 years. They are 18m and 22m long, and nearly 4m high, the biggest of their kind preserved in Việt Nam.
It took more than two months for the technicians to finish the restoration work as the bones were in very poor condition, with 40 per cent having been damaged. 
"The two whale skeletons were severely damaged due to the very humid weather of the region, which is a coastal locality. We decided to plasticise the rotting bones, and conjoined them by stainless steel inside, and reassembled them to get the finished products," Đặng Trung Hiếu, a technician from the Cá Mặt Trời Company, which is responsible for the work, said.
The skeletons were then reconstructed to simulate the position of whales swimming.
Whales, often referred to as "Cá Ông" (Mr Whale) in Vietnamese are worshipped by fishermen in Việt Nam as Gods who help them when they face difficulties at sea, and ensure a good catch.
Lý Sơn Island is said to be 'the biggest museum' of whales in the country. On the island, there are seven temples worshipping whales where tens of skeletons are kept.   
The local people are pleased with this project, as it is the first to help preserve the remains of the holy animal in their locality.
"We are very happy that the State has paid attention to this. With the State's care the whale skeletons will be preserved for many years to come," Nguyễn Thành Châu, a resident of Đông Anh Vĩnh Commune on Lý Sơn, said.
The restoration project, including the restoration of skeletons and the construction of an exhibition house, has a total investment of over VNĐ14 billion (US$616,000).
The local authority said the project aimed to preserve the traditional beliefs of local residents and promote tourism. 
Source: https://vietnamnews.vn/life-style/1114675/giant-whale-skeletons-restored-on-ly-son-island.html
HCM City student wins at logo contest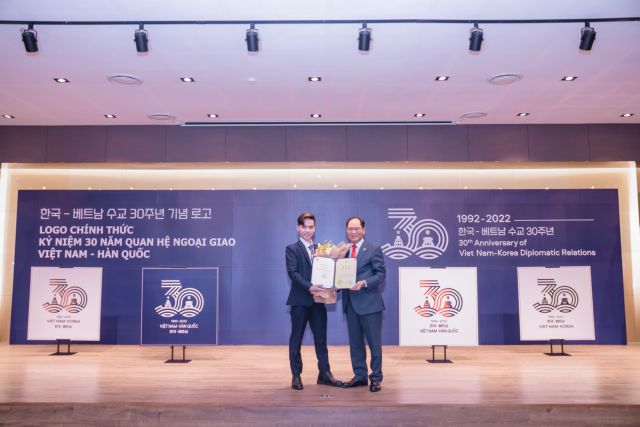 HÀ NỘI — HCM City-based Ngô Quang Trung, 22, won the top prize at a logo design contest to celebrate the 30th founding anniversary of Việt Nam and South Korea diplomatic relations this year.  
The contest was co-held by the Vietnamese embassy in Korea and the Korean embassy in Việt Nam in October and November last year for Vietnamese and Korean designers. 
Trung, a fourth-year student from the HCM National University, designed the logo using two symbols of Việt Nam and Korea. The Turtle Tower on Hoàn Kiếm Lake in Hà Nội is an icon of the capital city, while Gwanghwamun gate is the largest gate of Gyeongbokgung Palace in Seoul. 
These structures are placed alongside the national flags of the two countries and the number 30 to represent their three-decade friendship. 
The logo beat 774 others in the contest and will be used in communications and events throughout the diplomatic celebration this year.
"I'm honoured and happy for my design to be selected," Trung said at the award ceremony on Tuesday. "I hope that it will contribute to fostering bilateral ties in the future."
The award ceremony is a curtain-raiser for a series of cultural exchanges serving the celebration, said Korean ambassador Park Noh-wan at the ceremony. — 
Source: https://vietnamnews.vn/life-style/1117220/hcm-city-student-wins-at-logo-contest.html
HCM City artists honoured at Drama Festival
HCM CITY — Artists Ngô Mỹ Uyên and Lê Lộc of HCM City have won top prizes at the 2021 Southern Drama Festival launched by the Performing Art Department under the Ministry of Culture, Sports and Tourism.
Meritorious Artist Uyên won gold prize for the Best Actress in Tình Lá Diêu Bông (Woman in Love), a production on family issues staged by the HCM City Small Theatre.  
Uyên's performance captured the hearts of judges and audiences during the 13-day event. 
"My staff and I have worked to improve both skills and creativity to advance Vietnamese drama in the southern style," said Uyên, director of HCM City Small Theatre – the city's first private theatre. 
"Our artists love offering experimental plays using modern techniques. Therefore, we have to improve our stage experience and life skills to bring our art closer to audiences." 
Uyên has 20 years' experience in the industry. She works as a director and producer who combines drama, tuồng (classical drama), cải lương (reformed opera), contemporary dance and music. 
Uyên's chief competitor was young actor Lê Lộc of Phú Nhuận Drama Troupe – one of the city's leading private theatres. 
Lộc won gold prize for Best Actor in Ngã Rẽ (Turn of Life), a play on urban youth and their conflicts in love, family life and their careers.    
The two were among 40 artists who were honoured at the festival's award ceremony on Monday at HCM City's Trần Hữu Trang Cải Lương Theatre. 
The organisers also gave top prizes for Best Play, Best Director and Best Scriptwriter. 
The festival attracted 300 artists from 20 State-owned and private theatres and troupes in the region. 
"Our festival has discovered and encouraged new talents in Vietnamese drama to develop their art," said People's Artist and theatre director Trần Minh Ngọc, chairman of the festival's board. — 
Source: https://vietnamnews.vn/life-style/1117214/hcm-city-artists-honoured-at-drama-festival.html
Culture ministry proposes fully opening to international visitors from April 30
HÀ NỘI — Minister of Culture, Sports and Tourism Nguyễn Văn Hùng and economic experts believe that April 30 is an appropriate occasion to welcome foreign tourists back to Việt Nam.
As part of a current pilot project, groups of foreign tourists have been welcomed to selected destinations on closed, package tours. 
Addressing a conference on improving tourism competitiveness on Tuesday, Minister Hùng noted Việt Nam is kick-starting its tourism recovery scheme by reopening the door to domestic tourism, receiving support from localities and travel businesses.
"April 30 will be the right time. We are confident that this is the right step, the right roadmap, as the pilot programme to welcome international visitors is successful for two months, the vaccine coverage is in the top six worldwide and the tourist destinations are ready," he said.
The minister requested that localities continue implementing the pilot scheme from now until April 30, and if the proposal is approved, Việt Nam will fully reopen its market to international tourism.
"This is determination, not idealism," said Hùng.
Phạm Văn Thủy, deputy director of the Việt Nam National Administration of Tourism, also agreed that the international tourism market should be reopened from the second quarter so that localities and businesses have time to prepare conditions for welcoming guests.
He also proposed to promote tourism, at the same time expand the scope of piloting to welcome guests and synchronise regulations from the central to local level and between localities.
Also at the conference, Đà Nẵng was ranked as the city with the highest tourism competitiveness in the country.
Accordingly, the city is highly appreciated for its road traffic safety, ease of access by air, a qualified tourism workforce, good quality tourism infrastructure, and attractive cultural properties.
Following Đà Nẵng, the localities with high tourism competitiveness are Quảng Ninh, Khánh Hòa, and Quảng Nam.
Hà Nội and HCM City are in 6th and 8th place, respectively. — 
Source: https://vietnamnews.vn/life-style/1117213/culture-ministry-proposes-fully-opening-to-international-visitors-from-april-30.html