Hanoi's millennium-old bell named national treasure
A bronze bell dating back to the 10th century at Nhat Tao Communal House in Dong Ngac ward, Hanoi's Bac Tu Liem district, was recently recognised as a national treasure.
The Nhat Tao bell is the only of its kind dating back to the Ngo Dynasty (10th century) that has been found in Vietnam so far (Photo: qdnd.vn)
The bell is a unique antique and the only of its kind dating back to the Ngo Dynasty (10th century) that has been found in Vietnam so far.
Weighing 6kg, it is 32cm in height, 19cm in diameter in its mouth and has a 7cm-tall canon.
Words inscribed on the bell are one of the earliest script evidences of the period of autonomy in Vietnam's history, helping with studying the country's society at that time.
Meanwhile, its decorations reflect the quintessence of carving and bronze casting techniques of the time./.
Source: https://vietnamnet.vn/en/entertainment-sports/hanoi-s-millennium-old-bell-named-national-treasure-652572.html
Liverpool close in on Premier League record points tally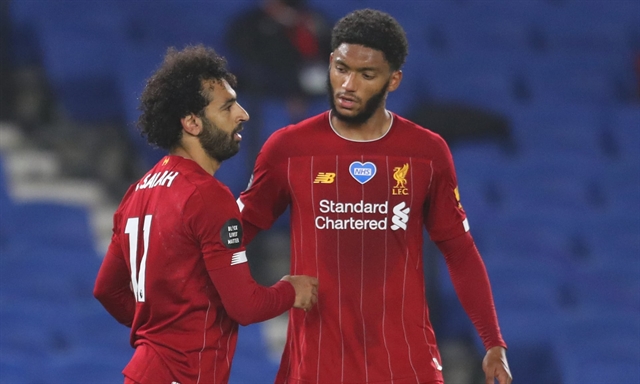 BRIGHTON — Liverpool remained on course for a Premier League record points tally thanks to two goals from Mohamed Salah to win 3-1 at Brighton on Wednesday.
The English champions move onto 92 points with three wins from their final four games enough to break Manchester City's record of 100 points from two seasons ago.
Jurgen Klopp's men were quick off the mark with two goals in the first eight minutes to end a run of five games without a goal away from home either side of the coronavirus shutdown.
Brighton's desire to play out from the back has been one of the hallmarks of Graham Potter's first season in charge and the Seagulls look certain to meet their target of staying in the division with a nine-point cushion over the bottom three.
But the hosts were twice caught out by Liverpool's press to leave themselves too much to do despite another promising performance.
Salah remained in the hunt for a third Golden Boot in as many seasons as a Liverpool player as he slotted home Naby Keita's cross to open the scoring.
Two minutes later the Reds robbed possession again in the Brighton half and after Salah was held up, Henderson curled home a brilliant shot into the far corner for a rare goal in an inspirational season for the Liverpool captain.
Rather than letting the floodgates open, Brighton showed impressive resolve to then take the game to their illustrious visitors.
Neco Williams made a brilliant block on his first Premier League start to deny Leandro Trossard a quick reply before Alisson Becker saved from Neal Maupay.
Brighton got their reward just before half-time when Trossard connected sweetly with Tariq Lamptey's cross to halve the deficit.
Dan Burn wasted a huge opportunity to bring the hosts level after the break as he failed to hit the target with the goal gaping.
Salah was more clinical when he headed home Andy Robertson's cross at the near post for his 19th Premier League goal of the season to move within three of Jamie Vardy in the race for the Golden Boot.
But the Egyptian then missed two big chances in stoppage time for his third Liverpool hat-trick and to further cut Vardy's lead at the top of the scoring charts as Mat Ryan flicked his first effort over the bar before Salah headed over with the final touch of the game. — AFP
Source: https://vietnamnews.vn/sports/749375/liverpool-close-in-on-premier-league-record-points-tally.html
Ivy League colleges halt sport over virus concern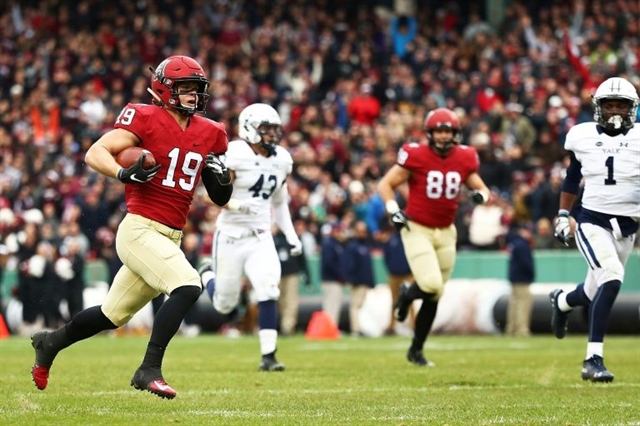 Los Angeles — The Ivy League group of elite US universities on Wednesday halted all sports until 2021 because of the coronavirus pandemic, in a move that could have wide implications for the lucrative world of college sports.
A statement from the Ivy League's Council of Presidents said no sport at all would be played during the autumn semester, which runs from September until December.
"With the information available to us today regarding the continued spread of the virus, we simply do not believe we can create and maintain an environment for intercollegiate athletic competition that meets our requirements for safety and acceptable levels of risk," the Ivy League's council said in a statement.
A decision on whether sports could return in the New Year would be taken at a later date.
The ruling means the eight Ivy League colleges will play no gridiron football this year.
Although Ivy League gridiron teams are not the strongest in the United States, Wednesday's decision could influence other institutions currently grappling with the issue of how to organise sport safely in the era of COVID-19.
Ivy League executive director Robin Harris told ESPN campus policies designed to mitigate the threat of coronavirus, with many requiring students to study remotely, made sport a non-starter.
"The campus policies make it impractical for competition to occur, at least through the end of the fall semester," Harris said.
"Eight campuses have announced their policies for the fall over the past two weeks. When we realised and the presidents realised based on these campus policies that we couldn't have competition we wanted to make sure the student-athletes were aware of the outcome.
"It's certainly the right decision for the Ivy League, but it's difficult."
The Ivy League said practice and other athletic training would be permitted, starting with limited individual and small group workouts. — AFP
Source: https://vietnamnews.vn/sports/749359/ivy-league-colleges-halt-sport-over-virus-concern.html
Coach Park spolit for choice in midfield
HÀ NỘI — National team head coach Park Hang-seo now has a plethora of options to choose from in central midfield thanks to some rising stars in the V.League 1. 
With stars like Đỗ Hùng Dũng, Nguyễn Tuấn Anh and Phạm Đức Huy already firm favourites of the South Korean, Park looks set to have a pleasant headache for upcoming matches.
Undoubtedly, Dũng is the top central midfield player in Vietnamese football.
The Golden Ball award-winner is still performing well for Hà Nội FC, even if the defending champions are struggling as a team. 
In the case of Tuấn Anh, although he has just returned from injury, the Hoàng Anh Gia Lai player oozes class and is arguably the country's most technically gifted midfielder.
After eight V.League 1 matches, coach Park also has some rising stars in the middle of the park to call upon, including Nguyễn Hải Huy of Quảng Ninh Coal and Viettel's Hồ Khắc Ngọc.
The 29-year-old Hải Huy is the most suitable substitute for Dũng in the national team as both play with constant energy and have sold football IQs.
The only thing the Quảng Ninh midfielder lacks is experience in international competition, bar his side's current AFC Cup campaign, which should go some way to addressing that deficiency.
Meanwhile, Khắc Ngọc has performed very impressively and proved that he is fully capable of being selected for the national team.
He can be considered one of the most complete central midfielders in Việt Nam at the moment, and if he keeps up the level of play he's been at in recent weeks, he could be a solid backup for is Tuấn Anh in national team. —
Source: https://vietnamnews.vn/sports/749357/coach-park-spolit-for-choice-in-midfield.html