Hebei: China locks down 400,000 people after virus spike near Beijing
It's a small spike in Hebei near Beijing – but enough for officials to reinstate a strict lockdown.
China has reinstated a strict lockdown near Beijing, affecting around 400,000 people, after a small surge in cases.
The restrictions have come into force in Anxin county in Hebei province near the capital.
After the pandemic emerged in China at the end of last year, the country has managed to get new infections to a consistently low level.
To avoid a second wave, even small surges are taken very seriously by the country's health authorities.
What is happening in Hebei?
Officials announced on Sunday that Anxin would be "fully enclosed and controlled". 
Only essential workers are allowed to leave their homes, while one member of a household is allowed to go out once a day to shop for necessities.
No non-residents residents will be allowed to enter buildings, communities or villages. Authorities have warned anyone violating the rules will be punished by police.
Anxin is around 150km (90 miles) south of Beijing. Chinese media say there have been 18 cases in the county since the beginning of the recent surge in Beijing two weeks ago.
The area is not nearly as densely populated as China's large urban centres, and local health experts said they were optimistic the spread could be stopped. 
What is the situation in Beijing?
China's recent numbers remain the envy of most other countries hit by the virus. Yet a recent spike in Beijing has authorities fearing a possible second wave.
Over the past 24 hours, Beijing reported 14 new cases of the virus, taking the total since a mid-June outbreak in a food market to 311.
While this is a small number compared with the thousands of daily cases in the US or South America, China reacted quickly to contain any spread.
Several neighbourhoods in Beijing were put under restrictions, travel was limited, and a massive wave of fresh testing was rolled out.
Before the recent spike, the Chinese capital had gone 57 days without a locally-transmitted case.
How is the rest of China dealing with the virus?
In general, China has successfully "flattened the curve" in recent months.
After passing 80,000 confirmed cases at the start of March, it has added only around 4,700 since then.
Since mid-June, new infections have been mostly limited to Beijing with some spill over into neighbouring Hebei.
The rest of China has seen only a small trickle of single-digit infections, most of which were imported cases, which means travellers returning from abroad. BBC
Source: https://vietnamnet.vn/en/society/hebei-china-locks-down-400-000-people-after-virus-spike-near-beijing-652630.html
Heroin traffickers busted in Điện Biên
ĐIỆN BIÊN — Police in the northern province of Điện Biên in collaboration with other forces have raided a drug trafficking ring involving three suspects and nearly 19kg of heroin.
Police on Tuesday night arrested a man who was trading the heroin in Tin Tốc Village, Mường Tùng Commune, Mường Chà District.
Expanding the case, the police then seized two other men, along with one car, one motorbike and six mobile phones.
According to the police, one month ago, they discovered the trans-provincial and trans-national drug trafficking ring with a large amount of heroin traded from Laos to Điện Biên through Lai Châu and Lào Cai provinces before being sold to a third country.
The case is under further investigation. —
Source: https://vietnamnews.vn/society/749376/heroin-traffickers-busted-in-dien-bien.html
Nearly 300 citizens brought home from Russia
HÀ NỘI — Vietnamese authorities, representative agencies in Russia and national flag carrier Vietnam Airlines have worked with Russian agencies to bring nearly 300 Vietnamese citizens home on Wednesday and Thursday.
The passengers included children, with many of them being under two years old, the elderly, the ill, pregnant women, workers with expired labour contracts, stranded tourists and students who finished their studies.
The Vietnamese Embassy worked closely with local authorities to help the citizens travel from Vladivostok, Ekaterinburg, Saint Petersburg and other localities to Moscow airport. It also sent staff to the airport to assist them.
Strict security and safety measures were enforced during the flight to protect passengers' health and prevent the spread of the disease.
Immediately after the flight landed at Cần Thơ International Airport, all passengers and crew members were given health checks and quarantined in line with regulations.
Under the Prime Minister's direction, domestic authorities and Việt Nam's overseas representative offices will arrange more flights to take Vietnamese citizens home, depending on the citizens' need and the country's quarantine capacity. —
Source: https://vietnamnews.vn/society/749364/nearly-300-citizens-brought-home-from-russia.html
Microfinance helps rural women start businesses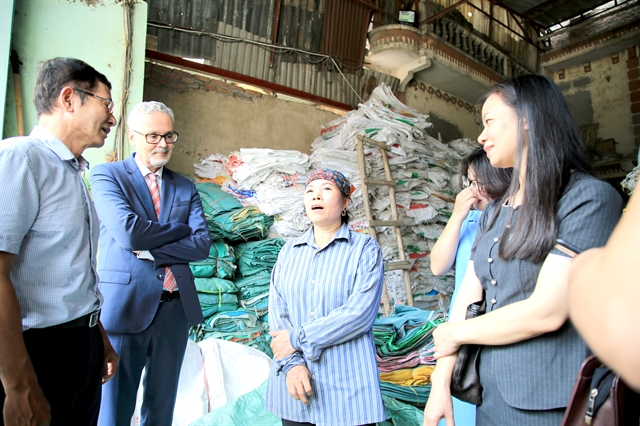 BẮC NINH — Nguyễn Thị Luyến, 49 years old, of Yên Phong District in the northern province of Bắc Ninh was among first borrowers from Tình thương One Member Limited Liability Microfinance Institution (TYM) in her hometown when the institution opened its branch in 2008.
With a loan of VNĐ4 million (US$172) for 100 weeks, Luyến and her husband opened a jute bag making workshop – a goal that they had had for years but were unable to realise due to a lack of finance.
Since then, every week, she visited the TYM branch to make a principal payment of VNĐ40,000 and interest of VNĐ9,600. After repaying the first loan, she applied for and received more loans. Luyến is now eligible to borrow VNĐ50 million, the maximum loan TYM offers members.
Luyến said that before 2008, she and her husband mostly earned a living from farming.
"We worked hard but what we earned was just enough to feed our family and send our children to school," she said, adding that when they or their children got sick, they had to borrow money from their relatives for medicine.
"At that time, we did not have any savings to start a business," she said.
After receiving the modest loan from TYM in 2008, Luyến's family invested in their business to make jute bags.
"With capital in our hands, we still faced other difficulties, particular in balancing costs, labour costs, finding consumers, meeting market demands and taking care of our children," she said.
"As a solution for such problems, my husband was responsible for delivering products to customers and instructing workers while I was responsible for paperwork, receiving orders and buying input materials," Luyến said.
"When my husband delivered products to buyers, he would get their feedback and then adjust our products to meet their tastes," Luyến said.
Luyến's business improved and she provided jute bags to neighbouring communes of Trung Dủng, Nghĩa Thọ, Văn Môn and other districts like Từ Sơn, Tiên Du and then, to other provinces like Bắc Giang and Hà Nội also.
The family workshop was expanded, creating jobs for all members of the family and other local residents.
Now, she employs regular 15 workers and six seasonal workers with an average monthly salary of VNĐ3 million ($130).
"Thanks to accessing to TYM's loans, we can be proactive in our trade and production," she said, adding that with TYM's mechanism that allows amortisation encouraged borrowers to work harder.
In 2014, Luyến was recognised as an outstanding microfinance client with a sustainable production model under a programme funded by Citi Foundation.
TYM originated from the Tình Thương fund launched by the Việt Nam Women's Union in 1992 to aid the Government's hunger elimination and poverty reduction programme while improving women's status within and outside the home.
TYM provides loans or microfinance for low-income people, many of them poor and vulnerable women. TYM also helps to collect its members' savings which are sent daily, weekly or monthly and can be withdrawn at any time. Last year, it received more than VNĐ1.6 trillion ($69 million) in savings.
According to TYM, between 1992 and 2019, it had handed out more than 1.3 million loans worth VNĐ14 trillion ($604.5 million) to nearly 170,000 clients. The repayment rate of the loans is 99.99 per cent, according to TYM.
Visiting Luyến's workshop last week, German ambassador to Việt Nam Guido Hildner said Vietnamese women played important roles in their families and society.
"The women need multifaceted assistances to improve their abilities, particularly financial assistance for economic activities," he said, adding that microfinance was an effective channel for women, especially those in rural or remote disadvantaged areas, to access financial services.
For years, German's Federal Ministry of Economic Co-operation and Development, Savings Banks Foundation for International Co-operation have helped the Việt Nam Women's Association and TYM with microfinance activities.
Under a regional project strengthening regional microfinance networks in former Indochina and Myanmar, German helped TYM provide financial education classes for women, improve the institutional ability of the organisation through digitalisation, increase staff ability as well as expand co-operation among microfinance institutions in the region.
The ambassador said he hoped such assistance was helpful for Vietnamese women.
Going with the ambassador to visit two TYM clients in Bắc Ninh Province, Vice Head of Việt Nam Women's Association Đỗ Thị Thu Thảo said that TYM had increased its ability and became the first official microfinance institution in Việt Nam.
Last year, TYM was recognised as one of the top 10 financial institutions in the world with best practices in increasing the resilience of communities vulnerable to the effects of climate change under the framework of the European Microfinance Award 2019 'Strengthening Resilience to Climate Change' (EMA 2019).
The award was organised by the European Microfinance Platform (e-MFP), the Luxembourg Ministry of Foreign and European Affairs, and the Inclusive Finance Network Luxembourg (InFiNe.lu), in co-operation with the European Investment Bank (EIB).
TYM offers tailor-made products and services, for example, loans are provided without collateral requirements, loans are disbursed quickly and require simple procedures.
Loans' sizes are small for poor women. Clients can open savings accounts with minimal capital.
Among TYM's clients, 120,000 women have escaped from poverty and 7,000 women have become micro-entrepreneurs. —
Source: https://vietnamnews.vn/society/749339/microfinance-helps-rural-women-start-businesses.html