ITU Digital World 2020 to open next week on digital transformation in management
ITU Digital World 2020 will open in Hanoi on October 20, with one of the focuses being the transformation of management activities in the digital environment.
ITU Digital World 2020 will offer deep-cutting insights into the world of digitalisation to help participants adapt to COVID-19.
From 2021, ministries and localities will deploy a rating of digital transformation to measure the level management agencies deploy online activities. Two national databases on population and landwill be digitalised, allowing the application of electronic authentication services from late 2021.
Supportive measures will also be made available, including the development of capacity and training of digitalisation skills for the government and businesses, with an aim to make Vietnam in the Top 4 in ASEAN in e-government ranking by the United Nations in 2030, and one of the top 70 countries worldwide.
Digitalisation of infrastructure
With young population and stable GDP growth of around 7 per cent over the past 30 years, Vietnam is accelerating the digitalisation of the telecom infrastructure by deploying national broadband and 4G/5G as they keystone for digital transformation and the improvement of competitiveness.
In big cities like Hanoi and Ho Chi Minh City, 5G will play an important role in the development of smart cities and acceleration of Industry 4.0 to serve economic growth, as well as job generation towards achieving the United Nations' Sustainable Development Goals (SDGs).
Innovating science and technology, including new applications such as AI, blockchain, and Virtual Reality/Augmented Reality (VR/AR), is the foundation for Vietnam's digital government development strategy.
Online trend in Vietnam
Vietnam has experience in hosting a number of online high-end international conferences such as the 36th ASEAN Summit as ASEAN Chair in 2020.
"Cooperation and consent in the rehabilitation of healthcare and society, and economic impacts from the pandemic" is expected to be the theme of this event's discussions.
Issues about digital government will be introduced at the ITU Digital World 2020 and its digital exhibition 2020. As expected the ITU Digital World 2021 will be hosted in Hanoi next October.
Cooperation in recovery and development
Also, key discussions at the event will be how digital nation strategies have been changing in the COVID-19 pandemic; the importance of digital technologies to governments, economies, societies, and individual life; digital gap among countries; how governments and private firms can collaborate with international support to invest in network development, redirection of resources, and to have re-focus strategies to narrow the digital gap; whether new technologies can save cost and serve the purposes; how economies can work together on recovery and development among others. VIR
Source: https://vietnamnet.vn/en/sci-tech-environment/itu-digital-world-2020-to-open-next-week-on-digital-transformation-in-management-681543.html
Smart cities: 'one size does not fit all'
Urban digital transformation and smart city development have become indispensable. Every city dweller has become a smart environment sensor. Just after three months, the streets in Hue City have become unprecedentedly clean.
People are the center
Countries are becoming digital economies and societies with the support of digital technology which improves management efficiency, develops businesses, and enhances people's lives.
Deputy Minister of Science and Technology Bui The Duy said in 2020, when all countries are facing great challenges from the Covid-19 pandemic, the Ministry of Information and Communications (MIC), together with telcos, have gained certain achievements in fighting the epidemic and helping people have normal lives both during the social distancing time and the 'new normal' period.
Vietnam has been making every effort for many years and facing difficulties to deploy digital technology, and organize online teaching and meetings.
However, just two months after the pandemic broke out, all students in Vietnam could access online learning. This shows the strong development of telecom services and the application of digital transformation in the country.
Duy said that digital technology is developing rapidly in cities, but also in rural areas.
"Despite a lot of difficulties, we have 4G throughout the country and can see images of students in remote areas studying online without interruption," Duy said.
Urban digital transformation and smart cities are similar phenomena that take place at the local level.
Quang Ninh province, which pioneers the country in e-government, has applied the FT.eGov 4.0 solution, deploying an infrastructure platform and operating a database platform for e-government; creating an interconnected working environment for administrative agencies; and building a modern Public Administration Service Center.
The platform has helped reduce 40 percent of travel time and save VND30 billion a year for the provincial budget.
Urban digital transformation and smart city development have become indispensable. Every city dweller has become a smart environment sensor. Just after three months, the streets in Hue City have become unprecedentedly clean.
Meanwhile, HCM City's local government service platform (LGSP) is considered one of the fundamental components of the City E-Government Architecture, built with 100 percent readiness to serve the basic needs of a smart city.
To date, 22 units have connected to the system, with 200,000 records connected, 6,260 GB of data integrated, and nearly 12 million users authenticated and identified.
Management agencies only need one officer to supervise the platform and just more than one hour to make a report, instead of two workers who have to work full time for four days to process all GB of data.
It is expected that 70 percent of total population around the world will live in urban areas by 2050. Urban digital transformation and smart city development is indispensable.
No one shirt fits all
Talking about solutions to develop smart cities, Minister of Information and Communications Nguyen Manh Hung said cities now have a lot of problems but they differ among cities.
Hue, for example, is a tourism city. Therefore, making the streets green and clean is its top priority.
And they do this with an app called 'market reflection'. People take pictures of problems on the streets and report to the authorities for quick reaction. As such, every city dweller has turned into a smart sensor. Just after three months of application, Hue's streets have become cleaner than ever before.
Meanwhile, Bac Ninh is an industrial city with industrial zones and migrant workers from many cities, so it has to deal with problems in social order and security. The municipal authorities installed a camera system, and the situation has improved considerably.
Local newspapers reported that a boy was rescued from kidnappers within 24 hours thanks to the camera system.
The problems that HCM City authorities have prioritized deal with traffic jams and floods.
Truong Gia Binh, Chair of FPT Group, the largest Vietnamese IT firm, said that developing smart cities is the only smart choice for the nation's socio-economic development.
Businesses will have favorable conditions to carry out digital transformation and develop in a sustainable way. Meanwhile, the state will have effective management methods and people will have the best environment to live and work in.
In building e-government and striving for smart cities, the benefits for people and sustainable development must be the center. No one is outside the race.
The FPT leader believes that programs on urban digital transformation and smart cities should not start from urban planning, but from a socio-economic development strategy with four major parts – strategy planning, institutional structure building, policies, and technological platform development.
Of these, a digital technology platform with open data architecture as the core, interconnections, and real-time processing will act as the operating center and an analytical tool for the urban digital transformation strategy and sustainable smart city. 
Duy Anh
Source: https://vietnamnet.vn/en/feature/smart-cities-one-size-does-not-fit-all-684779.html
Storm Molave continues to impact central provinces
HÀ NỘI — Storm Molave, which has killed at least 24 people in central coastal provinces in recent days according to disaster agencies, flooded many localities in Nghệ An Province on Friday.
In the province's Vinh City, many roads and residential areas have been flooded, with some areas in 1m deep water and local rescue forces faced many obstacles in accessing flooded places to take people to safety.
Thanh Chương District was the most severely affected with most of its communes divided by floods.
Several houses were submerged to the roof due to rain and floods and vehicles could not travel due to landslides in many spots along the route from Vinh City to the district.
Provincial and local authorities went to the scene to direct the relocation of residents living in flooded areas and provide life vests and food for isolated households.
During Thursday night and Friday morning, more than 800 households were relocated to safe places.
In Hà Tĩnh Province, winds Friday morning swept through Yên Điềm Village, blowing away the roofs of dozens of houses in Thịnh Lộc Commune, said Trần Văn Nghĩa, chairman of Thịnh Lộc Commune People's Committee, Lộc Hà District.
Local government, police, soldiers and residents have been helping affected families repair houses but they face difficulties due to heavy rains and the strong wind.
At present, many downstream areas are deeply flooded and isolated due to heavy rains and water discharged from hydropower reservoirs.
Deputy Director of the National Centre for Meteorological and Hydrological Forecasting Vũ Đức Long said due to the strengthening cold air, provinces from Thanh Hóa to Quảng Bình are expected to experience rainfall from 100-200mm, or even more than 300, particularly in Nghệ An and Hà Tĩnh provinces from October 30-31.
He said that around 9am Friday, the water level on the Ngàn Sâu River, Hà Tĩnh Province, reached 8m, 0.5m higher than alarm level 1.
The water level in other local rivers is also predicted to rise and flash floods and landslides are likely to continue in central provinces.
The Central Steering Committee for Natural Disaster Prevention and Control also sent an urgent dispatch to the Steering Committee for Disaster Prevention and Search and Rescue in Nghệ An and Hà Tĩnh provinces to request the two provinces closely monitor the development of the weather and ensure the safety of dyke systems as water levels in rivers rise.
Local authorities and forces need to have a plan to evacuate people and property.
Rescue efforts
Speaking at a meeting on Friday in Hà Nội, deputy director of the Office of the Central Steering Committee for Natural Disaster Prevention and Control Nguyễn Văn Tiến requested forces co-ordinate with local authorities to find people missing after landslides in Quảng Nam Province and on two fishing vessels of Bình Định Province.
Provinces and cities impacted by the storm must check damaged households, promptly provide food, inspect reservoirs to ensure safety and relocate people living in areas with a high risk of flash floods, landslides, low lying areas, along rivers and downstream of reservoirs to safety.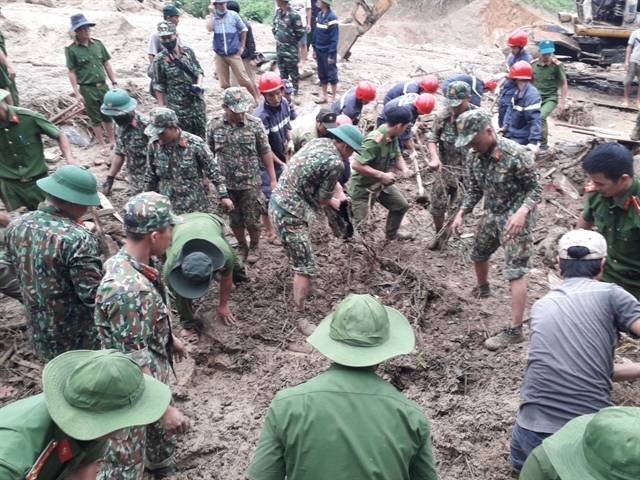 In Quảng Nam Province, landslides hindered rescue forces from searching for missing people who went missing after a landslide on Wednesday in Phước Sơn District.
Nguyễn Mạnh Hà, head of the Frontline Steering Committee for Search and Rescue Front, Quảng Nam Province, said rescue forces faced many difficulties as the water level in streams rose to 3-4m.
On Thursday, the forces tried to gain access to the site but they were still about 45km from it.
He requested the military use helicopters to take part in the rescue work.
Hà said all upland roads in Phước Sơn District have been eroded in many spots and people in isolated areas are likely to face serious food shortages.
The local government is setting up a plan to provide food for Phước Lộc and Phước Thành communes as their provisions were swept away.
Specialised equipment and sniffer dogs have been mobilised to search for victims of the landslide in Nam Trà My District's Trà Leng Commune, Quảng Nam Province.
According to vice chairman of the provincial People's Committee Hồ Quảng Bửu, at 2pm on Thursday, the rescue force approached Trà Leng Commune's village 1, where a landslide buried and injured many local residents.
Thirty-three people were rescued while the bodies of six people were recovered, he said, adding rescue operations are still ongoing to search for the remaining 14.
Bửu said a landslide in Trà Vân Commune left 12 people injured and eight dead.
The injured victims are getting treatment at the district hospital.
Local authorities visited and provided initial support of VNĐ2 million to the family of each victim.
On Thursday, the Ministry of Health set up seven working groups to help address post-flooding environmental issues, promote disease prevention and offer nutrition consultation to seven central provinces which were hit by recent storms and floods.
The groups will work in Hà Tĩnh, Quảng Bình, Quảng Trị, Thừa Thiên – Huế, Quảng Nam, Quảng Ngãi and Bình Định provinces.
They will work to assess the risk of infectious diseases and the response capacity of the local health system and examine, supervise and support local medical workers and people in taking measures to tackle environmental issues, spraying insecticides, and sterilising water containers.
Nutrition consultation will be provided to local people, especially pregnant women, young children and the elderly. —
Source: https://vietnamnews.vn/environment/804087/storm-molave-continues-to-impact-central-provinces.html
Full steam ahead with digital transformation
The ICT industry's role has been significantly elevated by COVID-19 challenges, creating opportunities for it to leapfrog in development. 
Nguyen Manh Hung, Minister of Information and Communications, delves into how important digital transformation is to Vietnam in the new development context.
Nguyen Manh Hung, Minister of Information and Communications.
This year is an important one for Vietnam's ICT industry. In June, the prime minister approved the National Programme on Digital Transformation by 2025, setting off a bold move towards the country's digital transformation.
Vietnam considers digital platforms the way to accelerate national digital transformation, cybersecurity as a key to create trust in digital solutions, and institutional reform as the main driver of digital transformation.
As such, the "Make in Vietnam" digital infrastructure is ready to support the development of the digital economy and a society. This Vietnamese-made infrastructure not only deals with problems in Vietnam but also contributes to coping with global issues.
For decades now, digital technology and digitalisation have been on the agenda, resulting in profound changes.
In the last few years, digitalisation has become an irreversible trend that provides every country, economy, organisation, and individual with unprecedented development opportunities, as well as corresponding challenges that lead to changes in habits and lifestyles.
Digital transformation is not only technological transformation, perhaps more importantly, it is transformation in the design mindset and micro- and macro-level policy formulation. Things that are acceptable today may not make the cut tomorrow and will have to be quickly changed.
As a developing country, for the last 30 years Vietnam has maintained a stable and cooperative mindset. The country has been boasting one of the highest growth rates in the world. These results were achieved through the significant contribution of the ICT industry.
Digital transformation should be promoted more strongly to serve people and ensure that no-one is left behind. The government of Vietnam has promulgated a National Digital Transformation Programme specifying detailed goals, solutions, and schemes for this.
To promote digital technology development and digital transformation for a world of peace, cooperation, and prosperity, with the direct goal of winning the fight against the pandemic, and to ensure sustainability and development during and after the pandemic, the country has set three priorities.
Firstly, it is required to determine several strategies to apply during and post-pandemic regarding digital transformation, including directions for the cooperation between the International Telecommunication Union and member countries.
Secondly, it is required to promote the development of open standards for 5G technology to establish competitiveness between manufacturers and reduce costs for network development.
Thirdly, it is required to achieve an international convention on cyberspace to promote cooperation on cybersecurity, sovereignty of countries, and people's rights and benefits in cyberspace.
Excerpt from speech by Deputy Prime Minister Vu Duc Dam at ITU Digital World 2020, October 20
The platforms for virtual exhibitions and meetings, including ITU Digital World 2020 hosted by Vietnam on October 20-22, as well as the digital solutions used in the prevention and fight against the COVID-19 pandemic such as Bluezone and Ncoviare are clear-cut evidence for this.
As initiated by Vietnam, ITU Digital World 2020, the most important annual event for the telecommunications and IT industries, was for the very first time in its half-a-century-long history hosted virtually.
Vietnamese and international technology companies have been strengthening cooperation to build and develop digital platforms to support the organisation of virtual exhibitions and meetings.
Any challenge creates opportunities – and the bigger the challenge, the larger the opportunity. COVID-19 has been a challenge of a rare magnitude for the entire human race, one that comes around only once in a hundred years.
COVID-19 has created a tremendous push to digital transformation, urging the globe to hasten the development of a digital world as the health crisis has made global collaboration more necessary than ever.
Vietnam is gradually checking out the conditions to become a technologically-advanced country, positioning technology as a growth motivator for the entire nation and promoting international cooperation to build out a digital world. VIR
Source: https://vietnamnet.vn/en/sci-tech-environment/full-steam-ahead-with-digital-transformation-684861.html