Many tourist trains on offer next month
Passengers get on a train. The railway industry will offer many tourist trains to Lao Cai, Vinh, Nha Trang and Phan Thiet from July – PHOTO: VNA
HCMC – Starting in July, the railway industry will offer many tourist trains to Lao Cai, Vinh, Nha Trang and Phan Thiet, which are major destinations of the country.
Beginning July 5, Hanoi Railway Transport Joint Stock Company will run two more high-quality trains from Hanoi to Vinh, namely SE35 and SE36 on Sundays. The SE35 train departs from Hanoi at 1:10 p.m. and arrives in Vinh at 7:26 p.m. The return train, SE36, leaves from Vinh at 1:25 p.m. and arrives in Hanoi at 7:52 p.m.
After suspending service due to the COVID-19 outbreak, the railway company has begun operating two tourist trains, SP3 and SP4 on Hanoi – Lao Cai starting on June 19. The SP3 departs at 10:00 p.m. from Hanoi on Fridays, while the SP4 departs Lao Cai on Sundays at 9:40 p.m. and arrives in Hanoi at 5:30 a.m. the next day.
In the south, Saigon Railway Transport Joint Stock Company will also organize more trains from Saigon to Quy Nhon starting July 1 (SQN1/SQN2). SQN2 departs from Saigon Railway Station at 8:00 p.m. on Thursdays and Fridays, while the return train leaves Quy Nhon at 1:10 p.m. on Saturdays and Sundays.
The Saigon – Phan Thiet – Saigon service SPT4 begins from Saigon Station starting on July 18. SPT3 starts service from Phan Thiet on July 19.
The Saigon – Nha Trang – Saigon route SNT4 starts on July 16 from Saigon. The SNT3 and the SNT5 begins service on July 19 and 26 from Nha Trang.
The Hanoi Railway Transport Joint Stock Company has also offered reduced fares. For example, the Hanoi – Lao Cai route was previously priced at over VND400,000 but is now only VND260,000 for each soft seat with air conditioning.
Source: https://english.thesaigontimes.vn/77391/many-tourist-trains-on-offer-next-month.html
Fresh Vietnamese spring rolls honoured by foreign media outlets
Aside from being home to distinct and delicious dishes such as Pho and Banh Mi, the nation's Goi Cuon, also known as fresh spring rolls, also proves to be one of the most popular foods among travelers to Vietnam.
The country is widely considered to have one of the best food cultures in the world. Among the delicious Vietnamese cuisines on offer nationwide, Goi Cuon is a particularly popular snack in the south. (Photo: Trangpinkyy) 
 
Goi Cuon was featured in the list of the world's best 50 dishes through a survey conducted in 2019 by CNN. (Photo: Kaiwaii.food)
The dish consists of boiled pork, shrimp, herbs, rice vermicelli, and rice paper whilst it's served alongside sauce made from a variety of ingredients and herbs.
Previously, renowned chef Gordon Ramsay of UK, known for presenting TV shows about cookery and food culture, attempted to cook Vietnamese food, including Goi Cuon, during his visit to the country for an episode of Gordon's Great Escape. (Photo: Getty)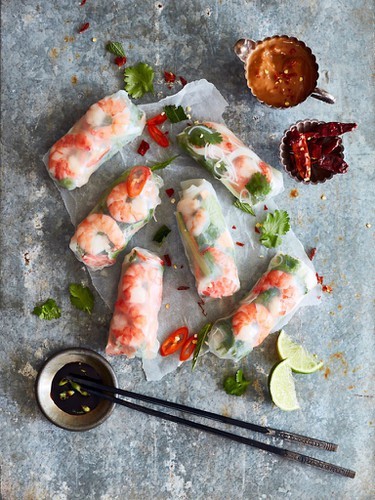 In an SBS article titled "Vietnam's greatest culinary gifts to Australia", the website outlines how the popularity of the dish in Australia knows no bounds as they're found on the menu of every single Vietnamese restaurant, in lunchboxes, and in the food courts of shopping centres.
"Our love affair with rice paper stuffed with fresh, delicately flavoured fillings will surely never end," says SBS. ((Photo: Getty)
Many newspapers and websites mention Goi Cuon as the best dish appreciated by food lovers and is an experience not to be missed during a visit to Vietnam. 
 
A number of Korean celebrities such as Rosé, Park Bogum, and Chaeyeon had tried Goi Cuon and introduced the dish on their own social media platforms. (Photo: Getty)
 
Source: https://vietnamnet.vn/en/travel/fresh-vietnamese-spring-rolls-honoured-by-foreign-media-outlets-657616.html
Vietnameses food: Crab soup with black eggs
Black eggs are eggs preserved in clay, ash, salt, quicklime and rice hulls, giving them a black colour and jelly-like texture. 
Pair them with crab soup and you get a popular HCM City afternoon street snacks loved by students and office workers!
browser not support iframe.
Source: https://vietnamnet.vn/en/travel/vietnameses-food-crab-soup-with-black-eggs-657604.html
Century-old craft village specialises in Buddha statues in HCM City
An old craft village situated in a small alley in Ward 12 of District 6 in Ho Chi Minh City is renowned locally for making a variety of Buddha statues, with the area developing into a tourist attraction over the past few decades.
The alley can be found located near Giac Hai pagoda in Ho Chi Minh City, with visitors easily able to find Buddha statues in different shapes and colours.
The process of creating giant Buddha statues requires large molds.
Only skilled craftsmen who have studied for several years are able to create statues with a high-artistic value. A craftsman works to add minute details to a huge statue.
Whether the statue is small or large, simple or complex, it must be meticulously created so that it can be considered beautiful and soulful to viewers.
Each person carries out one stage while making the Buddha statues.
The price of the statues ranges in cost from VND100,000 to several millions of dong, with factors such as their size, materials, and sophistication all taken into consideration.
The craft village is the workplace of nearly 70 workers, the majority of whom are men, with the skill being passed down the generations.
Their products have been famous for years with craftsmen receiving numerous orders from across the country.
Their products are not only sold locally but are also exported to many foreign countries such as the United States and Canada where many Vietnamese expats are living.
Here are some photos taken inside the craft village
VOV
Source: https://vietnamnet.vn/en/travel/century-old-craft-village-specialises-in-buddha-statues-in-hcm-city-657397.html