Nation mourns officials and soldiers killed by landslide
HÀ NỘI — A memorial service for the 13 officials and soldiers who were killed by a landslide in Thừa Thiên Huế Province took place this morning in the central province. 
Those who died had been dispatched to rescue workers who had become trapped when a landslide hit Rào Trăng 3 Hydropower Plant. Their bodies were later found near the hydropower plant.
Prime Minister Nguyễn Xuân Phúc, on behalf of the Government, has sent his deepest condolences to the families and relatives of officers and soldiers.
After this morning's ceremony, the bodies of each person who perished will be transported back to their individual home towns for burial.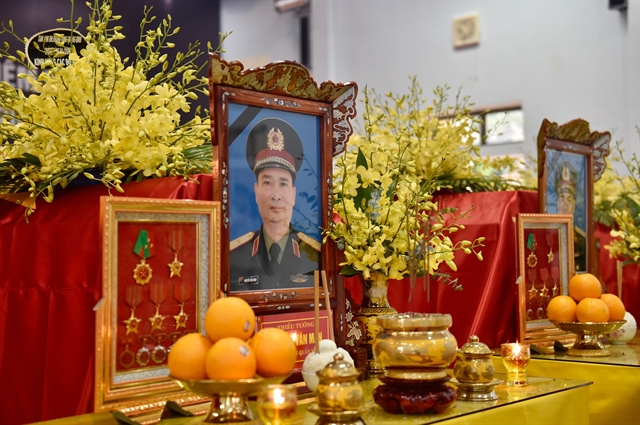 The identities of the 13 officers and soldiers, most of them high-ranking officers, were confirmed on Thursday evening. They are:
Major General Nguyễn Văn Man, 54, deputy commander of Military Zone 4.
Colonel Nguyễn Hữu Hùng, 50, deputy head of the Search and Rescue Department, Ministry of National Defence.
Lieutenant Colonel Bùi Phi Công, 42, deputy manager of Military Zone 4's Logistics Department.
Lieutenant Colonel Nguyễn Tiến Dũng, 41, deputy head of the Military Zone 4's Operation Office.
Lieutenant Colonel Hoàng Mai Vui, 52, deputy head of Motorcycle Office, Technical Department, the Military Zone 4.
Lieutenant Colonel Lê Tất Thắng, 42, deputy brigade commander, chief of staff of the 80th Information Brigade, Military Zone 4.
Lieutenant Colonel Trần Minh Hải, 41, deputy chief of staff, Military Command of Thừa Thiên Huế Province.
Captain Tôn Thất Bảo Phúc, 34, head of engineering force division, Military Command of Thừa Thiên Huế Province.
Captain Nguyễn Cảnh Cường, 29, company commander, the 80th Information Brigade, Military Zone 4.
Lieutenant Đinh Văn Trung, 36, the 80th Information Brigade, Military Zone 4.
Lieutenant Trương Anh Quốc, 36, Military Command of Thừa Thiên Huế Province.
Nguyễn Văn Bình, 42, chairman of the People's Committee of Phong Điền District.
Phạm Văn Hưởng, 52, head of Information and Communication Department of Thừa Thiên Huế Portals. —
Source: https://vietnamnews.vn/society/793585/nation-mourns-officers-and-soldiers-killed-by-landslide.html
Contacts of new COVID-19 patients test negative for coronavirus
HCM CITY — Tests of people related to four new COVID-19 patients in HCM City were negative for SARS-CoV-2, according to the city Disease Control and Prevention Centre.
The centre's staff took samples of 2,261 people considered F1 (direct contact) and F2 (indirect contact) cases. 
As of Saturday morning, the city has not recorded any new locally transmitted COVID-19 cases.
The number of quarantined people in the city is 865. The city has three quarantine areas managed by military forces, with a capacity of more than 500 beds. Each district in the city has one quarantine area, with a capacity of nearly 1,000 beds.
All hospitals in the city have their own areas for quarantine.
The city will increase the number of quarantine areas to meet demand, if needed.
On December 3 and 4, the city Department of Health and Disease Control and Prevention Centres checked the isolation process at designated quarantine areas and hotels used for official quarantine.  
The areas and hotels must comply with the Ministry of Health's quarantine instructions and install cameras for observation. People in these areas are not allowed contact at a close distance and have been told to install a Bluezone app.
The Department of Health instructed health centres in districts and health stations in wards and communes to strengthen checks and observation at these areas and hotels.
At hotels used for quarantine, managers must strictly carry out the Department of Tourism's instructions about isolation.
They must report to the department and medical offices about the number of people quarantined at their facility and those who have registered for quarantine. The condition of people's health should also be reported.
The city has about 23 three- and five-star hotels used for quarantine for people from other countries who are entering the city for work. These people have to pay for the costs of their stay during quarantine.
Preventive measures at hospitals
Deputy Minister of Health Nguyễn Trường Sơn has instructed all hospitals and health departments nationwide to strengthen preventive measures against COVID-19.   
Hospitals must evaluate preventive measures at their facilities according to the safety criteria issued by the National Steering Committee for COVID-19 Prevention and Control.
Preventive measures should be carried out at hospitals' ICUs and departments that treat senior patients and patients with heart and respiratory diseases, and those on dialysis.
Screening and isolation as well as tests for people suspected of being infected by the virus should be strictly carried out. Hospitals should also continue limiting visits of patients' relatives.  
In HCM City, all hospitals require patients to fill out health declaration forms, have their body temperature checked at their door, and wear masks.
The Department of Health is also verifying 26 more hotels for quarantine in the upcoming time.
Tourism sector
The HCM City Department of Tourism has instructed enterprises to strengthen preventive measures at their facilities, hotels, food stores, shopping malls, entertainment establishments, and others.
They should also keep up to date about information on COVID-19 published by the Việt Nam Centre for Diseases Control and Prevention.
They must make plans for prevention and isolation if transmission occurs in tourism and residential areas, and protect the safety and health of tourists and their staff.
The Việt Nam Sports Administration has told the city Department of Culture and Sports to stop organising sports tournaments in the city and not send city teams to take part in national sports tournaments. —
Source: https://vietnamnews.vn/society/821678/contacts-of-new-covid-19-patients-test-negative-for-coronavirus.html
Two Laotian nationals caught in possession of significant drugs haul
Border guards operating in the northern province of Dien Bien recently detained two Laotian citizens as they were in the process of attempting to smuggle a large quantity of drugs into the nation.
The pair were caught red-handed along the country's border with Laos in Pa Kha hamlet of Na Bung commune in Nam Po district at 10 p.m. on December 3. According to Dien Bien border guards on duty at the time, the Laotian nationals were in possession of 90,000 pills of recreational drugs.
As a means of smuggling the drugs into the nation, the pills had been tightly wrapped inside a number of nylon bags before being hidden within their backpacks.
The drug traffickers were later identified as Vang Chong Vu, 35, and Vang A De, 26, both of whom have Laotian nationality and reside in Samphanh district of Phongsaly province in Laos.
Upon being questioned by local police forces, the pair confessed to transporting the large drugs haul from Oudomxay province in Laos across the border, with the intention of selling the drugs to a Vietnamese person named Tu at price of VND800 million, equal to US$34,782.
At present, the case remains under further investigation. VOV
Source: https://vietnamnet.vn/en/society/two-laotian-nationals-caught-in-possession-of-significant-drugs-haul-695091.html
All direct contacts of recent local coronavirus infections in Ho Chi Minh City negative
The Ho Chi Minh City Center for Disease Control said on Saturday morning that all people in direct contact with recently announced local COVID-19 cases had tested negative for the virus.  
A total of 2,261 people in contact with patients 1,342, 1,347, 1,348, and 1,349 were tested for the novel coronavirus.
Among them, 861 were F1 individuals – people who had direct contact with positive COVID-19 cases, and 1,400 were F2 people who had direct contact with the F1s.
In addition, 655 others were tested for community review, bringing the total number of people taking the virus test to 2,916.
Results of 2,528 samples returned negative for the virus, while the remaining 384 community review samples are still waiting for test results.
As many as 295 people are being quarantined in concentrated centers whereas nearly 566 others are isolated at home or other accommodations, and four are monitored at medical facilities.
Ho Chi Minh City recorded no new local COVID-19 cases for three days in a row as of Saturday morning.
The four patients 1,342, 1,347, 1,348, and 1,349 are now in good health, said Nguyen Tri Dung, director of the Ho Chi Minh City Center for Disease Control.
Before patient 1,342's third test returned positive for the virus, he had developed some mild symptoms such as fatigue, stuffy nose, sore throat, sputum, and decreased appetite, while the other three cases were asymptomatic.
Patient 1,342, a 28-year-old flight attendant with Vietnam Airlines, tested positive for the novel coronavirus on November 28 while self-quarantining.
He returned to Vietnam from Japan on flight VN5301 on November 14 and was quarantined at a facility managed by Vietnam Airlines at 115 Hong Ha Street in Tan Binh District, Ho Chi Minh City from November 14 to 18.
When staying at the quarantine center, the flight attendant came into contact with his colleague, patient 1,325, who was also put in quarantine there, but in a different isolation area.
As patient 1,342's first two tests for the virus while at the quarantine facility returned negative, the flight attendant was let go to self-isolate at home, as per regulations.
He hosted a male friend during the self-quarantine at his home.
The flight attendant also visited several public places, including his university, and came into contact with many others during that period.
He was registered as patient 1,342 on November 29.
The friend who stayed with him was confirmed as patient 1,347 on Monday.
Two other individuals who had been in direct contact with the friend were then confirmed as patients 1,348 and 1,349 on Tuesday.
Vietnam has recorded 1,361 coronavirus patients as of Saturday afternoon, with 1,220 recoveries and 35 virus-related deaths, according to the Ministry of Health.
Before the detection of patient 1,347, the country had gone 88 days with zero domestic infections.
Like us on Facebook or follow us on Twitter to get the latest news about Vietnam!
Source: https://tuoitrenews.vn/news/society/20201205/all-direct-contacts-of-recent-local-coronavirus-infections-in-ho-chi-minh-city-negative/58126.html