Nghe An house intertwines with lush gardens
A traditional tube house in central Nghe An Province is constructed with intertwined gardens and an outdoor staircase embracing an old avocado tree.

The 135-meter-square tube house is located in a small alley of the province's Vinh Town. Its homeowners, a local man and his mother, wanted to have a comfortable living space with a minimalist style at an affordable cost. Architects decided to introduce the rural spirit to the urban dwelling by incorporating a garden at the front, the middle, and on the second floor.
The entrance with a front garden offers residents a space to hang out and play.
Minimalist furniture inside glass walls, which allow natural light to enter.
Architects convinced the homeowners to keep the old avocado tree present on the plot, designing the outside staircase around it.
The staircase helps connect the downstairs living area with the second floor greenery.
The middle garden connects two blocks of the house.
A window on the second floor has a garden view. The house uses traditional descending red brick roofs, connecting blocks with the gardens and making the whole structure more durable under the scorching sun of central Vietnam. Construction cost VND750 million ($32,359).
Photos by Trieu Chien
Source: https://e.vnexpress.net/news/life/style/nghe-an-house-intertwines-with-lush-gardens-4177663.html
Concerts to raise funds for flood victims
HCM CITY – Dozens of veteran and young singers and theatre performers will participate in two charity concerts in HCM City to raise funds for flood victims in the central region.  
The Voice of Hồ Chí Minh City's People (VOH) will organise Cùng Em Vượt Lũ (We will overcome natural disaster) on Sunday, November 1 at VOH Theatre, 3 Nguyễn Đình Chiểu Street, District 1. 
The event will feature 30 artists, such as pop stars Cẩm Vân and Phương Thanh, together with younger singers Cao Thái Sơn, Trung Quân Idol and K-ICM.
Circus artists Quốc Cơ and Quốc Nghiệp will be highlighted.
They will perform folk and vọng cổ (nostalgia) songs in praise of the country, love and life.
The organiser will send the proceeds from ticket sales and donations from individuals and orgnisations to the provinces of Thừa Thiên-Huế, Quảng Bình, Quảng Nam, Quảng Trị and Quảng Ngãi.
"Our concert is for poor households and flood victims, especially the elderly and children," said theatre actor Đại Nghĩa of the HCM City University of Theatre and Cinematography.
Nghĩa and his staff will deliver food and clothes to the victims in the central region next week.
 "Our artists performed for free. Through our concert, we hope to encourage more organisations and people to stand together to help and share," said Vietnamese-American pop star Quang Dũng.
Dũng organised his concert Lời Ca Dao Của Mẹ (Mom's Lullabies) on Thursday at the HCM City Opera House, 7 Lam Sơn Square, District 1.
He sang famous romantic songs by composers Trịnh Công Sơn, Văn Phụng, Ngô Thụy Miên and Đức Huy.
Recent major storms and floods in the central region have destroyed socio-economic infrastructure in several localities and left several households in extreme poverty and bad health conditions.
Hundreds of charity trips and fundraising activities have been organised by organisations and individuals across the country. Food, goods and necessities as well as cash have been sent to the victims.—
Source: https://vietnamnews.vn/life-style/804093/concerts-to-raise-funds-for-flood-victims.html
Cultural exchange programme celebrates Việt Nam-Russia relations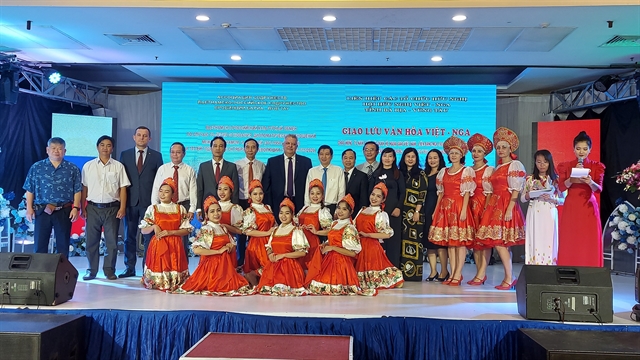 VŨNG TÀU — State-level relations and co-operation between localities in Việt Nam and Russia have been strongly strengthened in recent years, according to the vice-chairman of Bà Rịa-Vũng Tàu Province People's Committee Trần Văn Tuấn.
He made the statement at a cultural exchange programme in Vũng Tàu City in the southern province of Bà Rịa-Vũng Tàu on Thursday night.
Organised by the Union of Friendship Organisations of Bà Rịa-Vũng Tàu Province, the event aimed to celebrate the 70th anniversary of the establishment of Việt Nam-Russia diplomatic relations and the 25th anniversary of the signing of the Treaty on Fundamental Principles of the Việt Nam-Russian Federation Friendly Relations.
Notable attendees included Popov Aleksei Vladimirovich, Consul General of the Russian Federation in HCM City, representatives of Việt Nam – Russia Friendship Association in Bà Rịa-Vũng Tàu Province, the trade union of Việt Nam – Russia Joint Enterprise Vietsovpetro and other related organisations as well as Russians based in the province.
Addressing the event, Tuấn reviewed co-operation activities between two countries in recent years
In October 2010, Bà Rịa-Vũng Tàu Province signed a co-operation agreement with the Nenetskiy Autonomous Region and in January 2017, the province and the Republic of Bashkortostan in Russia established a co-operative relationship.
A Vietnamese delegation also paid a visit to the Republic of Bashkortostan in Russia on October 2018 during which they reached significant agreements on economic, trade, scientific and technological co-operation.  
Delegation exchanges and contacts at all levels, particularly high-level exchanges, have been regularly maintained, including Vietnamese Prime Minister Nguyễn Xuân Phúc's visit to Russia in May 2019 that opened the celebration of Cross-Year of Friendship 2019-2020 between Việt Nam and Russia.
"The investment collaboration between Bà Rịa – Vũng Tàu Province and Russia has also thrived in the fields of oil exploitation, tourism, maritime and construction. Particularly, Vietsovpetro, Việt Nam – Russia Joint Enterprise, has become a symbolic success of the two nations' relations.
"Furthermore, the province has also been proactively joined the trade flow between the two countries, exporting key products like seafood, cashew and garments to the Russian market," he noted.
According to Tuấn, friendship exchange activities to introduce and promote the culture and tourism of each country have been regularly coordinated by the Union of Friendship Organisations, Việt Nam – Russia Friendship Association in Bà Rịa – Vũng Tàu Province and the trade union of Vietsovpetro.
"The complicated and unpredictable developments in the world and the COVID-19 pandemic have imposed unprecedented challenges on all nations. However, Vietnamese and Russian peoples, with our long history of solidarity and association, will stand side by side, holding hands to share and support each other in overcoming all difficulties and defeat the pandemic," he added.
Popov Aleksei Vladimirovich, Consulate General of the Russian Federation in HCM City, emphasised that 2019 and 2020 are two special years for the relationship between Russia and Việt Nam.
Vietnamese friends have cherished and preserved the friendship between the two countries. It is a tradition since the October Revolution and has been nurtured by previous generations and developed by Vietnamese and Russia descendants, he said.         
The Consulate General also noted that diplomatic ties between localities and the Russian Federation have grown along with state-level relations.
Also at the exchange programme, a reportage featuring the 70th anniversary of the establishment of diplomatic relations between Việt Nam and Russia and the activities of the Việt Nam-Russia Association were screened, in addition to art performances and traditional cuisine.
Source: https://vietnamnews.vn/life-style/804092/cultural-exchange-programme-celebrates-viet-nam-russia-relations.html
Unique water ceremony of the Jrai people
Đăm San Music, Dancing and Singing Theatre in the Central Highlands province of Gia Lai recently hosted the water source worship ceremony for Jrai ethnicity locals in Krêl Village, Krêl Commune, Đức Cơ District.
The ceremony aims to wish for good health and bountiful crops.
As many as three shamans and four assistants join the ceremony. Offerings include a pig, 10 chickens, sticky rice and a jar of wine.
Early in the morning, locals gather at the main water source to prepare for the event.
After the pig and chicken are slaughtered, the assistants takes the liver, lung, kidney, tail and the wine to put on the worship altar. The shamans and their assistants will conduct the ceremony in a few hours.
The main shaman will start the ceremony saying: "Greatest Heaven, today we organise a worship ceremony at Krêl Village.
"We conduct it with our sincere hearts. Here are the offerings, with a big pig, 10 big chickens, a big jar of wine.
"We hope genies bless us and give us clean water source, good health, bumper harvest and other assets.
"Please protect us and help us do as good business as others in other villages."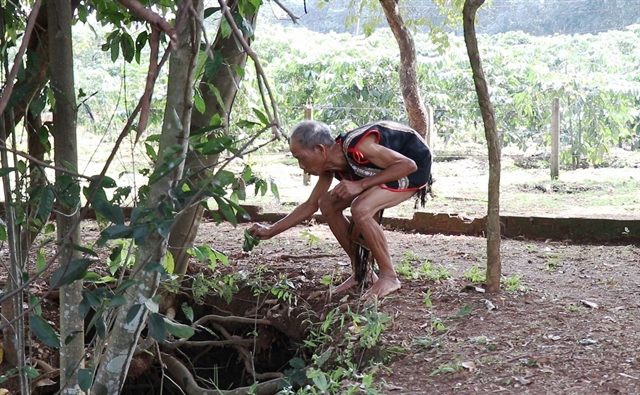 The next day, locals will conduct the same ceremony at the communal house to pay homage to genies.
Nguyễn Ngọc Long, director of the theatre, said it had hosted various traditional ceremonies since 2019.
"We have chosen the most special customs of local ethnic minority groups to remake," he said. "We remake the water source worship ceremony to develop traditional values and enhance patriotism among Jrai people, as well as their pride."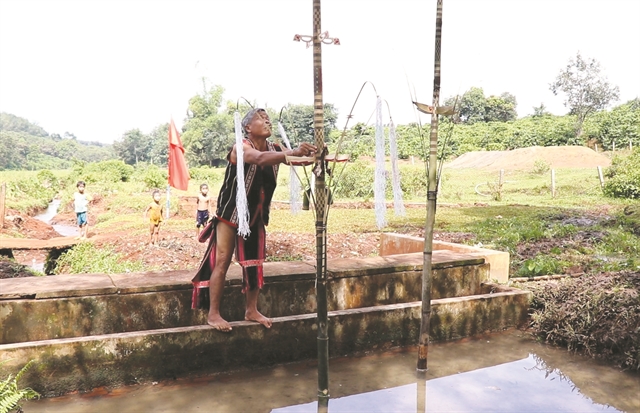 According to Rơ Mah Che, a resident of Krêl Village, the community has maintained the ceremony every October, but on a smaller scale.
"This year, authorities help us to organise the ceremony per the original model in our customs, so we are very happy," he said.
Long said since early this year, the theatre has hosted three such important ceremonies including worship for rain and worship for a water source to enhance local's solidarity and preserve traditional customs.
"Ceremonies dedicated to various genies are the heritage of the Central Highlands' ethnic minority groups," Long said. "Though they are organised in family or community scale, they spread a message of a wealthy and happy life to each person, each home."
Jrai people live in villages. Each village hosts 50-70 households. They keep the habit of living in houses on stilts with the main doors facing north.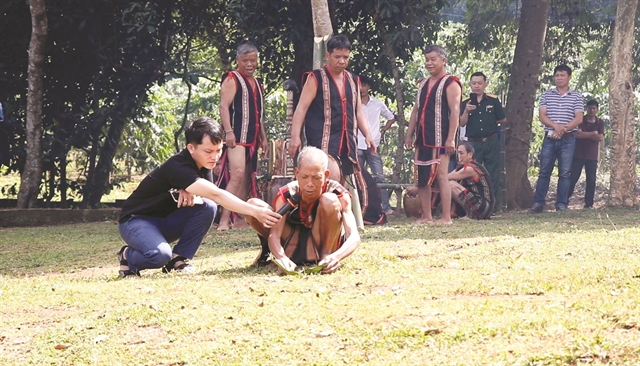 The male head of the village and male elders have great prestige and manage the community's activities.
Every village has at least one communal house. Some villages have two community houses, which are called "male" and "female" one.
The communal house is not only where locals gather but also a place to welcome guests. The communal house is located in the north of the village.
Jrai people live mainly on agriculture. Their farming tools are very simple like knives and hoes. They keep poultry and cattle as well. They also raise horses, buffaloes and elephants. Buffaloes are important cattle for them as they are used as offerings at worship ceremony and to exchange for objects like gongs, jars and copper saucepans.
Jrai men are good at knitting bamboo containers while women are excellent at weaving cloths.
They also go hunting and fishing for food.
Jrai people follow matriarchy. Jrai women are free to choose their partners and be active in marriage. After the wedding, the groom lives in the wife's house and has no property inherited from their parents. In contrast, when women get married, they can move out of their parents' house and get some assets from parents. Children take their mother's surname. But in society, men take a more important role than women.
Jrai people are known for epics and legendary stories like Đăm Di Đi Săn (Đăm Di Goes Hunting) and Xing Nhã (Life Story of Xing Nhã), and the art of gongs, drums as well as T'rưng bamboo xylophone.
Most Jrai people are good at dancing and singing from a small age. They will sing and dance till their later years.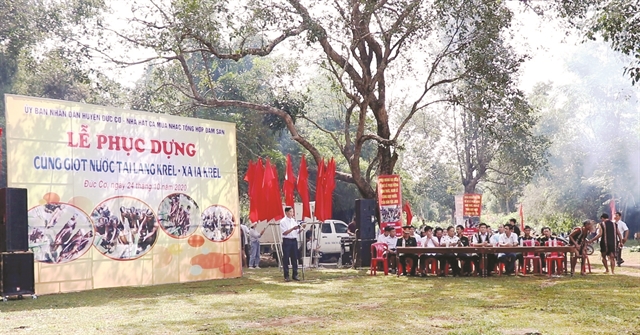 Source: https://vietnamnews.vn/life-style/804090/unique-water-ceremony-of-the-jrai-people.html