Some provinces, enterprises and universities to offer free COVID-19 vaccinations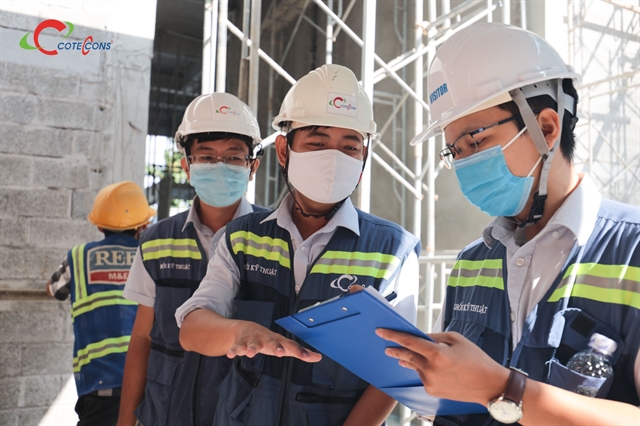 HCM CITY— Several provinces, enterprises and universities nationwide will provide free COVID-19 vaccinations to their residents, staff and students in order to share the financial burden for epidemic prevention and control.
The Ministry of Health has approved the import of 30 million doses of the Oxford/AstraZeneca vaccine, the first COVID-19 vaccine to obtain such authorisation in the country.
Under the ministry's plan, the Drug Administration of Việt Nam will import the first 200,400 doses of the vaccine for emergency use on February 28.
Following the ministry's approval, Hà Nội, Hải Phòng, and Quang Ninh and Bà Rịa-Vũng Tàu provinces asked for approval from the Government and Ministry of Health to buy vaccines for their localities.
Hải Phòng authorities expect that it will be one of first localities in the country to buy the vaccine. It aims to provide free vaccinations to more than 2 million people.
Quảng Ninh Province will allocate VNĐ500 billion (US$21 million) to buy the vaccine and give priority to frontline workers.
Bà Rịa- Vũng Tàu Province and Hà Nội authorities said they would use funds from their budget and call on sponsors to buy vaccines to provide free vaccinations to local residents.
Coteccons Group has been working with the Vietnam Vaccine Joint-Stock Company to register in advance to buy vaccines for 8,000 staff and their families of Coteccons and Unicons, a member of the Coteccons Group.
Trần Thị Liễu Vinh, human resources director at Coteccons, said: "Free vaccination to staff not only helps prevent transmission but also makes us feel more confident in work amid the COVID-19 epidemic."
Phạm Thái Sơn, director of the Communications and Enrollment Centre at the HCM City University of Food Industry, told Việt Nam News that the university plans to buy 25,000 doses of the vaccines to provide to its lecturers and students.
According to AstraZeneca Vietnam, the primary analysis of Phase III clinical trials from the UK, Brazil and South Africa have confirmed that it is safe and effective at preventing COVID-19, with no severe cases and no hospitalisations more than 22 days after the first dose.
Việt Nam's locally made COVID-19 vaccine, Nano Covax, is in the second phase of human trials following the first phase results, which showed that the vaccine is safe and 90 per cent effective, according to the National Council for Ethics in Biomedical Research.
Besides Hà Nội, the People's Committee in the Mekong Delta province of Long An on February 21 said that Nano Covax could start its second phase human trial in the province on February 26, one month earlier than scheduled.
The second phase trials in Hà Nội and Long An will reduce the time needed to three months instead of the previously scheduled six months.
The number of registered volunteers in the second phase is nearly 1,000. The phase is expected to last until the end of March and the results will be reported in April.
The third phase of human trials is expected to start in May.
The other two locally made COVID-19 vaccines are in the first phase of human trials.
Source: https://vietnamnews.vn/society/886156/some-provinces-enterprises-and-universities-to-offer-free-covid-19-vaccinations.html
"Magic eyes" – great help for traffic police officers
Lieutenant Colonel Doan Ngoc Minh Tuan, Deputy Head of the Da Nang Traffic Police Department, said the deployment of traffic cameras has eased work pressure on police officers.
The central city of Da Nang is one of the first cities to place traffic cameras on main street arteries. Up to 143 cameras have been installed in 47 locations. The installation of cameras has raised people's awareness, and encouraged them to follow traffic lights and control their speed. It has also reduced the presence of police officers at major traffic points.
According to the Da Nang Traffic Police Department, from 2016 to 2020, these "magic eyes" helped to find and report 48,118 traffic violations, of which 38,004 cases were issued total fines of 55 billion dong and 7,590 driving licenses were withdrawn.
Mr. Nguyen Van Phuong, a resident on Vo Chi Cong street, said that when there was no surveillance camera, many drivers did not follow traffic lights. After cameras were installed, people were more aware of compliance, causing fewer accidents.
Interviewed by VietNamNet on February 23, Lieutenant Colonel Thai Anh Tuan, Head of Propaganda and Inspection of Traffic Accidents and Violations (Da Nang Traffic Police Department), said the surveillance cameras detect violations such as speeding, using wrong lanes and running red lights, and monitor traffic vehicle flows.
"Annually, the cameras detect about 10,000 violations. Many people used to cross at yellow lights. Currently, the people are more responsive, hence reduction in accidents. Drivers are well aware of surveillance cameras," said Tuan.
Reduce on-site work for police
Lieutenant Colonel Doan Ngoc Minh Tuan, Deputy Head of Da Nang Traffic Police Department, said that "magic eyes" have been placed at important traffic points, monitor traffic for 24/24 and record violations correctly and clearly. Cameras are also useful for detecting and tackling crime.
According to Tuan, surveillance cameras have eased on-site pressure for police officers. "They used to be present all the time at key traffic points to monitor traffic. Since the installation of cameras, they instead patrol to inspect and improve their efficiency," said Tuan.
He further revealed that cameras have been placed on such street arteries as Vo Nguyen Giap and Nguyen Tat Thanh. His department and the transportation department plan to ask Da Nang People's Committee to invest and install more surveillance cameras on other roads for social security.
Ho Giap
Source: https://vietnamnet.vn/en/society/magic-eyes-for-traffic-police-officers-716758.html
Nigerian man sentenced to death for transporting nearly 4kg of meth
The People's Court of the southern border province of Tay Ninh on March 2 handed down the death penalty to a Nigerian man for illegally transporting nearly 4kg of meth, in line with the 2015 Criminal Code.
Ekwegbalu James Nzube at the court (Photo: VNA)
Before the arrest, Ekwegbalu James Nzube, 45, stayed at Hoa Hong Hotel in To Ky street, Trung My Tay ward, District 12, Ho Chi Minh City.
According to the indictment, the man was caught illegally entering Vietnam from Cambodia by border guards at border marker No. 170/3 in Loi Thuan commune, Ben Cau district, Tay Ninh province, at 20:00 on July 30, 2020.
Four packages containing nearly 4kg of white crystals, later confirmed as meth, were found in his luggage. James Nzube confessed that he was hired by another Nigerian man, named Johe, with 2,000 USD to transport drug from Cambodia to Vietnam.
James Nzube entered HCM City via Tan Son Nhat airport on March 13, 2020 and stayed at Hoa Hong Hotel./.VNA
Source: https://vietnamnet.vn/en/society/nigerian-man-sentenced-to-death-for-transporting-nearly-4kg-of-meth-716862.html
Transport sector's working hard on digital transformation
Deputy Minister of Transport Nguyễn Ngọc Đông spoke to the Vietnam News Agency about the digital transformation process in the transport sector.
How do you evaluate the current digital transformation at the Ministry of Transport?
In recent years, the Ministry of Transport has promoted the application of information technology, building e-Government towards an online working environment instead of traditional work based on records, papers; providing online public services to facilitate and reduce costs for people and businesses.
The Ministry of Transport has promoted the building of specialised databases to manage operations based on digital data. Specifically, the Directorate for Roads of Vietnam has been managing, issuing, extending driving licences, and managing road traffic infrastructure based on digital data.
Meanwhile, the Việt Nam Registry Department has digitised all vehicles to make vehicle registration faster and more convenient. The Việt Nam Maritime Administration shall apply information technology to the management of ships and boats entering and leaving seaports in Việt Nam.
The digital transformation in the Ministry of Transport differs from the information technology application carried out in the previous period in the point that we're changing it fundamentally in management, not simple modernising the old management method. This is a long process and must be done on a regular basis.
In the digital transformation process, new models of transport management and business will arise without precedent and we may not have a legal policy system to adjust. Therefore, it is necessary to change the perception of the transport state management to adopt and accept new, pilot models and find ways to manage and promote development instead of discouraging such efforts.
What are the goals of the Digital Transformation Program set by the Ministry of Transportation?
Firstly, it is to raise profound awareness of digital transformation within the Ministry of Transport, making digital transformation an organic component in all management activities of the Ministry of Transport so that we can accompany the transportation business in all digital transformation activities.
For digital government development, the ministry's goal is to build a database for all operations, use digital data for automation of decision-making and support decision-making. The ministry focuses on building systems to serve people and businesses in a way that facilitates and reduces costs and social resources.
As for the digital economic development goal, the program sets out the development of the digital economy through reforming management methods, applying digital technologies to facilitate transport businesses and reduce logistics costs.
We are aiming for the successful digital transformation of large enterprises operating in the transport sector to change the method of providing products and services from traditional to digital, while also creating digital platforms to connect multimodal transport services, and to build logistics supply chain owned by Vietnamese enterprises.
In order to accelerate the ministry's digital transformation, what are the radical solutions?
The Digital Transformation Program of the Ministry of Transport is not an independent program, but is integrated with other tasks such as building an e-Government  or for building legal documents.
The program offers seven solutions, including: Cognitive transformation; institutional construction; developing digital infrastructure; digital data development; building a digital platform; ensure network safety, security and international cooperation, research and development and innovation in the digital environment.
For agencies and units under the Ministry of Transport, the implementation of awareness transformation is integrated into the programmes of conferences, seminars, regular training and awareness raising activities of the Ministry.
At the same time, we are coordinating with socio-economic organisations to develop an awareness raising program on digital transformation for businesses operating in the transport sector. Digital transformation has also been integrated into the annual program of building legal documents and the annual project development programme of the Ministry of Transport.
To implement this, the Ministry of Transport will complete the data infrastructure of the transport sector with regular, complete and accurate data sources.
A noteworthy point is that the Ministry of Transport aims to "eliminate" cash in the operation of the digital transport economy by applying and promoting electronic payment and inter-payment in transportation services.
How will people and businesses benefit from the digital transformation of the Ministry of Transport?
The first benefit is that people and businesses can quickly and accurately access information of the transport industry, anytime, anywhere. In addition, the provision of online public services at a high level helps people and businesses to perform administrative procedures more conveniently, easily, and save time and costs. At the same time, the receiving and handling of complaints and petitions of people is more promptly and more timely.
In addition, the use of digital data published by the Ministry of Transport in the form of open data helps people and businesses to apply in developing new business models and developing digital economy. —
Source: https://vietnamnews.vn/society/891376/transport-sectors-working-hard-on-digital-transformation.html