Special programme honours global Hùng King's decendants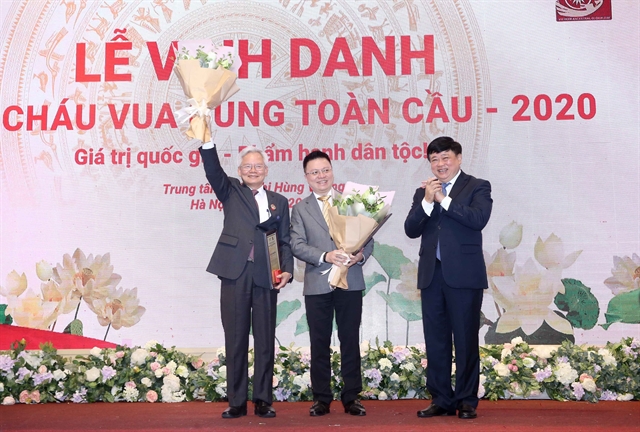 HÀ NỘI — A special online progamme took place on Tuesday night in Hà Nội and connected 10 other areas in Việt Nam and over the world to honour individuals and organisations known as "Hùng King's descendants" for their outstanding contribution to preserving national values.
The event was held following an international writing contest – part of a project titled Ngày Quốc Tổ Việt Nam Toàn Cầu (Global Việt Nam National Ancestor's Day) – with the aim to promote and universalise the value and dignity of the Vietnamese nation for all people in the country, overseas Vietnamese and foreign friends over the world.
It focused on three major themes of honouring and awarding the contest winners; the people and organisation named "Goodwill Ambassadors" and "Ambassadors" of Vietnam National Ancestor's Day and 18 media units and agencies, as well as 18 journalists who have actively supported the Global Việt Nam National Ancestor's Day Project.
Broadcasting on the fanpage of the project, the TV channels VTCNow, VOV, and Vietnam News Agency's VNews, and  Future Now, the event was connected to 10 locations in representing five continents including Hùng King Temple in northern province of Phú Thọ, Malaysia, Taiwan (China) and Dubai (United Arab Emirates – UAE) of Asia; Germany, and Slovakia in Europe; USA and Canada of Northern America; Australia; and Nigeria in Africa.
The programme organising committee awarded medals and King's Prize certificates to Professor Tạ Ngọc Tấn, deputy chairman of the Theoretical Council of the Communist Party of Việt Nam's Central Committee, chairman of the Ngày Quốc Tổ Việt Nam Toàn Cầu project's consulting board; and Lê Quốc Minh, journalist and Deputy General Director of the Vietnam News Agency who have joined the project and worked as senior advisors for the online Global Việt Nam Ancestor's Day contest 2020.
Speaking at the awarding ceremony held on Tuesday in Hà Nội, Professor Tấn who is also a former member of the Party Central Committee and former director of Hồ Chí Minh National Academy of Politics, said that the Ngày Quốc Tổ Việt Nam Toàn Cầu project was established in 2015 with the support of a number of scientists, intellectuals and leaders of overseas national associations in seven countries.
"It is a civil non-governmental and non-profit project created with a mission to connect and strengthen the Vietnamese great national unity and positioning the values of Việt Nam in the global community, as well as joining with foreign friends to preserve the intangible cultural values of humanity," said Professor Tấn.
Also, at the ceremony, the organising committee of the international Ngày Quốc Tổ Việt Nam Toàn Cầu 2020 contest honoured and awarded a total of 35 prizes to winners selected from 300 final entries from all over the world.
Accordingly, the two first prizes were awarded to two authors from Việt Nam, Holi Thắng for his work Hào Khí Việt Nam (roughly translated as Việt Nam Power) and Nguyệt Vũ for the work Ra Hà Nội đi anh (Head to Hà Nội). The five second prizes, 10 third prizes and 18 encouragement prizes were also awarded to other authors with excellent writing and research about Việt Nam.
The Ngày Quốc Tổ Việt Nam Toàn Cầu 2020 contest was launched from March 18-May 31 consisting of two parts.
The first part focused on writing for the contest with themes featuring the Global Vietnam National Ancestor's Day for overseas Vietnamese people and foreigners.
Through their writing, included touching stories about their expatriate experiences, candidates expressed their feelings about the homeland, the country, ancestors and the people.
They showed their love and pride towards the Vietnamese nation, tradition and culture, their desire to connect with the homeland and friends over the world, particularly supporting each other amid the COVID-19 pandemic. — 
Source: https://vietnamnews.vn/life-style/749315/special-programme-honours-global-hung-kings-decendants.html
Lives of Cống ethnic people in Điện Biên Province
ĐIỆN BIÊN — Lả Chà Village in the northern mountainous province of Điện Biên's Nậm Pồ District is home to a Cống ethnic community, one of the five ethnic minority communities in the province with 79 households and nearly 400 inhabitants.
The living conditions of the Cống people in the village have improved in the past few years due to support from the Government and local authorities.
Investment projects on infrastructure construction, agricultural production, and cultural preservation in the district have helped change the lives of local people.
The village is now connected with the electricity network, while roads, schools, and bridges have been built, creating convenient conditions for people to develop all aspects of life.
In the past, Cống people had very difficult lives as they depended a lot on self-sufficiency and migration.
They earned their living just by manual cultivation on slash-and-burn fields, so crop productivity was very low. — 
Source: https://vietnamnews.vn/life-style/813990/lives-of-cong-ethnic-people-in-dien-bien-province.html
Locals preserve value of Vietnamese brocade
HCM CITY —Preservation of traditional Vietnamese brocade helps not only highlight cultural values but also contribute to socio-economic development and improves the quality of life for ethnic minorities.
Many makers of brocade are trying to preserve their weaving culture and seeking financial support.
The second Việt Nam Brocade Culture Festival which is taking place in Đắk Nông Province aims to attract investment in preserving the traditional handicraft. It will run through Sunday.
Ka Mom from the Châu Mạ ethnic group in Lộc Tân Commune in Lâm Đồng Province's Bảo Lâm District noted that the commune has more than 500 women who know how to weave brocade. Some are from families that have been weaving for three generations.
Ka formed a brocade weaving cooperative about three years ago with 15 members, who were offered a VNĐ5 million (US loan per person by the Women's Union. 
However, the cooperative disbanded after the Women's Union decided to stop funding its members after a year of operation.
"It's very challenging to make products and find sales outputs on our own," Ka said.
Ka usually needs over a week to weave a piece of fabric that usually costs VNĐ800,000 in the market. "There should be 'regulations' during festive and holiday seasons to wear brocade items to preserve this cultural value," she said.
Meanwhile, Lâm Nữ Minh from the Chăm ethnic group said that she is one of 80 members of the Chăm Mỹ Nghiệp Brocade Weaving Cooperative in Phước Dân Commune in Ninh Thuận Province's Ninh Phước District.
Despite an income of VNĐ1.5 million per month after excluding daily expenses, members of the cooperative have been pursuing their passion for a long time.
Except for a few people who love ethnic brocade, many locals, especially young people, have switched to working at factories to earn higher incomes, she said.
Since brocade products are usually sold to international tourists, the COVID-19 pandemic has made it difficult to keep the industry going. 
"We cannot promote our products efficiently with such an income. We want to take part in more festivals to sell our products and exchange experiences with other artists," Minh said. "We also seek financial support for professional machinery used to make fabric, while weaving the brocade parts manually. Most importantly, we are looking for better ways for our products to be circulated and consumed."
Authorities in some provinces have focused on the preservation of brocade weaving and have organised training courses for ethnic minority women in recent years.
However, because of the country's global integration and economic transition, it is challenging to fully preserve the beauty of brocade weaving profession.
Skilled artists have become older, and many youngsters are not passionate enough about the trade to pursue a career.
The chairman of Đắk Nông Province People's Committee, Nguyễn Đình Trung, said that brocade has contributed to the solidarity and cultural diversity of 54 ethnic groups. 
"It is a cultural bridge between us. Let's join hands to bring Vietnamese brocade closer to people, especially foreign visitors!" he said.
In order for the profession to thrive, authorities should create incentives to encourage artists in Đắk Nông Province to search for markets at tourist destinations by themselves, set up stores of brocade products, and collaborate with other cooperatives or trading companies to expand the market, Trung said. — 
Source: https://vietnamnews.vn/life-style/813987/locals-preserve-value-of-vietnamese-brocade.html
Veteran photographer's exhibition to raise funds for charity
HCM CITY — A photo exhibition about Việt Nam and its people by veteran artist Lê Hồng Linh, who has 30 years of experience in the industry, is opening in HCM City's Youth Cultural House to raise funds for poor students.
The event, called Thấu Cảm – Chuyện chưa kể (Sharing – Untold Stories), features 108 black-and-white and colour photos highlighting rural women and children in daily life. Images displaying Vietnamese culture and lifestyle are also featured. 
The event includes a series of colour photos capturing famous landscapes and historic sites. 
"My love for my country and people has increased. Through his lens, Việt Nam is so beautiful," said Võ Quỳnh Trang, a student at the HCM City University of Law, who visited the exhibition. 
 Linh and the event's organiser, the HCM City Youth Cultural House, hosted a photo auction last week to raise funds for the charity programme called Thư Viện Ước Mơ (Dream Library). 
More than  VNĐ1.6 billion (US$70,000) was donated from photo sales. The money will be used to build 25 libraries for students living in flooded areas in the central region. 
Linh hopes he will raise money enough to build 60 libraries for schools and cultural centres in remote provinces across the country. 
Thư Viện Ước Mơ began in 2014 and has built 36 libraries and reading areas for 18,000 students in nine cities and provinces. The programme's creators are working to encourage more organisers and individuals to become involved in the charity. 
To join the online auction, visit the programme's website empathy.vn. 
Linh is a mechanical engineer from the central Quảng Ngãi Province. He worked as a lecturer in engineering at several colleges in HCM City.  He has been awarded over 400 international photography prizes and medals, dozens of honorary titles, and was a jury member at international photography contests eight times.
His has organised solo and group exhibitions in 11 countries.
"I love capturing the happiness, sorrow, hatred, smiles, crying, worry and astonishment of children throughout Việt Nam, which I believe will fade away rapidly with urban modernisation and expansion," said Linh. 
The exhibition, Thấu Cảm – Chuyện chưa kể, is being held at 4 Phạm Ngọc Thạch Street in District 3. It will close on November 31. —
Source: https://vietnamnews.vn/life-style/813988/veteran-photographers-exhibition-to-raise-funds-for-charity.html