Thái Bình's bún bung hoa chuối a hit far and wide
Duy An
The Red River Delta province of Thái Bình is home to many traditional specialities such as the popular dish bún bung hoa chuối (rice vermicelli soup with pork ribs and banana flowers) that is a favourite of locals and visitors.
Thái Bình native Nguyễn Thị Út, 64, who has been selling the dish for 30 years, said different from other bún bung soup in the north with main ingredients such as dọc mùng (Indian taro), the dish in Thái Bình has hoa chuối (banana flowers) that have made it beloved.
Út said the main ingredients of bún bung hoa chuối include rice vermicelli, pig's trotters, pig ribs or marrowbone, lá lốt (wild betel leaf), minced pork and banana flowers. The minced pork is soaked with fish sauce, onions and several spices before being wrapped in the lá lốt and boiled in the broth pot for a while then taken out to be eaten with the soup.
"To have a good broth pot, I have to simmer the pig's ribs or its marrowbone for almost two hours while boiling the pig's trotters for half an hour to ensure the meat is soft but still crispy," said Út.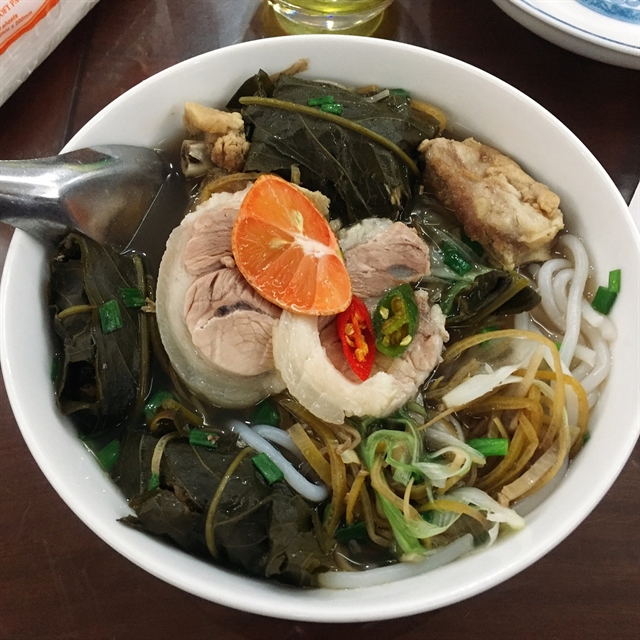 The banana flowers should be cut into pieces and soaked in rice water for about 20 minutes to reduce the resin and tartness before being put in the broth pot to boil for 10 minutes, she said, adding that she has her own secrets to ensure the broth remains pure but still sweet and fragrant.
Út said she often sells between 25-30kg of rice vermicelli a day.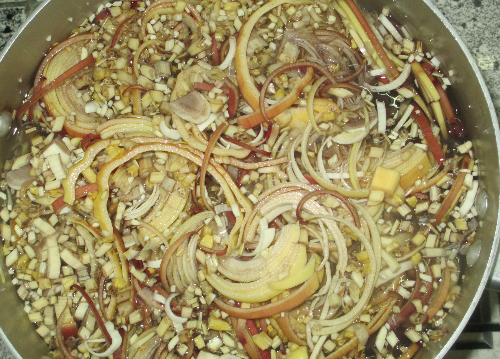 Eater Hà Văn Mừng and his wife have been Út's regular customers for years. They said they are addicted to Út's bún bung hoa chuối as their breakfast.
"Every morning we often stand in a long queue to have our favourite food. We enjoy it so much," said Mừng.
Mừng's wife Bùi Thị Lợi said she likes a bowl of bún bung not only for its taste and delicious but also its colours, with the white bún, red tomato and chilli, green fresh herbs and betel leaf rolls, brown boiled pig's trotters and banana flowers and the light yellow colour of the broth.
Asked why the broth has a  yellow colour, Út said she uses several pieces of turmeric and pounds it as bran then puts it in the broth.
"The yellow colour helps give the dish its special taste that attracts diners," she said.
Nguyễn Thị Huấn from Quảng Ninh Province said she was a big fan of Út's bún bung hoa chuối.
"I often come to Út's shop to enjoy the dish when I have a business trip to Thái Bình. Although have asked Út for a recipe to cook the dish at home its taste is not the same as Ut's," she said.
"I will never forget the broth's sweetness, the meaty and delicious taste of pig's trotters and betel leaf rolls and particularly the light tartness and crispiness of banana flowers. Although the dish is simple its rich characteristics and aromatic flavour have made many people, particularly those who live far from their Thái Bình homeland, miss it so much," said Huấn. — 
Source: https://vietnamnews.vn/life-style/886064/thai-binhs-bun-bung-hoa-chuoi-a-hit-far-and-wide.html
Two Việt Nam beaches among top beaches in Asia
HCM CITY – TripAdvisor readers have named Mỹ Khê in the central city of Đà Nẵng and An Bàng in Hội An City among the most beautiful beaches in Asia.
Around three kilometres from Hội An, An Bàng was in the 24th position on the list of 25 best beaches in Asia, while Mỹ Khê finished off the list.
An Bàng is one of the few white-sand beaches left in Việt Nam that has yet to be spoiled by the boom in beach tourism that has resulted in overcrowding, coral damage and environmental pollution.
Once a hidden gem in the old town, the beach entered the international limelight when CNN listed it as one of the 100 best beaches on earth in 2011.
The 10-km-long Mỹ Khê beach running from the base of Sơn Trà Peninsula to Marble Mountains was catapulted to global fame when Australian newspaper The Sunday Herald Sun listed it among Asia's 10 most beautiful beaches in 2012.
Considered Việt Nam's most picturesque beach, Mỹ Khê Beach was named by American troops who visited during the Việt Nam War. –
Source: https://vietnamnews.vn/life-style/887976/two-viet-nam-beaches-among-top-beaches-in-asia.html
Young Vietnamese on the verge of becoming 'lost generation' amid pandemic

Hemingway once described "lost generation" as those coping with the aftermath of WW1, now young Vietnamese are on the brink of becoming a new version of the term.

Nguyen Thanh Tung, 22, graduated from university in June 2020, and was thrilled to enter a new stage in life.
But reality turned out to be harsher than he thought as he spent four months looking for a job in Hanoi and HCMC only to be repeatedly told "they will contact me when the Covid-19 pandemic is contained."
He then decided to apply for a graduate course in the U.S. and was admitted, but the university has canceled on-campus classes meaning Tung cannot leave.
"It is like someone has pressed the pause button on my life, and I do not know how to find my play button amid this pandemic."
Millions of other young people share his plight as colleges are closed, jobs are hard to find and mental and financial issues grow.
A man wears a protective mask as he drives past a banner promoting prevention against the Covid-19 pandemic in Hanoi, Vietnam July 31, 2020. Photo by Reuters/Kham.
Many students have been unable to cope with virtual classes and the hiatus in extracurricular activities.
"Sometimes I cannot keep track of the lessons, or just get bored of sitting in front of the computer for hours, and so feel like I have failed to prepare well enough for my final exams," Nguyen Ba Nghia, a sophomore at the Hanoi University of Science and Technology, said.
Many young people have also been severely affected by the job market slump.
The International Labor Organization (ILO) said last year the youth unemployment rate in Vietnam was 10.8 percent, compared to 6.9 percent in 2019. It defined youths as workers aged 15 to 24.
In the third quarter the youth unemployment rate was 7.24 percent, 4.2 times the rate among people aged over 25.
On Facebook groups for headhunters and applicants, many people, mostly those embarking on a career, complain about how difficult it is to find a job.
"I spent five months looking for a job and got an internship, and then they told me they will not sign a contract because they want to cut their spending amid the pandemic," one said.
"It is not ideal to be a young adult at the moment," someone responded.
With the pandemic flattening dreams, plans and opportunities for young people, many face grave financial insecurity.
Some 52 percent of Vietnamese youths are worried about their financial situation, a survey by insurer Manulife found.
The travel restrictions since last year have forced many young people to put their plans on hold.
Le Thanh Trung, 23, has been waiting for months for his university in the U.S., the world's biggest Covid-19 hotspot, to open so that he can start pursuing his graduate degree.
"I have deferred my enrollment from last fall to next summer, and so basically I have just held my breath for the last few months and waited; such a waste of time," the Hanoian said.
Others have seen their wedding and baby plans disrupted.
There have been a lot of separations among young lovers, and many have no idea when they will meet again.
In Saigon, Nguyen Thi Kieu Trang has been waiting for her British boyfriend to come to Vietnam for their wedding, which was originally scheduled for last summer.
"There was no wedding," Trang, 28, said. "The virus has delayed our wedding, and it will delay us having kids and other things."
Without being able to get jobs and with other plans being disrupted, many are beginning to have mental issues.
"There has been a surge in the number of people with depression," Dr Huynh Van Minh, head of the Vietnam Society of Hypertension, said.
The ILO has warned that high unemployment rates could lead to dangerous increases in depression and anxiety.
People wait to have unemployment benefits at the Hanoi Center for Employee Service in Cau Giay District, June 2020. Photo by VnExpress/Ngoc Thanh.
Silver lining
Many young people have tried to look for positive things by making new plans or taking up new habits.
"I see the Covid-19 pandemic is a catalyst that forces me to rethink my spending habits," Nguyen Thu An, a white-collar worker in Hanoi who admitted to being a spendthrift before the pandemic, said.
Others found new hobbies during the social distancing campaign last year, such as cooking and gardening, or began to spend time with their family unlike earlier.
"I found out that I love growing plants, and my room is now full of greenery," Tung, the new graduate waiting to leave for the U.S., said.
He also learned some barista skills, and so "I do not have to go out for good coffee."
The pandemic has made some young people realize that they must be adaptable, sociologist Trinh Hoa Binh told VnExpress International.
Le Viet Chung, 29, of Da Lat Town said the pandemic taught him to adapt after his employer in Saigon laid him off.
"I was depressed and shocked, but then a friend suggested that I should try to embark on a new path." The Saigon salesperson thus became a manager of a hostel in Da Lat.
Sociologist Binh is optimistic, saying the pandemic is enabling young Vietnamese to improve by overcoming "challenges that life throws at them."
"Many of them could become part of a lost generation, but in the long run they will learn and grow."
Source: https://e.vnexpress.net/news/life/trend/young-vietnamese-on-the-verge-of-becoming-lost-generation-amid-pandemic-4239997.html
White sand inspires artist to imagine and create
ĐÀ NẴNG — An art exhibition by Xuân Hạ depicts her life through personal experiences and external materials in her homeland in the central region. 
Nắm Cát Tha Hương (The White Sand in Exile) is her work exploring the issues of sand exploitation in her hometown in Thăng Bình District in the south-central province of Quảng Nam. 
She reflects the impact it has on the material and spiritual life of the local residents.  
Hạ uses glass bottles she has collected that had washed up on shore to create her work. 
"White sand spreads across the seaside communes. Houses are built on sand. Trees are planted on sand. The tourism industry is built on sand. People's graveyards are built on sand," exhibition visitor Thảo Hương said.
"I was born in the central region and sand is something that is very familiar in my life.
"The exhibition brings emotions and memories of my childhood. I witnessed the river in my homeland drying up in summer because sand turned into cement. I visit my maternal grandparent's graveyards with white sand and bushes."
The exhibition originates from the culture of people that live in the central region, those that have attached their life to the sand.
A work entitled Trở Về (Back Home) is the glass bottles which include the date and the place they were found. 
Mắc Cạn (Stranded) is broken glass bottles, monolithic glass and photos printed on paper and photos of bottle caps were printed on glass. 
The series focuses on experimenting with materials, transforming both the forms and ideas of the glass bottles that Xuân Hạ collected.
By arranging and spreading the pieces, she recreates the scenes she has witnessed, including glass bottles lying across the wet shore and the graves on the dry white sand.
Xuân Hạ, born in Đà Nẵng City, is a visual and multimedia artist. 
In her recent work, she looks at the impact of urbanisation and industrialisation on millennial behaviour, especially in Việt Nam.
Through various forms of experimenting with space, using fragments of daily materials and manipulating moving images, her work is documentation born out of opposition between herself and the changes of her environment.
She has been an active practitioner in the local art community since the end of 2015 when she co-founded the art collective Chaosdowntown Cháo in HCM City.
She currently lives and works in Đà Nẵng and co-founded A Sông Club in the hope of learning and understanding more about her homeland.
The exhibition is held under the Cultural and Creative Hub Việt Nam Project which is funded by the European Union and the British Council.
It is running until Sunday at 102 Lê Thanh Nghị Street, Đà Nẵng City. — 
Source: https://vietnamnews.vn/life-style/887238/white-sand-inspires-artist-to-imagine-and-create.html