Trade defence – a relief buoy for firms during integration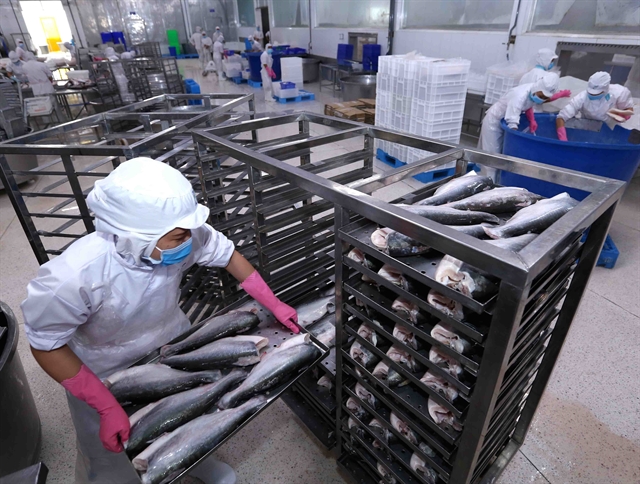 HÀ NỘI — Trade defence measures acted as an effective "relief buoy" that helped protect businesses in the context of international integration, said Lê Triệu Dũng, director of the Ministry of Industry and Trade's Trade Defence Department.
Dũng said these legal measures were designed to protect domestically produced goods from the sudden increase in imported products that had stemmed from the 13 free trade agreements (FTAs) Việt Nam had signed.
"This is why the most integrated and free economies are also the ones with the most trade defence measures," he added.
For example, such measures were introduced in the US 100 years ago and had become a mandatory element in the international commercial business environment to protect legal interests in the domestic market from unfair competition of imported goods.
"Việt Nam's consistent policy during integration and the implementation of FTAs, including new generation FTAs such as the EVFTA and CPTPP, is basically to reduce tariffs on imported goods. This has created competition pressure. Enterprises and associations need to study and use trade defence to protect their interests in the domestic market against unfair competition from imported goods," he said.
The ministry has been investigating 20 cases, mainly anti-dumping, anti-subsidy and safeguard investigations, typically with fertiliser, wood, steel, aluminum, cane sugar and syrup.
The number of cases remains modest compared to the 200 cases of Vietnamese exports being sued by foreign markets. However, they have contributed to protecting the manufacturing industry, which accounted for about 6 per cent of the country's GDP in 2019 and nearly 150,000 jobs. Some industries such as steel, aluminum and fertiliser would be at risk without protective tools.
Due to the increase in trade remedies imposed by foreign markets, the MoIT has co-ordinated with relevant ministries and agencies to support businesses by providing up-to-date information, advice on legal issues and details of investigations being carried out by other countries, as well as solutions for businesses.
Việt Nam has seen some positive results. The country has successfully appealed about 43 per cent of cases to ensure products, especially commodities such as basa fish and shrimp, continue to be exported to major markets such as the US and EU with tax rates of zero per cent or very low. It has petitioned five cases to the WTO's Dispute Settlement Agency, of which it has won three.
However, experts said only a small number of enterprises and business associations understood the laws and policies regarding trade remedies so only a few had been able to effectively employ them.
Nguyễn Thị Thu Trang, director of the WTO and Integration Centre under the Việt Nam Chamber of Commerce and Industry (VCCI), said Việt Nam had opened up its domestic market to goods from 51 partner countries, helping to make the Vietnamese market more vibrant and competitive.
However, mass imports that caused unhealthy competition has also been seen, capable of causing significant damage and threatening the long-term interests of some manufacturing industries.
This was why businesses needed to put forward their ideas for the latest draft project to improve their trade defence capabilities. —
Source: https://vietnamnews.vn/economy/804120/trade-defence-%E2%80%93-a-relief-buoy-for-firms-during-integration.html
Developers struggle to sell high-end apartments in HCMC
Apartment buildings in District 2, Ho Chi Minh City. Photo by VnExpress/Quynh Tran.

The number of high-end apartments remaining unsold in HCMC soared by 74 percent year-on-year in the last quarter of 2020 as demand slumped.

Only 5,007 were sold in the quarter, according to real estate consultancy CBRE. Nearly 6,700 units at six projects had entered the market in the period. Overall new apartment supply topped 17,200 units.
The high-end segment, with prices of $2,000-4,000 per square meter, accounted for 76 percent of the country's total apartment supply.
According to the Ho Chi Minh City Real Estate Association (HoREA), the oversupply of high-end apartments is causing concern by making the real estate market unsustainable.
According to its chairman, Le Hoang Chau, some developers registered their projects with the Department of Construction with low prices but later hiked them to high-end levels to increase their profits.
The excessive supply of high-end apartments and a dearth of affordable ones has affected low- and middle-income people.
Besides, over 60 percent of high-end apartments are bought by speculators, which is threatening the sustainable development of the housing market, HoREA said.
Source: https://e.vnexpress.net/news/business/industries/developers-struggle-to-sell-high-end-apartments-in-hcmc-4223582.html
Unprecedented: Chinese car imports selling well in Vietnam
Chinese car brands made a breakthrough in 2020 when their cars began selling well in Vietnam, which had never before favored products from China.
Car dealers revealed that the two Chinese models Beijing X7 and Brilliance V7 are in short supply. There has been no Chinese arrival since the beginning of 2021, so car buyers have had to wait for deliveries.
Beijing X7 has been the best Chinese seller, while Brilliance V7 has ranked second. Though the design and equipment of Brilliance V7 is inferior to Beijing X7, it has a large interior compartment and uses a BMW engine.
One source said that a total of 500 Beijing X7s were imported to Vietnam as of the end of 2020. Imports of other models, including Brilliance V7, Zotye Z8 and BJ 40, had reached 300.
Despite Covid-19, which had an adverse impact on Vietnam's automobile market, Chinese brands in 2019 had sales increases, especially in the last months of the year.
Car dealers hope their business will be even better in 2021, considering the orders they have taken. Their biggest worry now is the supply shortage and price increases.
"Chinese suppliers now cannot satisfy our orders for Beijing X7 and Brilliance V7. Meanwhile, as the reminbi/US dollar exchange rate has fluctuated, every imported car is $1,000 more expensive. The transport cost of every car has also surged to $1,800, six times higher than previously," said a car dealer specializing in Chinese imports.
However, some analysts still doubt that Chinese cars will continue to sell well in 2021. They said Chinese cars sell well at launch, but see sales decrease later.
They said some buyers said that they had bought Chinese cars just to have some experience and still need some more time to evaluate their quality. In general, Chinese brands are not considered strong brands.
The common characteristics of Chinese next-generation models are that they have beautiful designs like European cars and are equipped with many high technologies, while the prices are very affordable.
However, in addition to these characteristics, Vietnamese want strong brands and high quality. The preconception that Chinese products mean low-quality products still exists.
With VND700 million, Vietnamese now have many choices for non-Chinese cars. They can buy Japanese and South Korean products, which don't have too many high tech features but are relatively modern and have good design. And importantly, there us no need to worry about the quality of the products.
Most imported Chinese models have selling prices of around VND700 million. With an engine of less than 2.0L, the import tariff is 70 percent, luxury tax 35-40 percent and VAT 10 percent. The production cost is estimated at VND300 million. 
Tran Thuy
Source: https://vietnamnet.vn/en/business/unprecedented-chinese-car-imports-selling-well-in-vietnam-706772.html
G-Group launches e-wallet
 HÀ NỘI — E-wallet firm Gpay, a member company of G-Group Technology Corporation, announced it had completed its Series A investment with the participation of KB Fina, a joint venture between G-Group and South Korean KB Financial Group, in Ha Noi yesterday.
KB Financial Group invested VNĐ425 billion (US$18.4 million) in Gpay through KB Securities, its representative in Viet Nam.
Within the event, the Gpay e-wallet was officially launched.
Nguyễn Thuần Chất, co-founder and CEO of Gpay, said: "The investment will be used to grow users based on the existing ecosystem, develop strategic technology solutions and people investment with the mission to bring convenience, security and happiness for Vietnamese people by providing platforms in financial services on mobile devices."
With a supportive ecosystem from G-Group with nearly 30 million users across financial services, financial technology and social networking platforms, Chất said: "We aim to provide a comprehensive range of payment and financial services to 5 million users by 2023."
He said the additional resources and in-depth experience in the financial sector from KB Financial Group would bring a lot of opportunities for Vietnamese people to use fintech services and contribute to developing digital platforms for the financial industry and boosting local cashless payments.
Mentioning KB Fina, which KB Financial Group invested VNĐ300 billion in, Peter Chunsoo Park, chairman of KB Securities Vietnam said: "KB Fina is a comprehensive financial digital platform to serve Vietnamese consumers who are unbanked or under-serviced."
As one of the leading technology corporations in Việt Nam, G-Group is growing an ecosystem of nearly 30 million users across financial services, financial technology, intermediary payment, e-wallet, social network, online games, digital media platforms, cybersecurity and high-tech R&D. —
Source: https://vietnamnews.vn/economy/858883/g-group-launches-e-wallet.html