Unique water ceremony of the Jrai people
Đăm San Music, Dancing and Singing Theatre in the Central Highlands province of Gia Lai recently hosted the water source worship ceremony for Jrai ethnicity locals in Krêl Village, Krêl Commune, Đức Cơ District.
The ceremony aims to wish for good health and bountiful crops.
As many as three shamans and four assistants join the ceremony. Offerings include a pig, 10 chickens, sticky rice and a jar of wine.
Early in the morning, locals gather at the main water source to prepare for the event.
After the pig and chicken are slaughtered, the assistants takes the liver, lung, kidney, tail and the wine to put on the worship altar. The shamans and their assistants will conduct the ceremony in a few hours.
The main shaman will start the ceremony saying: "Greatest Heaven, today we organise a worship ceremony at Krêl Village.
"We conduct it with our sincere hearts. Here are the offerings, with a big pig, 10 big chickens, a big jar of wine.
"We hope genies bless us and give us clean water source, good health, bumper harvest and other assets.
"Please protect us and help us do as good business as others in other villages."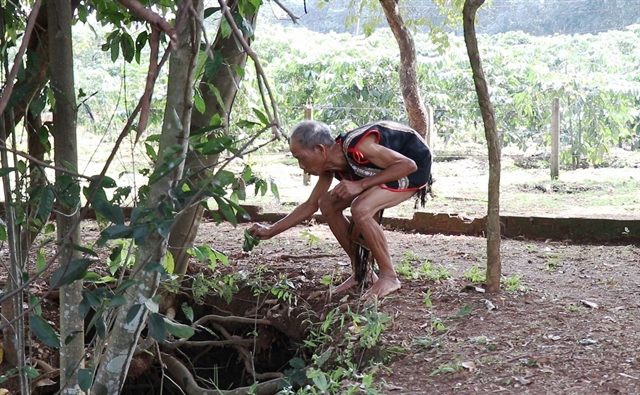 The next day, locals will conduct the same ceremony at the communal house to pay homage to genies.
Nguyễn Ngọc Long, director of the theatre, said it had hosted various traditional ceremonies since 2019.
"We have chosen the most special customs of local ethnic minority groups to remake," he said. "We remake the water source worship ceremony to develop traditional values and enhance patriotism among Jrai people, as well as their pride."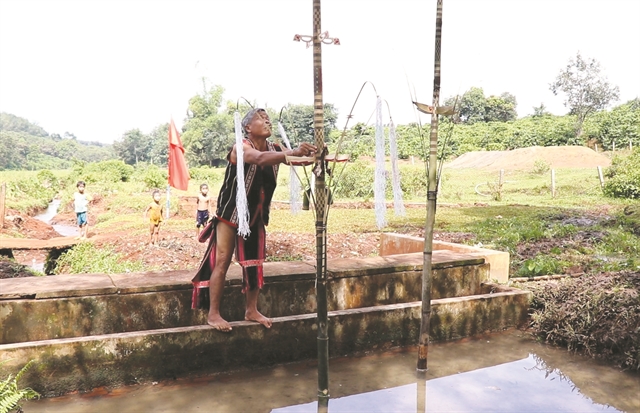 According to Rơ Mah Che, a resident of Krêl Village, the community has maintained the ceremony every October, but on a smaller scale.
"This year, authorities help us to organise the ceremony per the original model in our customs, so we are very happy," he said.
Long said since early this year, the theatre has hosted three such important ceremonies including worship for rain and worship for a water source to enhance local's solidarity and preserve traditional customs.
"Ceremonies dedicated to various genies are the heritage of the Central Highlands' ethnic minority groups," Long said. "Though they are organised in family or community scale, they spread a message of a wealthy and happy life to each person, each home."
Jrai people live in villages. Each village hosts 50-70 households. They keep the habit of living in houses on stilts with the main doors facing north.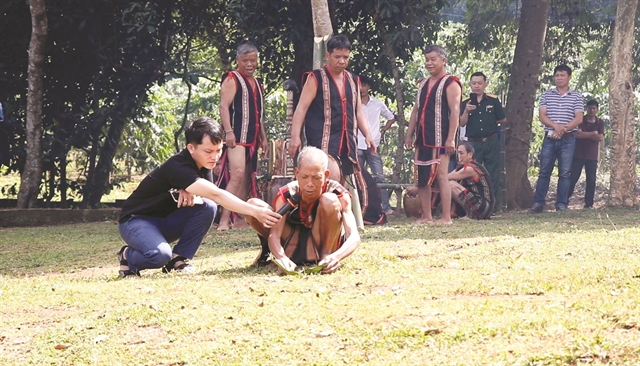 The male head of the village and male elders have great prestige and manage the community's activities.
Every village has at least one communal house. Some villages have two community houses, which are called "male" and "female" one.
The communal house is not only where locals gather but also a place to welcome guests. The communal house is located in the north of the village.
Jrai people live mainly on agriculture. Their farming tools are very simple like knives and hoes. They keep poultry and cattle as well. They also raise horses, buffaloes and elephants. Buffaloes are important cattle for them as they are used as offerings at worship ceremony and to exchange for objects like gongs, jars and copper saucepans.
Jrai men are good at knitting bamboo containers while women are excellent at weaving cloths.
They also go hunting and fishing for food.
Jrai people follow matriarchy. Jrai women are free to choose their partners and be active in marriage. After the wedding, the groom lives in the wife's house and has no property inherited from their parents. In contrast, when women get married, they can move out of their parents' house and get some assets from parents. Children take their mother's surname. But in society, men take a more important role than women.
Jrai people are known for epics and legendary stories like Đăm Di Đi Săn (Đăm Di Goes Hunting) and Xing Nhã (Life Story of Xing Nhã), and the art of gongs, drums as well as T'rưng bamboo xylophone.
Most Jrai people are good at dancing and singing from a small age. They will sing and dance till their later years.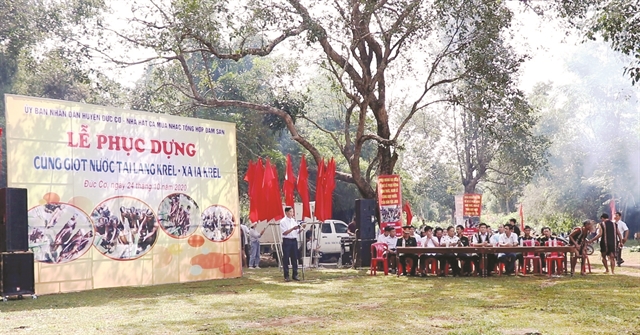 Source: https://vietnamnews.vn/life-style/804090/unique-water-ceremony-of-the-jrai-people.html
'Blood Moon Party' among three historic Vietnamese box office hits
A still cut from "Blood Moon Party." Photo courtesy of "Blood Moon Party."

"Tiec Trang Mau" (Blood Moon Party) beat "Em Chua 18" (Jailbait) to become one of the top three highest grossing movies in domestic cinema history.

Five weeks after its release, the film has grossed VND177 billion ($7.6 million), beating "Em Chua 18" (Jailbait), released in 2017 and directed by Le Thanh Son, once having earned a record VND172 billion ($7.4 million).
"Blood Moon Party" is currently ranked below "Cua Lai Vo Bau" (Win My Baby Back), grossing VND193 billion, and "Mat Biec" (Dreamy eyes), grossing VND180 billion.
The movie ranked second in the box office chart during the last three days of the past week, led by "The Croods 2", an animation about prehistoric people setting off on an expedition in the modern world. Box Office Vietnam reports "The Croods 2" has raked in over VND8 billion at its premiere on November 27.
Director Quang Dung revealed his decision to make "Blood Moon Party" relied on his admiration for the Italian original, shot on a limited set, with a smart screenplay, intense plot, and relatable content. At first, the team had intended to include details more familiar to local audiences such as spam messaging or real estate cold calling, but later decided to stick to the original scenario.
"Blood Moon Party" revolves around four childhood friends growing up to work in different jobs, including journalism, plastic surgery and teaching. They reunite at a housewarming party and play a game of sharing texts and calls that spill a lot of secrets.
The plot sticks close to the South Korean movie, which is itself a remake of Italian movie "Perfect Strangers," released in 2016, and directed by Paolo Genovese. This movie is registered in the Guinness Book of World Records as the most remade in the history of cinema with a total of 18 remakes across the globe.
Source: https://e.vnexpress.net/news/life/culture/blood-moon-party-among-three-historic-vietnamese-box-office-hits-4199838.html
HCM City guitarists to perform in Đà Nẵng
ĐÀ NẴNG – A group of guitarists from HCM City will have a one-night performance at the annual Đà Nẵng Guitar Concert 2020 – entitled: Around the World – at the Nguyễn Hiễn Dĩnh Theatre on Saturday (December 5).
The city's festival and event organisation centre said Saigonese guitarists will play solo, duo, trio, duo guitar and flute with melodies and rythms composed by authors from Italy, France, Russia, Canada and Spain.
Trio Thanh Huy-Ngọc Niền-Quang Huy will introduce O trio Magico of Roland Dyens and Baiao de Gude of Paulo Bellinati on the opening night.
Lê Ngọc Niền will play solo with Un Sueno en la floresta of Agustin Barrios Mangore, while Nguyễn Thanh Huy will do his own performance with Lulla&Pushkin Waltz of Yuri Smirnov; Cancion y Danza No.1 of Antonio Ruiz Pipó and Zapateado by R. Sainz de la Maza.
Quartet performances including Ngọc Niền, Lê Công Nam Anh, Quang Huy and Đình Quang will play Around the World by Patrick Roux; Tango del Sol (Hommage to the Sun); Ama-zone-E (Hommage to the forest); and Introduction et Fandango of Luigi Boccherini.
Minh Trang and Quang Huy – in a duo flute&guitar – will perform three pieces: Mia&Sebastian's theme; Audition (The fools who dream) and City of Star in the film: La La Land (Oscar music Award) of Justin Hurwitz.
Duo Nguyễn Thanh Huy-Huỳnh Bá Thơ will play Suite Italiana of Mario Gangi and Jongo of Paulo Bellinati at the performance.
It's an annual guitar concert that Đà Nẵng has hosted since 2013.
People can get free tickets at Lê Độ Cinema at 46 Trần Phú street in Đà Nẵng, or the city's Exhibition centre at 9 Cách Mạng Tháng Tám street.
The performance will last 85 minutes from 8pm to 9.30pm. –
Source: https://vietnamnews.vn/life-style/817009/hcm-city-guitarists-to-perform-in-da-nang.html
Contemporary art on show in capital
HÀ NỘI — Nearly 500 works of various art forms including painting, graphics, sculpture, installation and video art by artists throughout the country are on display in downtown Hà Nội.
The show reflects the contemporary art life of the country in the past five years.
Titled the Việt Nam Fine Arts Exhibition, the event has gathered over 3,500 works by more than 1,380 artists after six months. The jury has selected nearly 30 of the best works for prizes including six second prizes, 11 third, and 12 consolation prizes.
Vương Duy Biên, former deputy culture minister and chairman of the jury, said they found it difficult to decide the prize-winning works as the talents of contributing artists are almost at the same level.
"Though there are no distinguished young talents and no first prizes awarded in all categories, the works this time have been more professional than in previous years," he said.  
Sculptor Lê Lạng Lương, a member of the Sculpture Art Council at the event, said we can see more and more different viewpoints in creating art works: from realistic trends, modern forms, to abstract and minimalism.
Sculptor Nguyễn Xuân Tiến, another member of the sculpture council, noted that there have been no works really impressing viewers and reflecting a comprehensive view of Vietnamese sculpture over the past few years.
Sculptor Đoàn Văn Bằng, another member of the council, said the event has failed to attract artists who have actively worked in the field.
"A big question to organisers for the next event is how they should attract great names," he said. "They should consider the size of the prize to gather proper names. The audience always expects to see works with fresh creative ideas."
According to professor and painter Lê Anh Vân, a member of the Painting Art Council, though the event lacked popular names, the exhibited works still reflect a part of creative desire and the findings in expressive language of the artists in front of changes of society and technology.
Researcher and art critic Phan Cẩm Thượng explains why great names did not attend the event.
"From 1995 to present, there have been more individual and collective exhibitions organised, where popular artists have been invited, than in the previous period. Besides, artists are often free in creating and thinking, they do not like being judged by certain criteria. Popular names now tend to follow commercial trends rather than pure art with individual and distinctive characteristics.
"That's why the national event every five year has attracted fewer and fewer popular names. I think instead of waiting for artists to join, organisers should invite the most influential ones so that the event reflects the best domestic fine arts situation in five year's time."
The exhibition will run at the Việt Nam Culture, Art and Exhibition Centre, No 2 Hoa Lư Street, Hai Bà Trưng District, Hà Nội till December 10 before moving to HCM City's Fine Arts Museum, 79A, Phó Đức Chính Street, District 1 between December 22 and 29.
Source: https://vietnamnews.vn/life-style/816656/contemporary-art-on-show-in-capital.html