Việt Nam commits to cybersecurity co-operation with ASEAN: deputy minister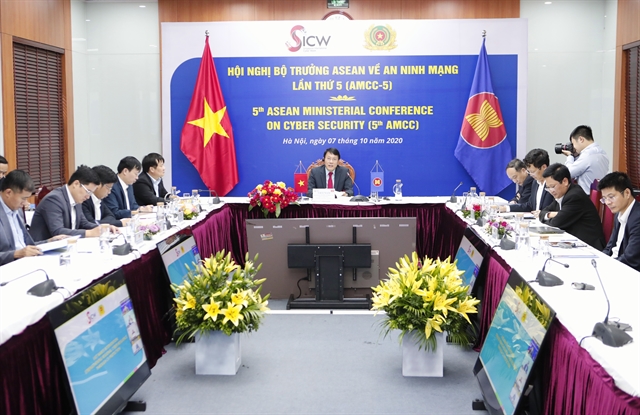 HÀ NỘI — Vietnamese Deputy Minister of Public Security Lương Tam Quang affirmed Việt Nam's commitment to actively and responsively taking part in ASEAN co-operative mechanisms on cybersecurity.
He was speaking at a teleconference of ASEAN ministers on cybersecurity on Wednesday.
Việt Nam recognises the need and importance of building responsible codes of conduct online to maintain healthy, safe cyberspace and ensure information security amid the huge changes of digital transformation, he said.
The Vietnamese Government has assigned the Ministry of Public Security to finalise a legal framework on cybersecurity consistent with regional and international standards to facilitate tightening cybersecurity, cybercrime prevention and control in Việt Nam as well as international co-operation, he said.
Việt Nam has implemented the 'National Digital Transformation Programme towards 2025, with a vision to 2030' with the aim of making the country among 50 leading e-government countries.
"In this digital transformation process, network information security and safety is the key factor in creating a safe environment for digital transformation," he said.
The Ministry of Public Security has focused on protecting critical information infrastructures through promoting training, improving qualifications and capacity of the specialised security teams as well as conducting research to develop and apply advanced software and technology.
The ministry has also paid attention to international co-operation with countries inside and outside the region to respond to attacks on information infrastructures, he said.
At the meeting, delegates from ASEAN countries agreed on the spirit of working together to address cybersecurity challenges in a comprehensive and sustainable way.
Secretary-General of ASEAN Dato Lim Jock Hoi said promoting regional cybersecurity co-operation has become important and served as a driving force for member countries to complete the overall ASEAN post-COVID-19 recovery.
S Iswaran, Singaporean Minister for Communications and Information and Minister-in-charge of Cybersecurity, applauded ASEAN member states for their steadfast focus on strengthening cybersecurity, domestically and in collaboration with regional and international partners.
Singapore is ready to work with all ASEAN partners to safeguard cyberspace, he said.
To enhance security for operational technology (OT) and the internet of things, Iswaran announced that the Cyber Security Agency of Singapore will establish an OT Cybersecurity Expert Panel and launch the Cybersecurity Labelling Scheme.
The ASEAN ministerial meeting on cybersecurity was held within the framework of Singapore International Cyber Week 2020 which is taking place from October 5 to 9.
ASEAN senior officials' meeting
Việt Nam, as ASEAN Chair 2020, is preparing for the 37th ASEAN Summit to take place in November, said Vietnamese Deputy Minister of Foreign Affairs Nguyễn Quốc Dũng at the virtual ASEAN Senior Officials' Meeting (SOM) on Wednesday.
The Vietnamese diplomat highly appreciated the co-operation of ASEAN member countries with Việt Nam in the role of ASEAN Chair 2020 and proposed more co-ordination of ASEAN member countries and agencies to complete priorities this year, including initiatives in response to COVID-19.
Discussing co-operation within the bloc, delegates expressed their satisfaction at the outcomes since early this year.
Chaired by Việt Nam, the ASEAN Community building process has been actively implemented, with ASEAN's initiatives in 2020 on schedule. A mid-term review of the ASEAN Community Vision Blueprint 2025's implementation on all three pillars is being finalised.
ASEAN agreed to build the Hanoi Declaration on the post-2025 ASEAN Community Vision and report the review of the ASEAN Charter's implementation.
Member countries also believed sub-regional development plays an important role in community building. Therefore, ASEAN should co-ordinate co-operation in the sub-regions.
The ASEAN SOM reaffirmed ASEAN's viewpoints on the South China Sea (called East Sea by Việt Nam) issues which received consensus at the 36th ASEAN Summit and 53rd ASEAN Foreign Ministers Meeting.
It highlighted the importance of maintaining and promoting peace, security, stability, safety and freedom of navigation and aviation in the sea. The countries committed to fully and effectively implement the Declaration on the Conduct of Parties in the East Sea (DOC), and work with China to soon complete the negotiation of an effective and pragmatic code of conduct in the East Sea (COC), ensuring its consistency with international laws, including the 1982 United Nations Convention on the Law of the Sea (UNCLOS).
ASEAN senior officials also urged health officials to finalise the ASEAN code of conduct on responding to public health emergencies.
They showed consensus on building an ASEAN travel corridor in the context of the COVID-19 pandemic.
At the meeting, ASEAN member countries stressed the importance of ASEAN's central role and agreed to support Việt Nam's proposal to issue the ASEAN+3 Declaration on Economic and Financial Self-Reliance to respond to emerging challenges. —
Source: https://vietnamnews.vn/politics-laws/793171/viet-nam-commits-to-cybersecurity-co-operation-with-asean-deputy-minister.html
Vietnamese leaders send congratulatory messages to US President-elect Joe Biden
Vietnamese leaders have sent their messages to Joe Biden to congratulate him on being elected as the next president of the United States.
Party Secretary and State President Nguyen Phu Trong and Prime Minister Nguyen Xuan Phuc sent their congratulatory messages to Joseph Robinette Biden Jr. on Monday, the Ministry of Foreign Affairs confirmed on Tuesday.
In their messages, Party Secretary Trong and PM Phuc expressed their hope that the U.S.-Vietnam relationship will continue to develop sustainably on the foundation that the two nations had built over the past 25 years.
Their bilateral ties will further benefit the two peoples and contribute to peace, security, order, cooperation, and development in the region and the world, the foreign ministry quoted the Vietnamese leaders as saying.
On the same day, Vice-State President Dang Thi Ngoc Thinh also sent her congratulatory message to U.S. Vice-President-elect Kamala Harris.
The Vietnamese leaders took the occasion to invite the U.S. president-elect and vice-president-elect to visit the Southeast Asian country in the coming time.
Like us on Facebook or follow us on Twitter to get the latest news about Vietnam!
Source: https://tuoitrenews.vn/news/politics/20201201/vietnamese-leaders-send-congratulatory-messages-to-us-presidentelect-joe-biden/58056.html
Việt Nam extends congratulations to US President-elect Joe Biden after election win
HÀ NỘI — General Secretary of the Communist Party of Việt Nam and State President Nguyễn Phú Trọng, and Prime Minister Nguyễn Xuân Phúc on Tuesday sent congratulatory messages to President-elect Joe Biden over his recent victory in the US election.
Vietnamese Party chief Trọng and PM Phúc expressed confidence that with the foundation bilateral ties that have been built and consolidated over the past 25 years, the US-Việt Nam comprehensive partnership will continue to flourish and become more profound, effective and sustainable, contributing to the benefit of the two countries' people and peace, security, stability, cooperation and development in the region and in the world.
On the same day, Vice President Đặng Thị Ngọc Thịnh has also conveyed messages of congratulations to Vice President-elect Kamala Harris.
Vietnamese leaders have extended an invitation for Joe Biden and Kamala Harris to visit Việt Nam at the earliest time.
Since the normalisation of ties and official establishment of diplomatic relations on July 11, 1995, the two sides have engaged more and more across all fronts of cooperation, from politics and diplomacy, trade and investment, defence and security, to science and technology, healthcare, and education.
Bilateral trade has increased 170 folds since 1995, currently reaching US$80 billion. —
Source: https://vietnamnews.vn/politics-laws/816628/viet-nam-extends-congratulations-to-us-president-elect-joe-biden-after-election-win.html
Việt Nam-Cuba friendship "rare" in international relations: Foreign minister
HÀ NỘI — The solidarity, mutual trust and closeness in the Việt Nam-Cuba friendship is "very rare" in international relations, Deputy Prime Minister and Minister of Foreign Affairs Phạm Bình Minh said as he addressed the meeting commemorating the 60th anniversary of diplomatic ties held in Hà Nội on Tuesday.
The Vietnamese official said Việt Nam always cherished Cuba's support for the righteous cause of Việt Nam during its national liberation and later national building efforts, adding that no matter what circumstances, Cuba was always at the forefront of international movements in supporting Việt Nam.
"Cuba's noble and generous gestures towards Việt Nam has been crystallised in Cuban leader Fidel Castro's remarks when he visited the central province of Quảng Trị during the height of the war against American aggression: 'For Việt Nam, Cuba is willing to shed its blood,'" Deputy PM Minh noted.
Together with political and diplomatic support, Cuba had sent thousands of engineers, doctors and experts to Việt Nam, provided to Việt Nam equipment, machinery, food items, medicines and other valuable items as aid during the war and later periods, despite the fact that Cuba at the time was also facing numerous hardships, Minh said.
Cuba has also helped build farms, factories, schools, and hospitals, and helped train thousands of Vietnamese students.
Minh stressed that Việt Nam has for its part always accompanied Cuba in its particularly difficult period starting 2011 when Cuba started to update its socio-economic model, sharing in earnest Việt Nam's experience in its reform efforts, maintaining stable supplies of rice aid to Cuba, helping Cuba to implement several projects in food production, seafood processing, and other practical cooperation projects.
"The Vietnamese people always demonstrated solidarity and support for Cuban comrades and people, as shown via political movements and donation drives carried out by Vietnamese organisations," Minh said.
He reaffirmed that Việt Nam continues to regard Cuba as a trusted and important partner.
The two sides have built profound and expansive relations from the Party, Government, and National Assembly level, down to local administrations and socio-political organisations.
"Việt Nam and Cuba are committed to implement high-level agreements, continuing to deepen bilateral ties, elevating economic and trade relations to match the potentials and to be commensurate to the close political ties, for the national building efforts in each country, and for peace, stability, cooperation, development in the two regions and in the world," Minh said.
At the ceremony, guests – including high-ranking members of the Vietnamese Government, students from universities in Hà Nội, businesses who have projects in Cuba, and Cuban diplomats, students, and experts – have recounted the special traditional solidarity between Cuban and Vietnamese people, stressing that despite the geographical distance, this friendship has become a vivid symbol of international unity between peoples in the righteous struggle for independence, freedom, sovereignty, and self-determination.
Cuban Ambassador to Việt Nam Lianys Torres Rivera affirmed that the special relationship between Việt Nam and Cuba was born in the most difficult of times, but the two countries' Communist parties, Governments and peoples have always had each other's back.
This was recently demonstrated in the COVID-19 pandemic, when Cuba received timely support in terms of material and medical equipment from Việt Nam to support the "island of freedom" in its fight against the pandemic, as the Cuban economy is already facing many difficulties due to the impacts of the US embargo policy for more than half a century, she said. —
Source: https://vietnamnews.vn/politics-laws/816574/viet-nam-cuba-friendship-rare-in-international-relations-foreign-minister.html