Việt Nam to approve first domestic cargo airline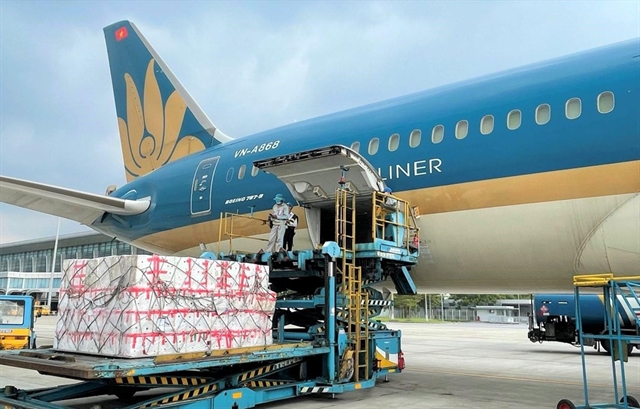 HÀ NỘI — The Ministry of Transport has sought the Prime Minister's approval to issue a licence for the first cargo airline in Việt Nam, IPP Air Cargo, as freight demand increases rapidly.
The application document of IIP Air Cargo met all requirements for the licence, the ministry said.
The ministry said Việt Nam's first cargo airline was appropriate to the country's transport services development strategy for 2030, which targeted the development of a fleet of 8-10 cargo aeroplanes, which would contribute to promoting the logistics industry.
"The cargo airline will contribute to the growth of cargo transport of Vietnamese airlines by around 10-15 per cent per year," the ministry said in a document on Thursday.
The volume handled by IPP Air Cargo was expected to increase by 18-20 per cent per year.
The ministry also said that Việt Nam's participation in the ASEAN Single Aviation Market, an agreement on the liberalisation of air transport in 2015, was creating opportunities for IPP Air Cargo to expand markets and increase its competitiveness.
The operation of a cargo airline would also help generate foreign currency, facilitate goods flow and drive local economic growth.
Starting from 1991, the air cargo market of Việt Nam handled more than 18,380 tonnes. After more than 30 years, the volume of cargo handled in 2021 increased to 1.3 million tonnes and was expected to reach 1.52 million tonnes in 2022. The average growth rate was 15.3 per cent from 1991 to 2021.
Việt Nam's air cargo is currently handled by five existing airlines that provide passenger transportation.
Existing Vietnamese airlines held a share of 11 per cent of the international cargo transport in 2020-21 and 18 per cent in 2019.
Currently, 29 foreign airlines operate cargo aeroplanes from 16 countries and territories to Việt Nam.
Due to the pandemic, the number of flights carrying passengers and goods dropped sharply while demand for cargo transportation increased significantly, pushing up freight rates by 3-4 times.
IPP Air Cargo was established on March 10, 2021, with an initial investment of VNĐ300 billion (US$13 million), with air cargo transportation being its major business line.
The airline planned to initially operate five aircraft, including Boeing 737, Boeing 777, Airbus 330 planes in the first year of operation and double the fleet in the next five years. —
Source: https://vietnamnews.vn/economy/1170934/viet-nam-to-approve-first-domestic-cargo-airline.html
Vietnam's 2022 economic growth projected at 7%
Vietnam's GDP is likely to expand by around 7 percent in 2022, much higher than 2.58 percent growth of 2021.
Minister of Planning and Investment Nguyen Chi Dung made the above statement at the Cabinet meeting in Hanoi on July 4.
With this scenario, the economy needs to expand 9 percent in the third quarter and 6.3 percent in the last quarter this year, the minister said.
In the first half, the Southeast Asian country's GDP accelerated to 6.42 percent growth compared to the optimistic scenario of 5,1-5,7 percent as figured out in the Government's Resolution No. 01/NQ-CP, dated January 01, 2021 on major tasks and solutions for implementation of socio – economic development plan and state budget estimate for 2022. 
Especially, the GDP grew 7.72 percent in the second quarter, which is the fastest growth pace for April-June period since 2011.
Earlier, the World Bank predicted Vietnam's 2022 GDP growth at 5.5 percent if the COVID-19 pandemic is controlled.
The projection is lower than the Vietnamese Government's predictions at 6.5-7 percent, HSBC at 6.5 percent and Standard Chartered at 6.7 percent.
Source: https://e.nhipcaudautu.vn/economy/vietnams-2022-economic-growth-projected-at-7-3346528/
Dragon Capital buys 2.1 million shares of Sacombank
Asset management company Dragon Capital has bought 2.1 million shares of HCMC-based Sacombank, increasing its stake in the bank to 6.09 percent.
On June 29, two affiliated funds, CTBC Vietnam Equity Fund and Norges Bank, bought 2.3 million shares of the lender while a third, Samsung Vietnam Securities Master Investment Trust, sold 200,000 shares.
The value of the deal is estimated at VND47.5 billion (US$2.03 million) based on the share's closing price last Wednesday.
Funds under Dragon Capital own 114.8 million shares or a 6.09 percent stake in the bank.
In March, Dragon Capital had raised its stake from 4.98 percent to 5.05 percent, after its largest fund, Vietnam Enterprise Investment Limited, bought 1.25 million shares.
Source: VnExpress
Source: https://e.nhipcaudautu.vn/companies/dragon-capital-buys-21-million-shares-of-sacombank-3346515/
Vietnam targets 7% GDP growth this year: minister
HANOI — Vietnam is aiming for economic growth of 7% this year, the country's planning and investment minister said on Monday, higher than an official target of 6.0%-6.5% set previously.
To achieve this, year-on-year economic growth in the third quarter needs to be 9.0% and in the fourth quarter 6.3%, minister Nguyen Chi Dung also said during a government meeting.
Dung said Vietnam's budget was in surplus, giving scope for fiscal policy to be used to support businesses and residents.
"Credit institutions will need to further cut their lending interest rates to reduce input cost pressure for businesses and for the economy," he said.
Vietnam, a regional manufacturing hub, started lifting its coronavirus curbs late last year, allowing factories to resume full operations.
The economy is recovering after growing only 2.58% last year, the slowest pace in decades.
The Southeast Asian country reported GDP growth of 7.72% in the second quarter, backed by strong export growth, but warned of upward inflation pressure for the rest of the year. 
Source: https://tuoitrenews.vn/news/business/20220704/vietnam-targets-7-gdp-growth-this-year-minister/67932.html