Vietnamese tourism targets safety to develop sustainably
HÀ NỘI – Tourism experts and managers decided that Viet Nam's tourism industry should develop with the motto 'safety and attraction' at a conference held on Thursday in Hà Nội.
Việt Nam has gone 23 days with no community cases of COVID-19, so it was time to start rebuilding the tourism industry. The conference was held by the Việt Nam National Tourism Administration (VNAT) and VnExpress online newspaper.
Hà Văn Siêu, vice chairman of VNAT, acknowledged that local tourism promotions launched by the Ministry of Culture, Sports and Tourism had made a positive impact. The tourism industry revived rapidly between May and July. However, when a COVID-19 outbreak was detected in Đà Nẵng in July, domestic tourism once again faced challenges.
"We have many experiences to learn from, and we put top priority on guaranteeing safety for travellers," Siêu said.
"Apart from safety, we will also focus on attractions. Localities should launch new promotions and connect with neighbouring destinations."
Vũ Thế Bình, vice chairman of the Việt Nam Tourism Association, said the coronavirus pandemic was an unprecedented crisis for the tourism industry around the world, but it was time to revive the industry in the 'new normal'.
"If we promote tourism in the normal way, we can't solve the problems," Bình said. "Enterprises have to focus on service quality, and tourists can enjoy new products or old tours with a fresh twist."
"I think we can use technology to renovate tourism and bring new experiences to travellers," Bình said.
Nguyễn Xuân Bình, vice director of  Đà Nẵng's Tourism Department, said that life had returned to normal in the coastal city.
"We have sent surveys to tourists to ask about their experiences, wishes and suggestions," he said.
"A competition themed "Remembering Đà Nẵng" will kick off soon to ask travellers to share their memorable moments during their vacations or even if they got stuck in Đà Nẵng."
"We will create new tours and launch a campaign to develop tourism in the long term," said Bình.
Vietnam Airlines, Vin Group, Sun Group and Alma Group agreed with VNAT's plan to put safety first.
On the occasion, these groups also presented their strategies and promotions to attract tourists in the last quarter of the year and following years.
Accordingly, Vin Group has completed the four Vin Wonders, theme parks in Nha Trang, Phú Quốc, Nam Hội An and Hải Phòng.
Đặng Thanh Thủy, vice general director of Vin Group, said the group had concentrated on providing impressively unique experiences at each destination.
"Tourists will have a chance to enjoy international standard services with 50-70 per cent discounts."
"In the next three years, we want to make Vinpearl Phú Quốc a must-see global destination with remarkable services and programmes."
Source: https://vietnamnews.vn/life-style/772767/vietnamese-tourism-targets-safety-to-develop-sustainably.html
Da Nang villa welcomes nature with brick facade
A baked-brick villa in Da Nang built by a retired couple features vast swaths of open space.

It is built on a 400 sq.m plot in a quiet neighborhood in the central city with a view of a lake and greenery. So architects designed an L-shaped building with open spaces so that the occupants could enjoy the views unimpeded.
The geometric roof gives the villa a classy look.
The latticed brick facade lets in light and wind.
A closer look at the facade. The homeowners wanted to use local materials such as baked bricks, which were used as early as in the fourth century in Da Nang.
The kitchen, and living and dining rooms are on the ground floor and interconnected. They are enclosed by latticed walls.
The occupants can regulate the wind and light entering the house with glass windows.
A corridor on the first floor.
The construction materials were chosen for their sturdiness, climate resistance and looks and their ability to harmonize with the surroundings.
Photos by Hiroyuki Oki
Source: https://e.vnexpress.net/news/life/style/da-nang-villa-welcomes-nature-with-brick-facade-4180114.html
IRED launches "The Story of Civilization" book series in Vietnamese
Educationist Gian Tu Trung, president of IRED Institute of Education, speaks at the launch ceremony of the "The Story of Civilization" book set in Vietnamese – PHOTO: MINH TUAN
HCMC – On October 22, the IRED Institute of Education launched the "The Story of Civilization" book series by Will Durant and Ariel Durant, one of the most popular and successful book series about history, in Vietnamese.
The 11-volume set of books was written by husband and wife Will and Ariel Durant in more than five decades. With a total of up to 50 books, "The Story of Civilization" covers 2,500 years of the history of humans.
Speaking at the launch ceremony, educationist Gian Tu Trung, president of IRED, said the "The Story of Civilization" book set has been translated into many different languages around the world, but this is the first time that the entire set has been translated into Vietnamese.
"IRED worked very hard to earn the rights to translate the entire set into Vietnamese, aimed at helping not only scholars, historians and researchers but also all readers in Vietnam have better access to knowledge about typical civilizations throughout history," he said.
According to Trung, the book set is like a history dictionary, so the readers do not need to read the whole set but can pick any books about the civilizations they are interested in.
Durant said his purpose of writing the series was not to create a definitive scholarly production but to make a large amount of information accessible and comprehensible to the educated public in the form of a comprehensive composite history.
It depicts all aspects of every civilization, from wars to cultural heritage, great persons, religions, literature, science, philosophy, arts and even the rise of mass media, which contributed to the formation, development and also the collapse of the civilizations.
The series won a Pulitzer Prize for General Nonfiction in 1968 with the 10th volume titled "Rousseau and Revolution". Will Durant was then awarded the Presidential Medal of Freedom in 1977.
IRED has released three volumes of the series, including the first volume "Our Oriental Heritage", the 10th volume "Rousseau and Revolution" and the 11th volume "The Age of Napoleon". Other volumes are expected to be published until 2022.
Source: https://english.thesaigontimes.vn/79096/ired-launches-the-story-of-civilization-book-series-in-vietnamese.html
The nostalgia of cốm the flavour of autumn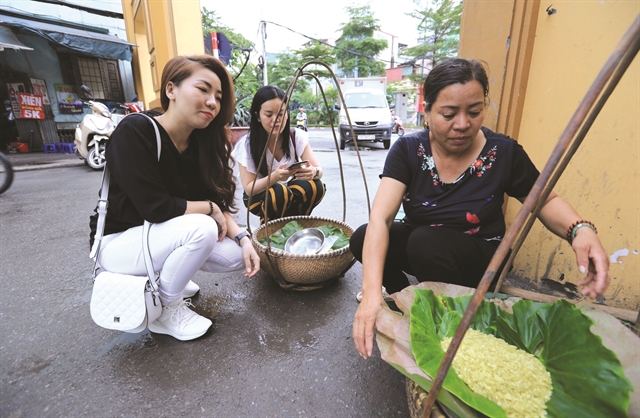 HÀ NỘI — Autumn has arrived in Hà Nội with gentle breezes tenderly penetrating street corners, replacing the summer heat and scattering bunches of yellow leaves on the pavements.
It is also time for women from Vòng Village in Dịch Vọng Ward, Cầu Giấy District to produce and sell their cốm (green sticky rice) – one of Hà Nội's culinary specialities.
For most Hanoians, cốm and its related products made in Vòng Village are among the capital's most important flavours of autumn, packed full of nostalgia. It is a symbol of gastronomy and elegance due to its a signature colour, flexibility and flavour which cốm from nowhere else can compete with.
The delicate but fragrant green grains reflect the labour, love and passion of the rice growers and cốm producers. It seems to be able to deposit the essence of the earth, the heavens, the scent of sunshine and wind.
Many have said staying in the capital without savouring cốm would be a major shortcoming of a Hà Nội experience.
How cốm comes to life
Legend has it that one autumn a thousand years ago when farmers in Vòng Village were going to harvest their sticky rice, a storm came and caused huge damage to the crops.
The villagers tried to pick the remaining green rice from the storm-torn paddy fields and brought it home to stir fry.
The rice became a newly-invented dish and had helped them survive through hard days. Through generations, locals added more skills during the processing of cốm until they found it tasted so good that it eventually became more perfect and even went beyond the village to win the favour of all the citizens. 
Ever since then, villagers have made cốm every autumn when the green rice is ready to harvest.
To make cốm, villagers work hard from about 5am to pick green sticky rice jewelled with dew.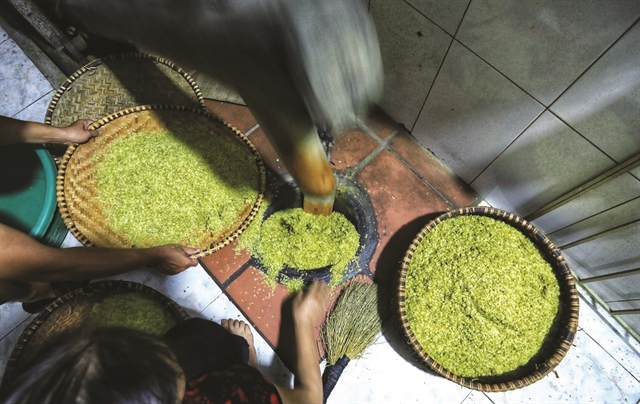 Skill and hard work are needed to make authentic cốm flat, lime-green, chewy, sticky and smell pleasant like the scent of green rice, so many of the makers have to learn how to make cốm from a very young age.
The speciality is sold by street vendors or in shops. It can also be found on the breakfast or buffet menu of many hotels in Hà Nội.
There are also cốm cakes – a Vietnamese must-have for happy occasions, including weddings and Lunar New Year. —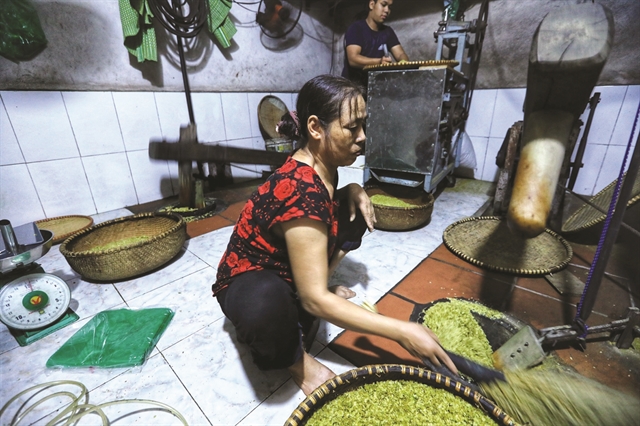 Source: https://vietnamnews.vn/life-style/803812/the-nostalgia-of-com-the-flavour-of-autumn.html