Vietnam's domestic moment
A biology class at a school in HCMC. Vietnam's 100 million strong are young and rapidly maturing in every conceivable way: in educational attainment, in entrepreneurial spirit, in financial acumen and access to capital, and so on – PHOTOS: THANH HOA
Editor's note: The author of this article, an American business and policy strategist providing services primarily for the private sector, argues that although foreign direct investment in Vietnam has hit a snag because of Covid-19, it may not be disastrous for the country. It is time, he says, to bring the private sector into full play and "serve Vietnamese customers with Vietnamese products, services, and ideas."
I recently took a taxi to the Tan Son Nhat International Airport in HCMC. Halfway there, the driver confirmed whether I would go to the domestic terminal, and I laughed to myself, thinking "well, nobody's going to the international one!" But as we made the final approach even I was shocked at the contrast. To the left was the typical line of traffic for the domestic terminal, stretching perhaps a half mile. To the right, the ramp leading to the international terminal was barren—the gigantic building dark, lights off, no people, no cars, no nothing.
Richard McClellan
Vietnam is the beneficiary of decades of inflows from foreign direct investment (FDI) and official development assistance (ODA). Whilst both stand as pillars of Vietnam's economy, it is neither possible nor desirable that these buttresses should continue indefinitely; rather, both must wane in significance as the country develops its own self-sustaining economic engines. Considering the forces at work, both regionally and globally, the time is now for a hard pivot to domestic growth in Vietnam.
FDI has been shouldering the bulk of Vietnam's rapid economic growth for some time despite representing roughly a fifth of the economy. The private domestic sector has seen similar acceleration, but starting from scratch still represents only one-tenth of economic activity. The largest two sectors—state-owned enterprises (SOEs) and "household" (i.e., the informal domestic sector)—comprise two-thirds of the economy, but both underperform on growth. It is the formal private sector (both foreign and domestic) which propels us forward.
Long-term, economic self-sufficiency will require the Vietnamese to also develop robust domestic supply chains that extend from the ground all the way to final consumption
And certainly, the developed nations behind Vietnam's historic FDI growth cannot sustain it. We are likely to see global recessionary impacts from Covid-19 for at least a couple of years as declining consumption in developed countries creates knock-on effects in producing countries. Still, in the long-run the risk of production retrenchment is a far more serious threat, with countries (and companies) increasingly incentivized to bring production home. Western countries were already trending nationalistic the last few years—a reckoning long due after decades of globalization—and Covid-19 will only strengthen this trend. China is likely to absorb the majority of the global fallout, but for Vietnam, a meaningful slowdown in exports would be problematic.
Fortunately, Vietnam is well poised to begin standing on its own economic feet. Having emerged from the first wave of the pandemic relatively unscathed, but with the resumption of "normal" international travel unlikely any time soon, the country is moving forward—strangely enough—without the steady parade of investors, experts, and advisors that had become routine.
This is a very good sign. Long-term, economic self-sufficiency will require the Vietnamese to not only depend less on foreign money and expertise, but also develop robust domestic supply chains that extend from the ground all the way to final consumption; shift the "household" sector into the formal economy (i.e., registered businesses, paying taxes, and expanding); and find ways to innovate and scale uniquely Vietnamese solutions to unique Vietnamese challenges.
The demographics and timing could not be better. The post-American War baby boom generation is coming into prime career years, propelled into opportunity and leadership roles by the economic liberation unleashed in the late 1980s. Vietnam's 100 million strong are young and rapidly maturing in every conceivable way: in educational attainment, in entrepreneurial spirit, in financial acumen and access to capital, and perhaps most importantly (economically speaking) in consumption patterns.
And thus we've arrived at the opportunity and necessity of catalyzing Vietnam's private sector. The time has clearly come to point export profits back into domestic growth opportunities. The time has come to innovate new products for a growing middle class. The time is now to fully establish our national infrastructure. The time is now to accelerate the privatization and modernization of SOEs, so they can at least start tracking the broader economic growth. The time is now to build supply chains capable of moving higher volumes of goods to more parts of the country. And the time is now for our nascent (and adolescent) businesses to begin capturing more value-add, no longer content to take the lowest-margin slices of global systems, but ready to serve Vietnamese customers with Vietnamese products, services, and ideas.
Perhaps it's not a bad thing if we keep the lights off at the international terminal a little bit longer.
(*) Richard McClellan is an American business and policy strategist serving private companies, NGOs, and provincial governments in Vietnam. His career as an advisor includes a decade working with McKinsey & Co., but he first came to Vietnam six years ago to lead a team developing socio-economic policies under the direction of Mr. Tony Blair. His current work covers growth, transformation, and sustainability topics.
Source: https://english.thesaigontimes.vn/77865/vietnam%e2%80%99s-domestic-moment.html
Vietnam cat cafe offers purr-fect pick-me-up for rescued felines
If your idea of the purr-fect day is spending it curled up with convalescent rescue cats and a coffee, then one cafe in Vietnam has you covered.
Ngao's Home Cafe in Hanoi is a loving home for 15 felines, many of whom were abandoned or found injured after being bitten by dogs or suffering serious accidents.
"I try to help cats with difficult backgrounds, to heal their physical and mental wounds," said 24-year-old cafe owner Nguyen Thanh Binh ahead of International Cat Day on Saturday.
The cafe has clawed its way up the favorite list of many cat lovers since it opened last month, offering coffee and cuddles but also the chance to give the animals medicine and even engage with them on a deeper level.
British shorthair Chien at Ngao's Home Cafe in Hanoi, Vietnam. Photo: AFP
"When I come to this cafe, apart from playing with the cats, I can hear their stories and empathize with them," 20-year-old student and customer Le Hoang Yen told AFP.
Many cats in Vietnam are cherished pets but others are sold for their meat, which is considered a delicacy in parts of the country.
Thieves have been known to steal cats which can then be sold on for consumption.
A customer watches a rescued cat at Ngao's Home Cafe in Hanoi, Vietnam. Photo: AFP
Owner Binh was inspired to start the coffee house, which runs as a non-profit, after spotting cats in cages, and others who had been injured by thieves.
"Once me and my friends have the cats, we first bring those who with injuries or medical problems to a vet. Then when they get better, I take them here to the cafe for even better care," he said as he stroked a fluffy white feline, blind in one eye.
He also hopes one or two customers might be tempted to take home more than a coffee.
"I will help them find new owners — ones who really love them."
Cafe owner Nguyen Thanh Binh tends to a rescued cat in Hanoi, Vietnam. Photo: AFP
Source: https://tuoitrenews.vn/news/ttnewsstyle/20200808/vietnam-cat-cafe-offers-purrfect-pickmeup-for-rescued-felines/56028.html
Happiness Road leads to spectacular pass
Hà Giang, the northernmost province in the country, hosts various historical areas like Lũng Cú Flag Pole and Đồng Văn Karst Plateau, a UNESCO Global Geopark.
To reach the sites, people have to travel on National Road No 4C, or Happiness Road, which has been dubbed a legendary road with famed proper names including Quản Bạ Heaven Gate, Fairy Mountain (Twin Mountain), Pắc Xum Slope, Thẩm Mã Pass and Mã Pì Lèng Pass.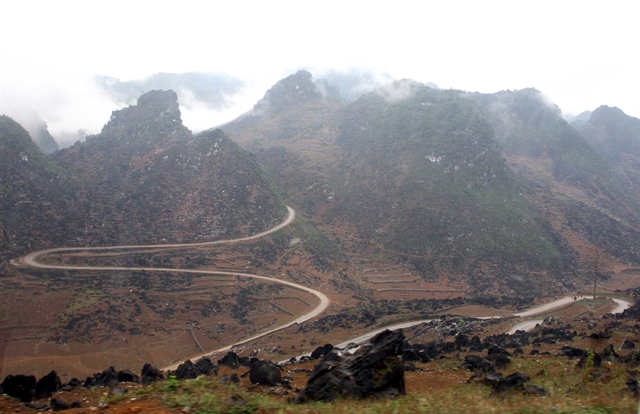 The latter pass is one of four most beautiful passes in the north together with Ô Quý Hồ Pass linking Lào Cai and Lai Châu Province, Pha Đin Pass in Sơn La Province and Khau Phạ Pass in Yên Bái Province.
The pass is located on National Road 4C in Pải Lủng and Pả Vi communes, Mèo Vạc District of Hà Giang. Mả Pí Lèng in Mông language means a horse's nose with the figurative meaning that the peak is quite dangerous, where even mountain horses may slip and die when climbing.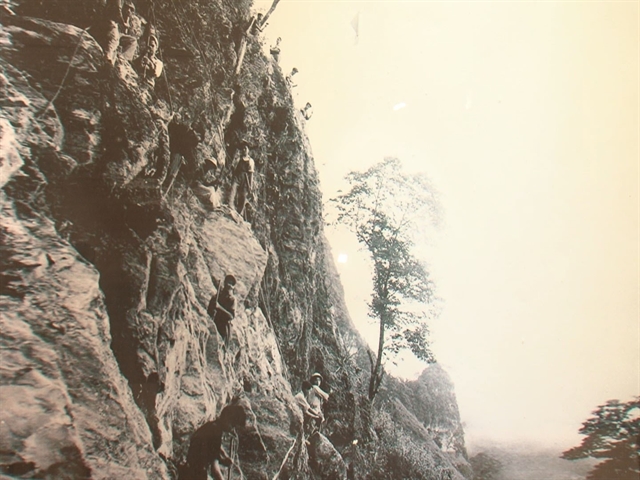 Happiness Road links Hà Giang City with Đồng Văn Town and Mèo Vạc Town.
Mã Pí Lèng Pass is a dangerous pass, some 20km long at heights of 1,200 – 1,400m above sea level.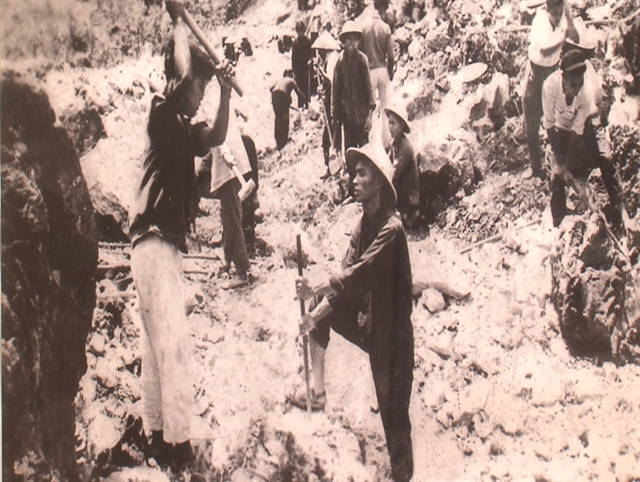 The mountain was created by the sediment of karst stone and silica limestone containing fossils from some 400 million years ago. The site also features cracks from geographical changes creating dangerous landscapes of steep cliffs and the Nho Quế River running in the middle of Mã Pì Lèng Pass and Xín Cái Pass, which hosts the boundary milestone and Săm Pun Border Gate with China.
French people came to examine the site in 1900 and hoped to build roads there, but could not do anything except provide food and ammunition to guard troops on local mountains using small lanes.
Before the Happiness Road was built, the more than 80,000 residents in the area traversed the Mã Pí Lèng Pass by hanging on ropes to climb over high cliffs.
Construction of Happiness Road began on September 10, 1959, linking Hà Giang, Đồng Văn and Mèo Vạc.
After six years of construction, more than 1,300 young volunteers, mostly working by hand, completed the road on June 15, 1965.
The road has helped improve the lives of locals and has become a tourist magnet.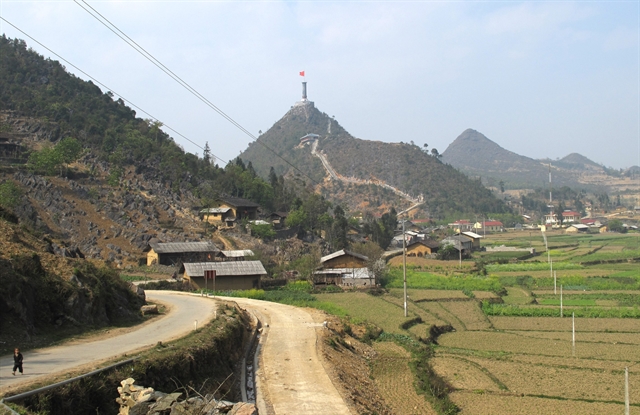 Source: https://vietnamnews.vn/life-style/770770/happiness-road-leads-to-spectacular-pass.html
S Korean violist releases music video featuring Việt Nam's scenery
S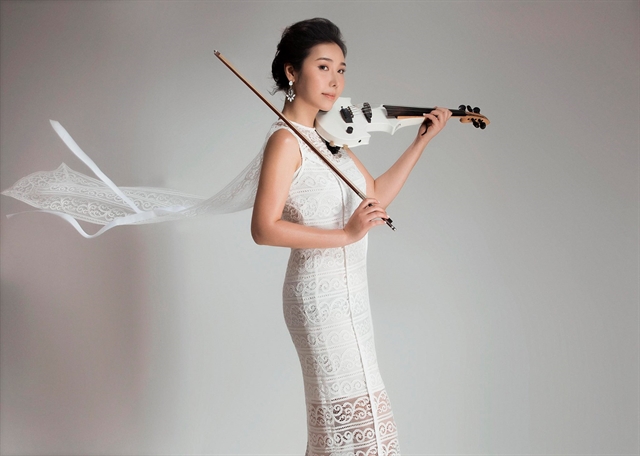 HCM CITY — HCM City-based South Korean violist Jmi Ko has recently released a music video online after its premiere was cancelled due to the COVID-19 pandemic, aiming to spread optimism during the virus outbreak.
"Music video Heal the World by Jmi Ko and the talented kids with the hope that through this music video, everyone will temporarily forget the worry about this pandemic and always find the source of energy positive amount to heal the world together," the violist wrote on her Facebook page.
The video was made to raise funds for Heartbeat Vietnam to support families of congenital heart defects children after the COVID-19 pandemic and all proceeds will be used to support life-saving heart surgeries for children in need.
Lăng Cô Bay in the central province of Thừa Thiên-Huế, listed as one of the world's most beautiful bays in 2009 by the World Bays Club, was chosen as the backdrop for Heal The World.
To capture the best moments for the video, Ko revealed that she and other actors and musicians had to stand in the sun in 40oC heat for 12 hours.
"The footage was taken from 4am to 4pm in two days in the intense sunlight that is typical of central Việt Nam. However, all the crew, from the artists to the student actors, were trying to complete the scenes without asking for a break. I, therefore, hope that the audience can feel our positive and optimistic spirit on watching Heal the World so that we could heal and unite the world together," the violist told Thanh Niên (Young People) newspaper.
Ko has become familiar to Vietnamese audiences through the violin version of Xin Chào Việt Nam (Hello Việt Nam), which has received nearly five million views on YouTube since its release in 2016.
In her return to music after a period of absence, she has launched a musical product entitled Heal the World which kicks off a musical tourism promotion project she has been working on since she moved to Việt Nam eight years ago.
"It is impossible to describe the beauty of this country and its people. I have fallen in love with Việt Nam every day. Our production team has spent a lot of time travelling through Việt Nam and captured its beauty to show you all. Let's hope we can travel to these beautiful places again soon when COVID-19 is over. Let's learn how to protect nature a better way," said Ko.
The violinist said that she has been touched and felt more love for Việt Nam witnessing teams of Vietnamese doctors and nurses that have made great efforts to save patients through the global pandemic.
With 30 years of experience of performance, Ko decided to embark the journey of inspiring and promoting Vietnamese music and nature to international friends last year.
She is currently working as a music teacher at HCM City. —
Source: https://vietnamnews.vn/life-style/770761/s-korean-violist-releases-music-video-featuring-viet-nams-scenery.html