World Travel Awards 2020 names Việt Nam the winner in various categories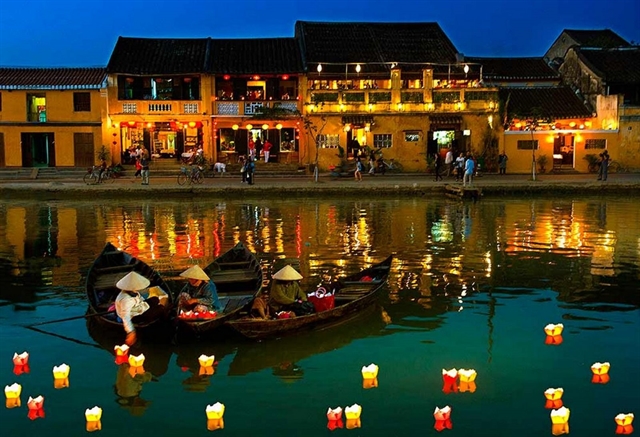 HÀ NỘI — Việt Nam has won multiple prizes at the prestigious World Travel Awards (WTA) 2020, being named one of Asia's leading heritage, cultural and culinary destinations.
The country has surpassed other candidates from Cambodia, China, India, Japan, Malaysia, South Korea and Thailand. 
This year is the second consecutive year Việt Nam has been honoured in the big three categories.
Among other categories, Việt Nam has also been named Asia's Best Golf Destination 2020 after beating other reputable nominees such as China, Korea, Thailand, Singapore, Malaysia, Indonesia.
This is also the fourth consecutive year that the country received this prestigious international award.
The InterContinental Đà Nẵng Sun Peninsula Resort in the central city of Đà Nẵng was rewarded with titles Asia's Leading Luxury Resort 2020, Asia's Leading Green Resort 2020 and Asia's Most Romantic Resort 2020.
Meanwhile, InterContinental Phú Quốc Long Beach Resort was voted as the Asia's Leading Luxury Family Resort 2020.
According to the WTA, the enchanting mix of French Indochina haute couture in a mountain setting led Hotel de la Coupole, MGallery Sapa to be voted as the Asia's Leading Design Hotel.
In the newcomer categories, Việt Nam's Premier Village Hạ Long Bay Resort was named Asia's Leading New Resort 2020.
In the aviation sector, an unprecedented fleet upgrade has helped Vietnam Airlines lift the title of Asia's Leading Airline – Economy Class, Asia's Leading Airline – Premium Economy Class 2020 and Asia's Leading Cultural Airline 2020.
Bamboo Airways was honoured with the title of Asia's Leading Regional Airline 2020.
Vân Đồn International Airport in the northern province of Quảng Ninh received two titles of Asia's Leading Airport Lounge 2020 and Asia's Leading Regional Airport 2020.
In the category of tour operators, Vietravel received the title of Asia's Leading Tour Operator 2020.
The awards were issued by WTA following a year-long search for the world's top travel, tourism and hospitality brands.
Reported as the "travel industry's equivalent of the Oscars" by The Wall Street Journal, the WTA first launched in 1993 to acknowledge excellence in the travel and tourism industry, was based on the results of votes cast by the public and travel professionals from across the globe.
Nominees gaining the most votes in different categories will be named the winners. For this year, Asia's winners were announced at the World Travel Awards (WTA) Asia Gala Ceremony 2020 in London, UK, last week.
The world-class winners of 27th WTA will be issued on November 27 — 
Source: https://vietnamnews.vn/life-style/804483/world-travel-awards-2020-names-viet-nam-the-winner-in-various-categories.html
New book on poet Đặng Đình Hưng to be released
HÀ NỘI — The French Cultural Centre (L'Espace) will host a new book launch to commemorate the 30th anniversary of the death of poet Đặng Đình Hưng. 
The book entitled Đặng Đình Hưng – Một Bến Lạ (Đặng Đình Hưng – An Unknown River) is published by the Writers' Association Publishing House. 
The ceremony and talk will be held on Wednesday at L'Espace with the participation of literary researchers and critics Hoàng Hưng, Đỗ Lai Thúy and Nguyễn Thị Thúy Hạnh. 
Hưng (1924-1990) was central to the country's poetry development. 
"He contributed to the innovation and creativity in the New Poetry Movement and the literary scene of Việt Nam," said poet Nguyễn Thụy Kha. 
"He wrote poems about his experiences. He was ranked among top poets such as Hoàng Cầm, Lê Đạt and Văn Cao."
Hưng was born in Thụy Hương Village, on the outskirts of Hà Nội. He graduated from Bưởi High School and studied law at the University of Indochina.
After the August Revolution in 1945, he joined Việt Minh (the League for the Independence of Vietnam).
Later, he was head and political instructor of the Central Art Performance Troupe where he met pianist Thái Thị Liên. They got married and their son Đặng Thái Sơn is the first Asian to win a gold medal at the International Chopin Piano Competition in Warsaw in 1980. 
The new book will comprise six poems, as well as 20 small paintings and writings, about the poet and his poems by poets and researchers Hoàng Cầm, Hoàng Hưng and Đỗ Lai Thúy. 
L'Espace director Thierry Vergon will deliver the opening speech at the event. Poet Hoàng Hưng will introduce the book and conduct the talk. 
It will include a piano piece by pianist Sơn and composer Đặng Hữu Phúc, as well as a poem recital. Sơn will also talk about his memories of his father. 
Poetry researchers will present their studies about Hưng's poetry. 
At the ceremony, artist Lê Thiết Cương will talk about the paintings which are displayed at the centre until February 28. — 
Source: https://vietnamnews.vn/life-style/858446/new-book-on-poet-dang-dinh-hung-to-be-released.html
Phở hồng, a must-try dish in Bắc Hà
Nguyễn Thanh Hà
I've known about phở hồng (pink phở) in the northwestern province of Lào Cai's Bắc Hà Town for a long time but only recently got a chance to try it.
I entered a phở shop named Lý Thi on Nà Cồ Street of Bắc Hà Town packed with customers too busy enjoying their phở to notice a stranger like me coming in.
I asked the shop owner for a bowl of phở and five minutes later, a server brought me a hot bowl of phở which was so attractive due to its colours, with pink noodles, red chilli, green fresh onion, yellow chicken skin and white chicken meat. 
Despite the cold outside, I felt much warmer after my first spoonfuls of the sweet broth, with the fragrant and soft chicken and noodles.
The shop seller said the chickens live free-range on hilly land so the meat is softer while the speciality pink rice, locally known as Ma Trá rice, used to make the noodles is planted on high mountains so it has a special fragrance.
"We produce these materials by ourselves to ensure our phở quality, which was handed down from my grandmother to me," Thi said, adding that each day she uses 60-70kg of rice to produce the noodles.
She told me that apart from phở hồng, they sell phở chua (sour) and phở trộn (mixed).
Phở chua includes hot noodles, char siu pork, fresh herbs, đậu xị (fermented soybean), roasted peanuts and sour water.
Asked about how to make sour water, Thi said she mixes mustard greens with sugar and ferments for it for three days to get the sour water.
Making đậu xị is also complicated. First one has to roast the soybeans and stew them until they become soft and ferment the mixture on the kitchen's smoking shelf for several days then mix it with ingredients collected from the forest such as menghundor seeds, black cardamom, ginger, fried chilli, and chilli juice.
Many people prefer phở trộn without using sour water but with char siu and grilled pork which is cooked from Bắc Hà wild black pigs, said Thi.
She said the pigs are raised wild in the forest, so their meat is much more lean and less fatty than others.
I was lucky to enjoy all these phở specialities during my three-day trip to Bắc Hà.
Thi said thanks to tourism development, the dishes have become specialities and enjoyed by local and foreign tourists.
Last week I returned to my home in the capital. I pedalled to a luxury phở shop downtown. To my surprise, I didn't enjoy it. Had I lost my appetite? No. I realised that I missed the aromatic flavour of Bắc Hà pink phở in simpler shops.
I told myself that I would plan another trip to Bắc Hà soon to enjoy more phở hồng. — 
Source: https://vietnamnews.vn/life-style/858445/pho-hong-a-must-try-dish-in-bac-ha.html
Ambitious female photographer with a desire to show Vietnam to the world
A Vietnamese female photographer has recently attracted attention to the beauty of her motherland through her acclaimed photos.
Late last year, Ho Chi Minh City-based Khanh Phan won the third prize in the Daily Life topic of the 2020 Aerial Photography Awards' People category with her entry titled 'Harvesting Grass.'
The photo titled 'Harvesting Grass' by Vietnamese photographer Khanh Phan ranked third in the People category's Daily Life topic at the 2020 Aerial Photography Awards.
Phan was also the only female photographer among seven outstanding participating photographers from across the world who were featured in the contest's interviews, she shared.
Talking about her award-winning photo with Tuoi Tre News, Phan called it "a perfect harmony between man and nature with the light of the new day, the wind, and the details of the grass."
The 'Harvesting Grass' winning photo comes from Phan's well-known namesake series, which has captured attention on social networks since around mid-2020.
The photographer did not hesitate to call the series the favorite artworks of her career, as it has been mentioned by people in different countries.
"It made overseas Vietnamese know about me and they bought my photos to ease their homesickness," she said.
"They were proud to see a Vietnamese female photographer mentioned in international media and proud of their motherland.
"I was deeply touched."
Khanh Phan is not new to international photo awards, as she had won prizes at multiple contests prior to the 2020 Aerial Photography Awards, including Sony World Photography Awards, Skypixel, Siena Awards, World Photographic Cup, and more.
'Bao Boc,' a photo capturing two Jrai boys at the Po Thi Festival in Vietnam's Central Highlands province of Gia Lai, which won the first prize in the National category of the 2019 Sony World Photography Awards. Photo: Khanh Phan
Her works were also featured in UK media including The Times, The Guardian, The Telegraph, Daily Mail, and Wanderlust.
"I have a burning desire to bring the images of our country and its landscapes as well as people closer to the world, and the fastest way to make my dream come true is through photo contests," Phan revealed her motivation.
"I've looked for and sent my entries to prestigious world contests, then luckily won some awards."
The 36-year-old photographer has also been praised at many Vietnamese photography awards.
'I love my beautiful Vietnam'
As Phan has never attended a professional photography school, she started to shoot in 2017 by learning from friends.
The woman who is working in the banking industry spent time self-studying on the Internet and learning from works by globally famous photographers.
"I photograph out of my passion," she said.
'Children Dancing with Gongs,' a photo capturing children dancing with gongs at a festival in Vietnam's Gia Lai Province, which was listed among the world's best photos of golden hours in 2020 by Agora. Photo: Khanh Phan
Explaining the motivations behind her photos depicting stunning Vietnam, Phan called out her love for beautiful things.
"Above that is my love for my country," she said.
"I love my beautiful Vietnam."
Talking about her favorite topics in photography, Phan shared she has a special interest in craft villages.
"Vietnam is a rich country when it comes to culture and heritage values passed down from our ancestors," Phan told Tuoi Tre News.
"Craft villages are a precious material for photography and most of my winning photos at international contests were ones depicting this topic."
As a child born to a farming family, Phan grew up seeing her parents working hard from dusk till dawn.
That childhood memory has motivated Phan to take photos of hard-working people to "display their photos in museums and big galleries."
"I photograph to pay tribute to those people and honor this life," Phan said.
"To me, the most beautiful person is the person who works, as working creates life values and happiness."
Khanh Phan's 'Flower on the Water,' a photo capturing people harvesting water lilies in the southern province of Long An, which won the Fun category of the 2018 SkyPixel Aerial Photography & Video Contest and the People category of the 2019 Siena drone photography awards.
Phan shared that she often spends time and efforts getting to know about a place as well as its nature and people before coming for shooting.
"It is not too hard to have a good photo but I want more than that," she said.
"I need to deliver good stories and the local cultural beauty of Vietnam's regions through my pictures."
Phan added that she wanted to attract viewers by the eye-catching colors of her pictures to encourage them to get to know more about the stories behind them, for "Vietnam is an interesting country."
Phan also believed that "life is always fair to people who never stop making effort" like her.
Calling herself lucky for being supported by friends and seniors in the local photography industry, Phan admitted the hardship of the passion she has pursued.
"But I'm happy because I have been able to do something which proves that women can achieve big dreams," she insisted.
"As a woman, I love this life in my own way," Phan expressed her thought in an interview on the 2020 Aerial Photography Awards' website.
Below are photos Khanh Phan captured across her beautiful Vietnam:
The Tam Coc tourism site is seen in this photo taken in the northern province of Ninh Binh.
A photo shows people fishing in a coconut forest in the central province of Quang Ngai.
A woman dries fish in the southern province of Ba Ria – Vung Tau's Long Hai Town.
Children play under blooming flowers in the northern mountainous region of Vietnam.
A photo captures dawn on Tuyen Lam Lake in the Central Highlands city of Da Lat.
A farmer is watering flowers in Sa Dec Flower Village in the Mekong Delta province of Dong Thap.
The Cat Ba archipelago off the coast of Hai Phong City in northern Vietnam
A photo shows Ta Pa paddy rice fields in the Mekong Delta province of An Giang.
People are seen making soy sauce in this photo.
A bird's-eye photo captures Binh Dong Wharf in Ho Chi Minh City's District 8 on Tet (Vietnamese Lunar New Year) holiday.
The Ru Cha mangrove forest in the central province of Thua Thien-Hue.
Vietnamese photographer Khanh Phan is seen in a photo she provided Tuoi Tre News.
Like us on Facebook or follow us on Twitter to get the latest news about Vietnam!
Source: https://tuoitrenews.vn/news/ttnewsstyle/20210120/ambitious-female-photographer-with-a-desire-to-show-vietnam-to-the-world/58883.html