World's first 'gold-plated' hotel to open in Hanoi
A new capital hotel has covered its facade, as well as other amenities, in real gold to reel in glitzy lodgers.

Located by a lake in Ba Dinh District, the 25-floor hotel is covered in 5,000-square-meters of gilded ceramics. According to its developer, this is the world's first hotel having its facade gold-plated. Photo courtesy of the hotel.
The luxury hotel was scheduled to open in time for the Formula One race in Hanoi in April, which was delayed due to the Covid-19 pandemic. Photo courtesy of the hotel.
Many internal design features are also covered in real gold, a challenging operation according to builders. Photo courtesy of the hotel.
Gold-plated bathtub and accessories. Photo courtesy of the hotel.
A glittering city view. Photo courtesy of the hotel.
A gold-plated rooftop infinity pool expands one's horizons. Photo courtesy of the hotel.
Gold-covered tiles floor on the roof terrace. According to local media, the price for one night at the hotel will start from $250, with a number of apartments inside the hotel to be sold at a starting price of about $6,500 per meter square. Photo courtesy of the hotel.
Source: https://e.vnexpress.net/news/life/style/world-s-first-gold-plated-hotel-to-open-in-hanoi-4120387.html
Sri Lanka rangers spot possible rare baby elephant twins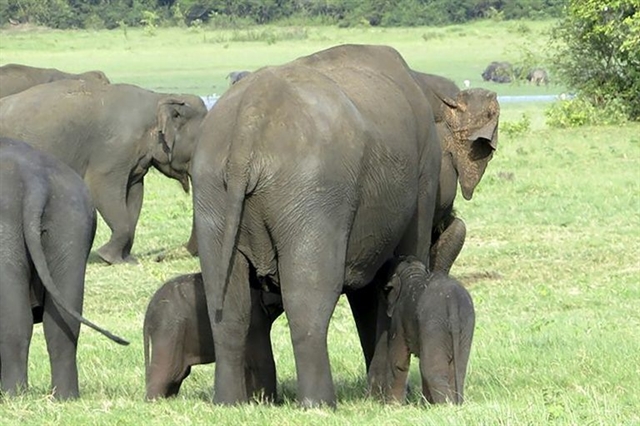 COLOMBO — A pair of baby elephants feeding from the same mother have been spotted in a Sri Lankan national park, with officials speculating on Wednesday the two could be a rare set of twins.
The young tuskers – who rangers estimate are three to four weeks old – were spotted in the Minneriya sanctuary about 200 kilometres north-east of Colombo, grazing with a herd of about a dozen elephants.
After observing the pair from a distance, officials are confident enough to "say they are twins," Department of Wildlife Conservation Director-General Tharaka Prasad said.
The two were also photographed feeding from the same cow on Monday by renowned conservationist Sumith Pilapitiy, who also said he believed the two were twins.
Rangers were carrying out DNA tests on the herd's dung to confirm, Prasad said.
If the results matched, it would mark the first time wildlife officials on the Indian Ocean island had sighted twins alongside their mother, he added.
The sighting was near the area where seven elephants died from poisoning in September, in an act blamed on local farmers.
Nearly 200 elephants are killed every year on the island, many by farmers after the pachyderms stray onto their land.
Marauding elephants kill an average of 50 people annually, mostly when they stray into villages near their habitat.
The country's elephant population has declined to just over 7,000 according to the latest census, down from an estimated 12,000 in the early 1900s. — AFP
Source: https://vietnamnews.vn/life-style/749360/sri-lanka-rangers-spot-possible-rare-baby-elephant-twins.html
Upcycling old tires into toys for disadvantaged children Vietnam's remote areas
Instead of selling old tires as scraps, a team of social workers in Ho Chi Minh City chooses to make them into a playground to entertain disadvantaged children.
It typically takes the team around three to four days to assemble a playground consisting of various toys like swings, see-saws, tire bridges, and seats.
The volunteers are in charge of everything from designing, measuring, cleaning the outdoor spaces to making the decorations by themselves.
"We understand that there are many remote localities that can hardly afford to have a playground for the children, so we contacted the local authorities to offer to create one for them for free," said Vo Quoc Binh, the head of the team of social workers from Ho Chi Minh City.
"We only want to help these children have an equal opportunity to play as other city kids," Binh added.
Binh's team is now in collaboration with the 2016 class of social work from the University of Labor and Social Affairs to make a playground in the suburban district of Nha Be in Ho Chi Minh City.
Volunteers apply the last coat of paint on a tire balance bridge made from upcycled old tires in Nha Be District, Ho Chi Minh City, Vietnam. Photo: Hoang An / Tuoi Tre
Thanks to the volunteers' devotion, the swathes of abandoned weedy land have been transformed into small parks for the local children.
Due to their initiatives, the used tires were given a new lease on life with a chance to bring a smile to the kids.
"Despite many jobs having to be done in a short time, I feel really happy looking at the fruit borne from such efforts, especially seeing the children's craving for the playground each day," Tuyet Thanh, a 23-year-old volunteer, told the Tuoi Tre (Youth) newspaper.
The team has finished 16 playgrounds with recycled materials in Ho Chi Minh City and other provinces, including Ben Tre, Binh Phuoc, and Long An.
They plan to survey other provinces' remote locales in the near future, such as in the Central Highland provinces of Lam Dong and Dak Nong.
All of their projects have been funded by private donations.
Students from the University of Labor and Social Affairs clear the space intended to be used for a playground in Nha Be District, Ho Chi Minh City, Vietnam. Photo: Hoang An / Tuoi Tre
Volunteers paint old car tires to make a tire balance bridge in Nha Be District, Ho Chi Minh City, Vietnam. Photo: Hoang An / Tuoi Tre
Le Quang Phu, 23, installs metal chains on old car tires to make swings for a playground in Nha Be District, Ho Chi Minh City, Vietnam. Photo: Hoang An / Tuoi Tre
Two volunteers mix paint to make over old car tires for a playground in Nha Be District, Ho Chi Minh City, Vietnam. Photo: Hoang An / Tuoi Tre
Two volunteers are at the final stage of making an old tire swing for a playground in Nha Be District, Ho Chi Minh City, Vietnam. Photo: Hoang An / Tuoi Tre
Like us on Facebook or follow us on Twitter to get the latest news about Vietnam!
Source: https://tuoitrenews.vn/news/lifestyle/20200709/upcycling-old-tires-into-toys-for-disadvantaged-children-in-remote-areas/55485.html
Call me an immigrant, not an expat
Peter Cowan
Blame it on the heat, having coronavirus on the brain or whatever you want, but when I was asked to come up with an idea for the 'Expat Corner' column for this week I was stumped.
I racked my brain, wondering what burning issue or confounding problem was plaguing Viet Nam's expat community that needed light shed on it.
I had heard a recent Tây Hồ District brunch event had failed to serve a single mimosa (the horror!) but otherwise couldn't think of much injustice that moved the needle.
Sure, everyone is a bit on edge due to the pandemic and worried about loved ones elsewhere, but if we're being honest, us foreigners have it pretty great here in Việt Nam for the most part.
Most of us are paid handsomely compared to our Vietnamese colleagues, we enjoy comfortable lifestyles and we're welcomed with open arms by the local community.
Then I started thinking about the very nature of the word 'expat' and wondered how welcome the Vietnamese expats are made in my home country the UK.
But of course, there is no Vietnamese expat community in the UK, no, they're immigrants.
I'm far from the first person to say it, but really, why am I called an expat whereas if any of my Vietnamese friends or colleagues moved to the UK they would likely be seen and referred to as immigrants?
Privilege 
In terms of definitions, the Cambridge Dictionary defines an expatriate as "someone who does not live in their own country", which one would like to think is broad enough to cover everyone.
An immigrant is defined as someone who has moved abroad permanently but putting aside rigid definitions, many people who only leave their country temporarily are seen as immigrants (seasonal Romanian workers in Ireland for example), while someone who never plans to set foot on British shores again will still be called an expat.
So if the words immigrant and expat aren't being used as dictionary writers intended, how are they used?
In her book, Expatriate Identities in Postcolonial Organizations: Working Whiteness, Pauline Leonard, a professor at the University of Southampton, argues that to be seen an expat a person must be white, from the West and privileged.
How did this come to be? Blame the British, of course.
"The origins of the word lie in mid-20th century British beliefs and popularity for wealthy or well-known British people to temporarily live in a different country," wrote Michelle Layton of Wayne State University in Lexiculture: Papers on English Words and Culture.
In a nutshell, expat was needed as a word to differentiate between the well-heeled, gin-swilling former colonial overlord Brits from the oikish locals who travelled the other direction to be immigrants in the UK.
As for the word immigrant, you don't need to consult any academic studies to see how it has become a pejorative, particularly in the UK where tabloids have made sport (and money) of laying all the ills of modern-day Britain at the feet of immigrants.
End of expats
So with billions of people excluded from calling themselves expats on the basis of factors out of their control and instead have a derogatory term foisted upon them, what should those of us viewed as expats do?
Simply put, I think it's time we do away with the term 'expat'.
While we don't necessarily have the ability to confer 'expat status' on Vietnamese in the UK, we can very easily renounce the term for ourselves and go by migrant or immigrant and do our very small part in removing the stigma from those words.
Of course, doing this alone won't end racism, classism or any other nasty 'ism' by itself and it certainly isn't going to make the lives of those we call immigrants today better, much more needs to be done on all those counts.
But anyway, when you really think about it, wouldn't you rather be an immigrant than an expat?
Immigrants add to the societies they move to. Immigrants brought curry to the UK and jeans to the US. Do the people we call expats do the same? While there are curry houses from Land's End to John o'Groats in the UK, fish and chips aren't exactly sold in every corner of India despite long and bloody colonisation.
Immigrants work hard and they have to because they rarely get a leg-up from the countries they move to. As for expats? Let's just say in my experience they have a greater appetite for bottomless brunches than for hard work.
I'm aware of course of the irony of penning this missive in a column titled 'Expat Corner', and perhaps it's time for that to change to 'Immigrant Corner', but that isn't my call.
What is though is how I define myself. So don't call me an expat, I'm an immigrant. —
Source: https://vietnamnews.vn/life-style/expat-corner/749355/call-me-an-immigrant-not-an-expat.html